I thought long and hard about what the first post should be – something possibly irrelevant in the bigger picture of this blog – but in the back of my mind I wanted it to mean something. At first I was holding out for a "crazy" idea of a post that would go viral and end up being referenced by Padma Lakshmi on an episode of Top Chef. Then, I figured that it could pull at some heart strings with a tear-jerking post about life, death, food, love, and labradoodle puppies. However, I was standing at a urinal and it became so clear…so simple: Deviled Eggs.
Possibly an odd choice to an outsider, and in no way an attempt to fill an internet void of deviled egg recipes ('cause there ain't no void), but it's perfectly fitting for who I am and what I want this blog to be about.
Somewhere in the twelve years that I've worked at my current job, I have earned the respect and envy of my co-workers for one thing: My Deviled Eggs. Never have I seen excitement over such a simple dish. Nor have I seen the harsh disappointment at the absence of it. My boss has even gone as far as hoarding eggs for an afternoon snack…There's an unspoken rule in my office, and that's whenever we have a pot luck lunch, I am required to bring deviled eggs. For our Christmas party this past year, I tried to mix it up by bringing tortillas and Awesome Sauce (it was partially a Korean taco party, hence the tortillas…and I'll get to the Awesome Sauce in another post). Anyway, I did not provide the eggs as assumed by everyone and sadness hit the office in a way that made it seem like I ruined Christmas.
 "It's not a Christmas party without your deviled eggs, " said one crestfallen coworker. Cue the sad Charlie Brown music.
Look, I obviously like my own deviled eggs, but I don't necessarily think there's anything extraordinary about them. Maybe it's the simplicity. Maybe nobody else ever learned how to make them. Or maybe I've just worked there so long and have consistently brought the eggs into work, that it's created an odd psychological dependence on them (Deviled Egg Dependence or D.E.D. is not currently recognized by the American Medical Association).
Either way, I'm the Egg Man at work, so I might as well fully embrace it.
But, wait… How the heck did I even become the Egg Man? Again, after over a decade my memory is a bit fuzzy. I don't remember the first time I brought the eggs into work. And if I really give it some thought, I CAN'T REMEMBER THE FIRST TIME I EVER MADE THEM!
I clearly did not invent these magical delights, so I'm assuming that it's a recipe that I picked up from either my mom or my grandmother. But it's still an odd feeling not being able to remember when or where I learned it. I supposed it could be a power hidden in my DNA, like Wolverine. But Egg Man would make a pretty sad comic book hero and definitely wouldn't warrant a movie trilogy.
So, I wasn't blessed with any athletic or intellectual talents, but I was given this minor food gift.
You know, as I think about it even more…
Deviled Eggs have to be one of the first dishes I ever made without using a recipe and one in which I relied solely on taste to season and add ingredients. So in the most simplistic terms, when I make deviled eggs…I am about as close to being a chef as I'll ever be.
RECIPE: GET IN MY MOUF DEVILED EGGS

Ingredients:
1 Dozen Extra Large Eggs
3/4 Cup Mayonnaise – It has to be Hellmann's brand, no deviation allowed (trust me, I've tried and it makes a huge difference).
1 Tablespoon 

Dill

Pickle Relish – DO NOT USE SWEET RELISH. There are few things more disappointing to me than biting into a deviled egg, only to find out that it's SWEET. Gross. Seriously, if you like sweet eggs stop here, because this is not dessert.
1 Tablespoon Yellow Mustard

1/4 Teaspoon Salt
1/8 Teaspoon Pepper
Directions:
1.  Make Hard-Boiled Eggs. Simple, right? Well… I have a very specific method that I learned from watching Tyler Florence in the early days of Food Network: Set the eggs in a large pot and fill with warm water from the tap, then place on a stove to boil. Once the water starts to come to rapid boil, set your timer for 10 minutes. No less, no more. I've found that ten minutes is the perfect amount of time to produce perfectly-cooked, bright yellow yolks. Too long and they start to turn an ugly green color, too short and they won't cook through. There are a ton of methods for peeling hard boiled eggs and every grandmother out there has a secret that she swears by ("Honey, place two nickles in the water with the eggs and the shells will fall right off!") I prefer to drop the eggs in an ice bath for about four minutes to cool them down. Then, I peel them under lukewarm running water.
2.  Slice the eggs in half, lengthwise and place the yolks in a separate bowl. For aesthetics, I like to cut them with this crimped cutter thing (to which I know not the correct name). Adds a nice ridged cut.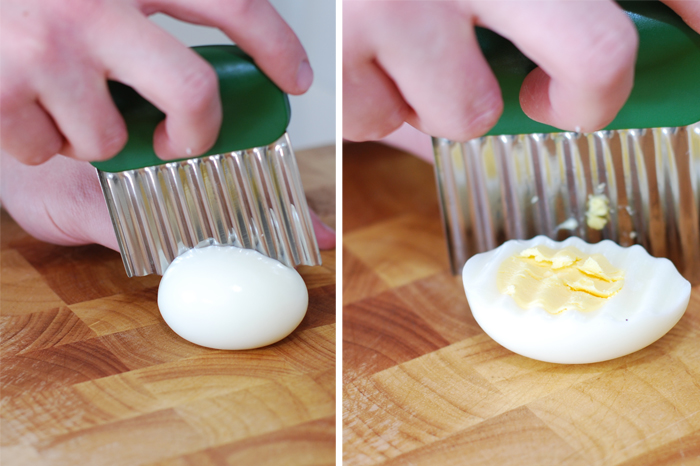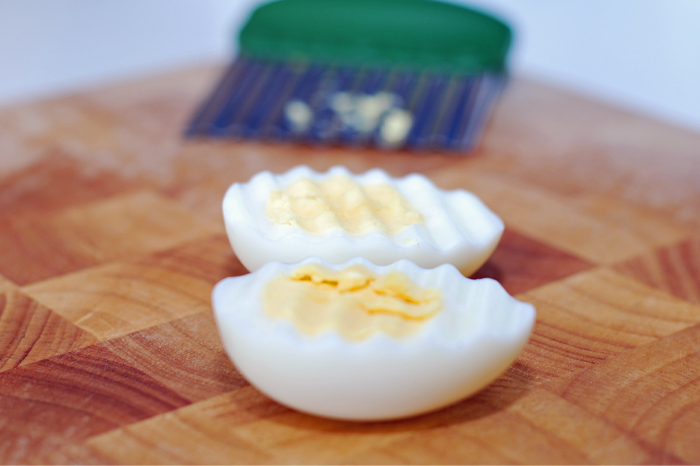 3.  Mash the yolks up with a  spoon until you have a fine powder, or you can no longer feel your arm. I like a smooth, well-blended filling without any "pockets" of dry yolk. Stir in the mayonnaise, mustard, and pickle relish until well blended. Add salt and pepper to taste.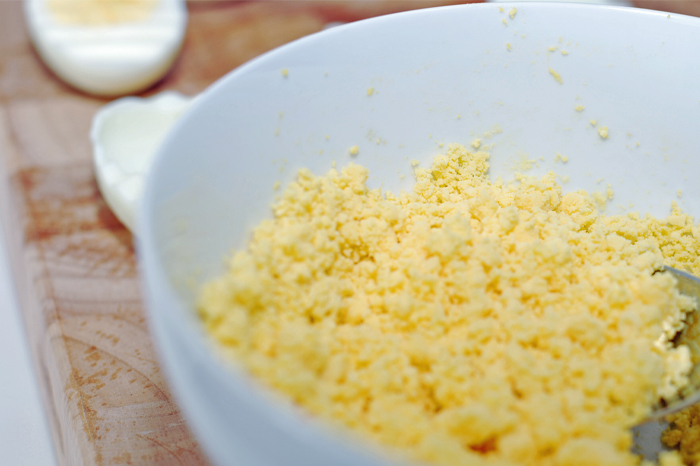 4.  Now you have two options for filling the eggs. You can get all Martha Stewart and use a pastry bag/piping tip, or you can keep it easy and fill it with a mini ice cream scoop. I use the former when bringing eggs to parties and work functions, while the latter is the quick method for when I'm having a casual BBQ at home.
5.  Garnish with something pretty like a fresh dill sprig or dust the tops with paprika and you're all set!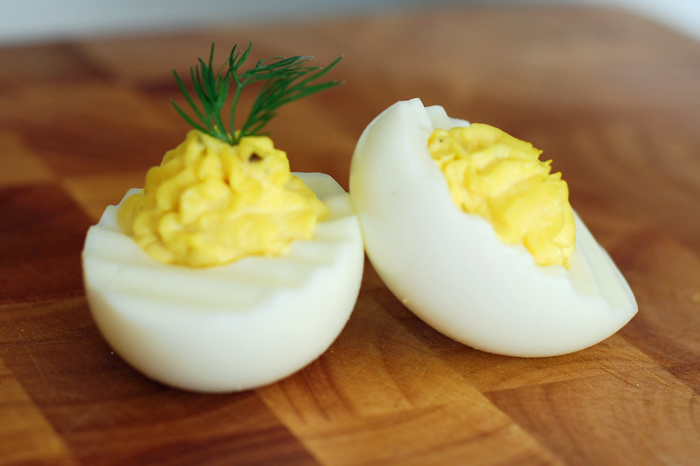 Alternate Toppings and Fillings:
Sriracha – Duh, right?
Curry – A nice twist that I was exposed to at Wayfare Tavern.
Cayenne – I prefer a nice kick, so I normally replace the paprika with cayenne.
Bacon – Again, duh.
Pickled Watermelon Rind – If you can find it, this adds a nice crunch and new dimension. OR you could make it yourself.