10 … 9 … 8 … 7 … 6 … 5 … 4 … 3 … 2 … 1!
We were originally hoping to have a a big, moderately crazy New Year's Eve party–one that would make our HOA's Facebook page explode with passive aggressive complaints–but, unfortunately holiday fatigue (meant as a joke, but it's a real thing!) and an epic flu knocking out most of our family forced us to scale things back to "small gathering" level.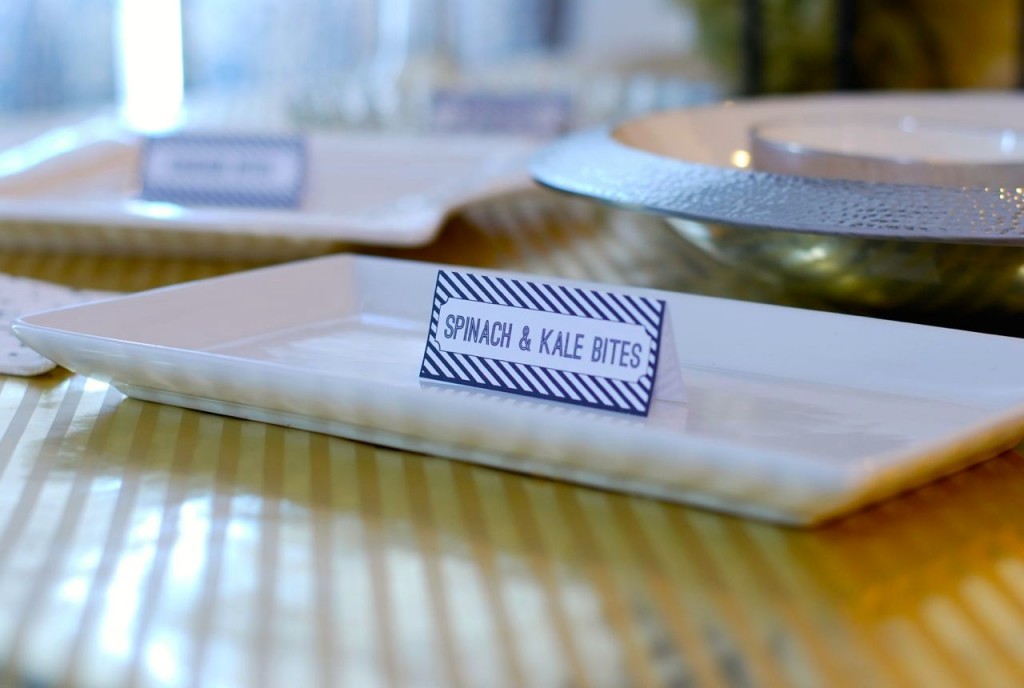 Even though the party has shrunk, that doesn't mean the decor will be reduced to red solo cups and leftover Chipotle napkins. Tina knocked it out of the park with the decorations, transforming our humble Ikea dining table into something fit for Stefan Löfven (the Prime Minister of Sweden).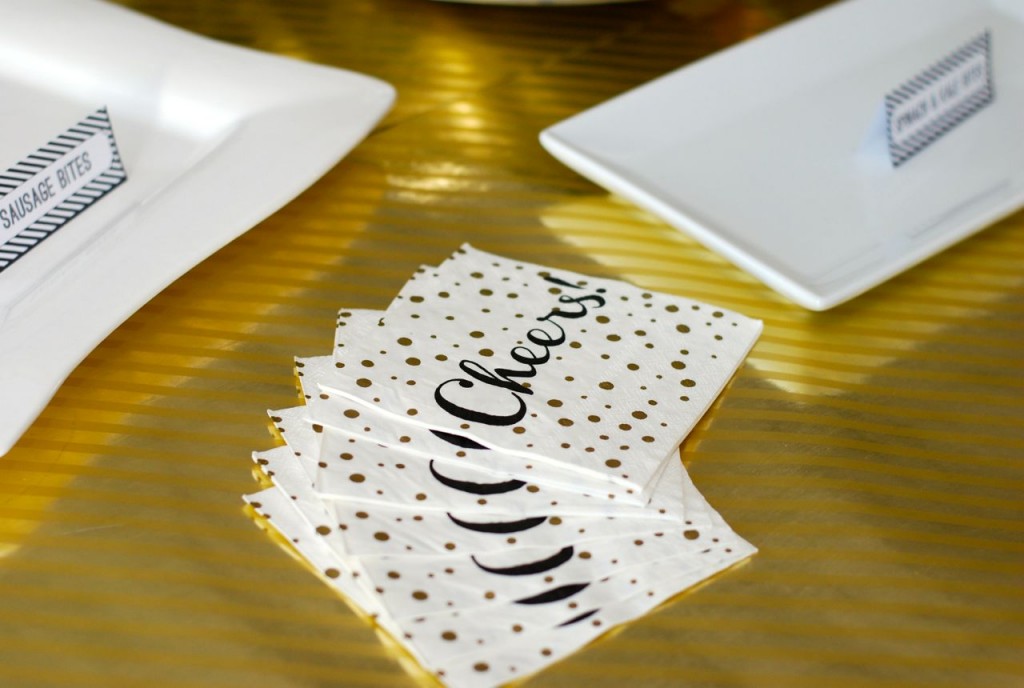 It's the simple touches that help class things up a bit. The food isn't anything outlandishly fancy (we'll share our menu in tomorrow's post), but each item has its own tent card! Our mini mac 'n' cheese might as well be wearing tuxedos. Aside from looking like a White House gala, it's useful so your guests know what they're putting in their moufs. 'Cause nobody wants to start the new year with a lawsuit over a peanut allergy.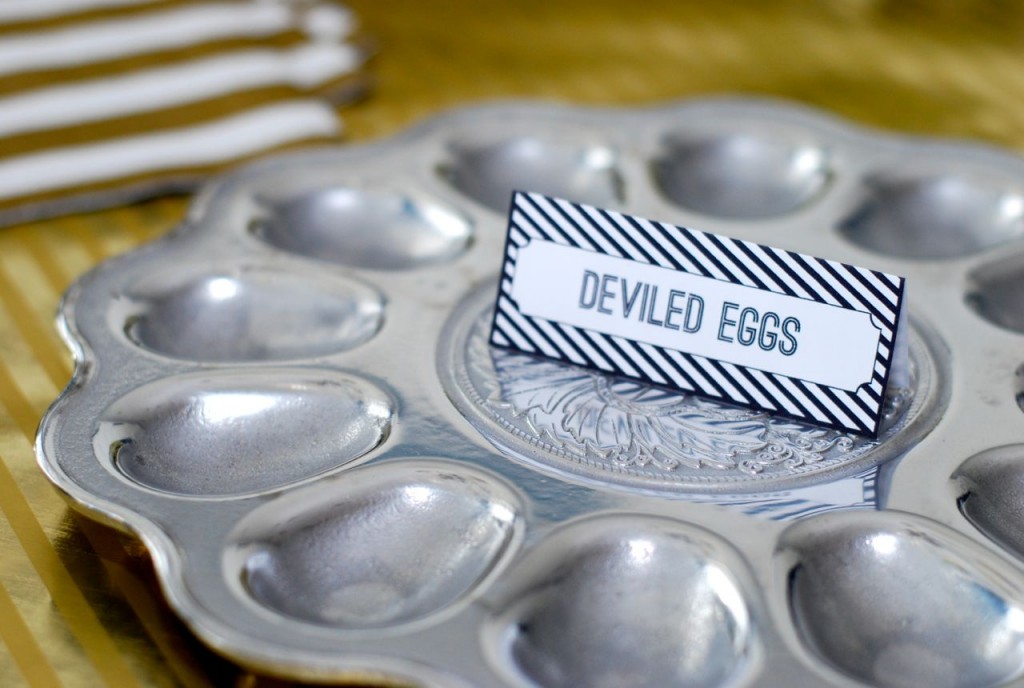 Being married to a graphic designer has its perks. For example, while Tina slaved away setting up these cards, I got to play her brother in Madden (I lost in overtime with one second remaining; it was a game we will all remember for a long time). Since all the hard work was done, we figured it might be beneficial to extend the perk to the blog in case anyone else out there is looking for a quick tent card solution. So, follow the directions below and in just a few short minutes, your food will no longer be anonymous.
NEW YEAR'S EVE FOOD TENT CARDS:
Ostrich Sans Bold Font – You don't have to use this font, but it gets a ton of use in our house. You can download it free from FontSquirrel.com. If you've never installed a font before, it's ridiculously easy and Google will be happy to help you out. Seriously, stop using Calibri for everything and live a little.
Cardstock is preferable for printing, but regular printer paper will suffice in a pinch.
Food Tent Card Template – Click here to download a PDF of the tent cards Tina made for our party. Make sure you download/install the Ostrich San Bold font first, then enter the food names on the second, fourth, and sixth rows and they'll be mirrored in each row above (but, upside down since this is a double-sided tent card). Cut along the bold black lines, fold in half and BOOM. (Drop us a line if you have issues or need help!)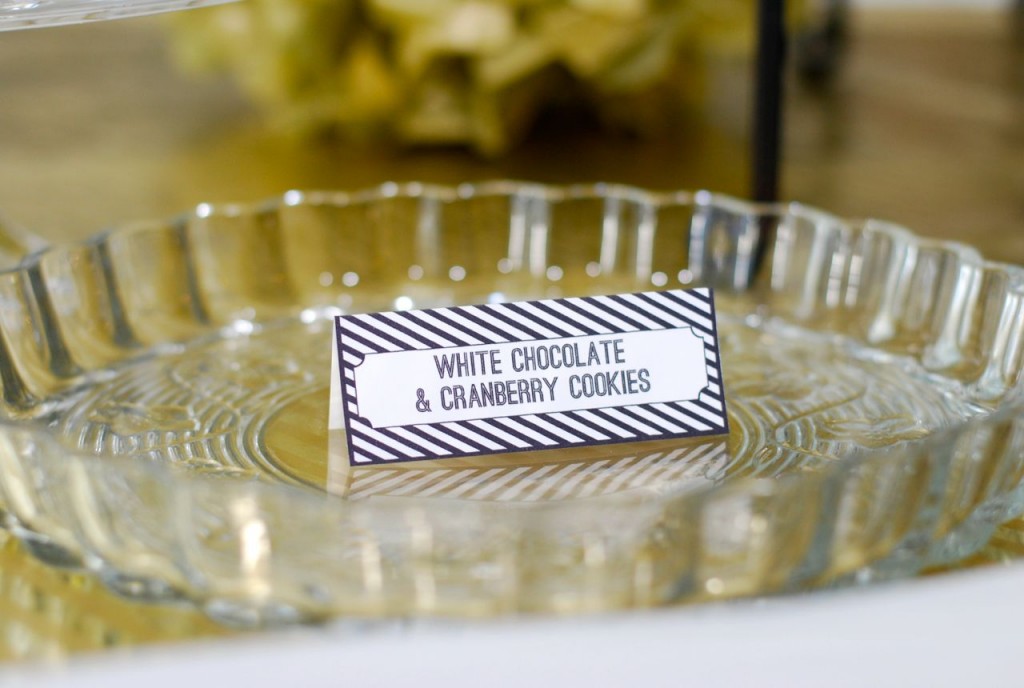 Oh, and…
HAPPY NEW YEAR!