Hello, 2015. Pleasure to meet you.
Taking a quick break from breaking down cardboard boxes (thanks, Amazon!) and putting Ikea furniture together to do our first post of 2015. In our last post we shared our New Year's Eve tablescape along with a PDF template for our food tent cards. Now let's get to the foooooooooooood! Here's a look at what we ate during the final hours of 2014 (and also the first few hours of 2015).
Sausage Bites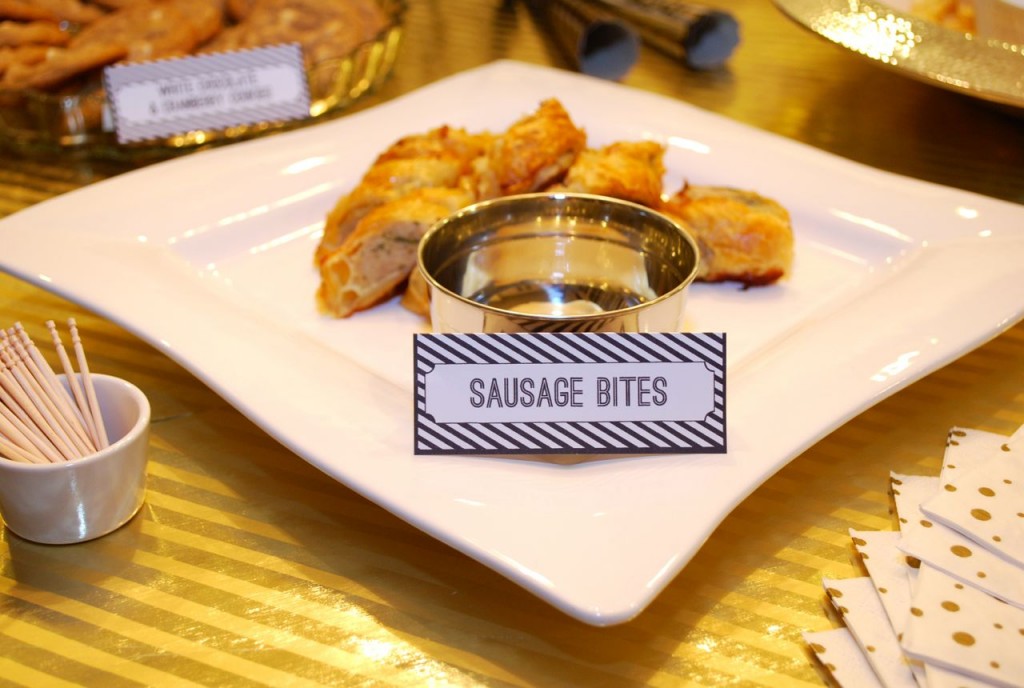 These are are our take on Bon Appétit's Pigs in Sleeping Bags. Rather than make our own sausage, we used a chicken sausage with spinach and feta from Wegmans. These might be my favorite of the lot and are normally the reason for our first empty plate of the night. They are much better hot, but they're not too shabby cold at 2 AM, either.
Deviled Eggs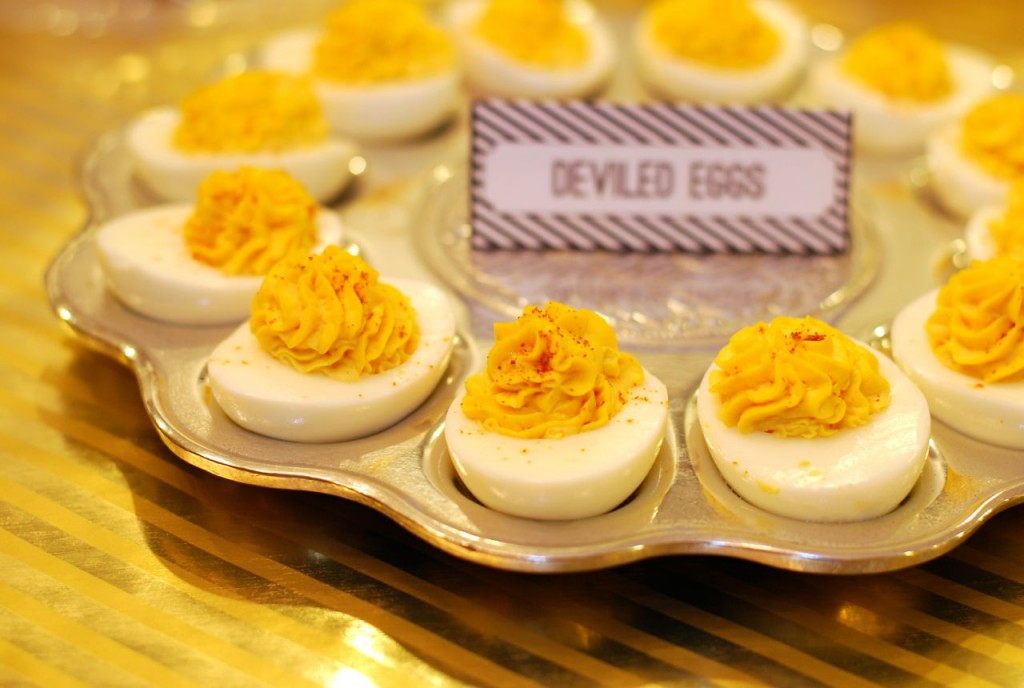 If you follow us on Twitter, you know that we make deviled eggs for pretty much every occasion (and many times for no reason at all). We used our classic deviled egg recipe, spiked with Sriracha and dusted with cayenne. After staying up late many times to make these eggs, it's nice to finally eat them late at night.
Mini Mac 'N' Cheese (#glutenfree)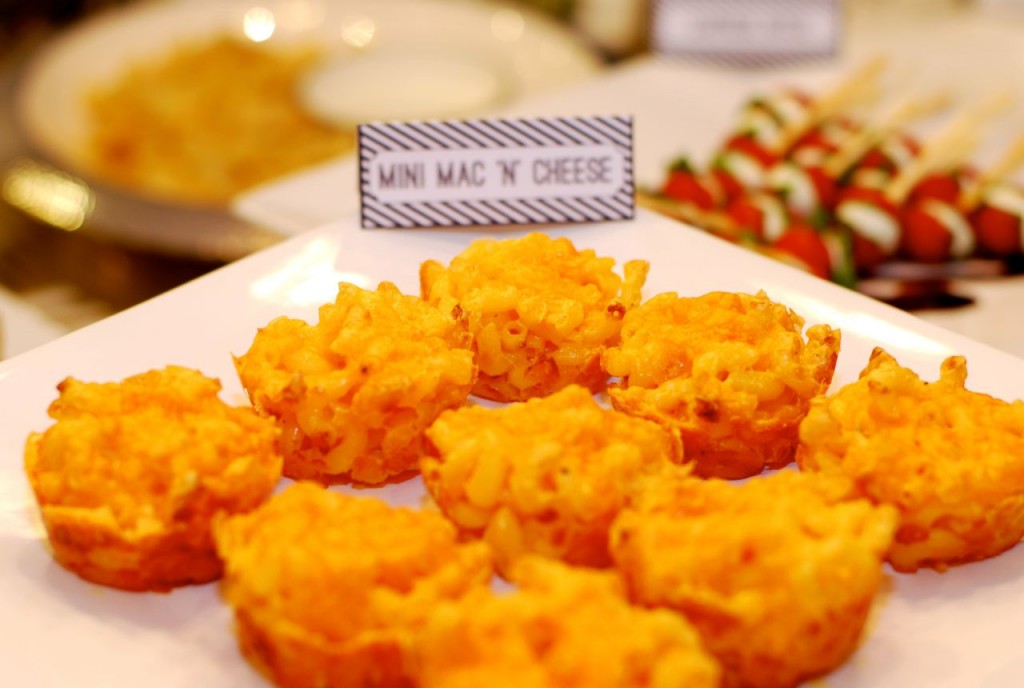 Because it's more fun to eat mac 'n' cheese with your hands, this Easy Mac and Cheese Muffins recipe from Allrecipes.com made several appearances in our house during 2014. Also, these are baked in a muffin pan to facilitate maximum crispy-edge-ness. We modified the recipe by skipping the breadcrumbs and used a gluten-free elbow pasta from Barilla. Oddly enough they actually turned out better than gluten-full pasta, as the edges were even crispier than normal. We also added a dash of nutmeg for fun. It's a great base recipe to tweak (each time we change up some part of it), so feel free use your favorite cheeses or even add some spices to your liking. We do want to warn that these don't quite hold up as a leftover, so be sure to eat all of them the day they're made.
Caprese Bites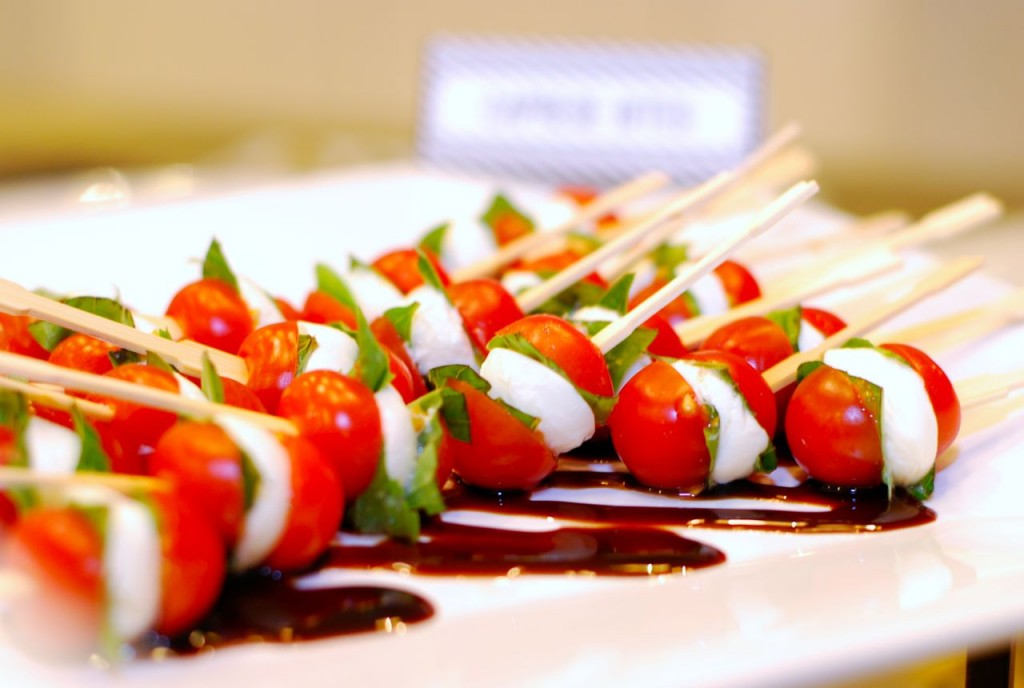 In a world full of heavy, meaty, carby appetizers, these Caprese Bites are here to add a bit of freshness to the table. A classic italian combination of tomato, basil, mozzarella, and balsamic vinegar made party-ready with a toothpick. Our secret weapon is Acetum Blaze Glaze, which is basically a pre-reduced balsamic glaze that will save you hours over the stove reducing vinegar. Definitely worth keeping a bottle around for balsamic emergencies.
Mini Chicken & Waffles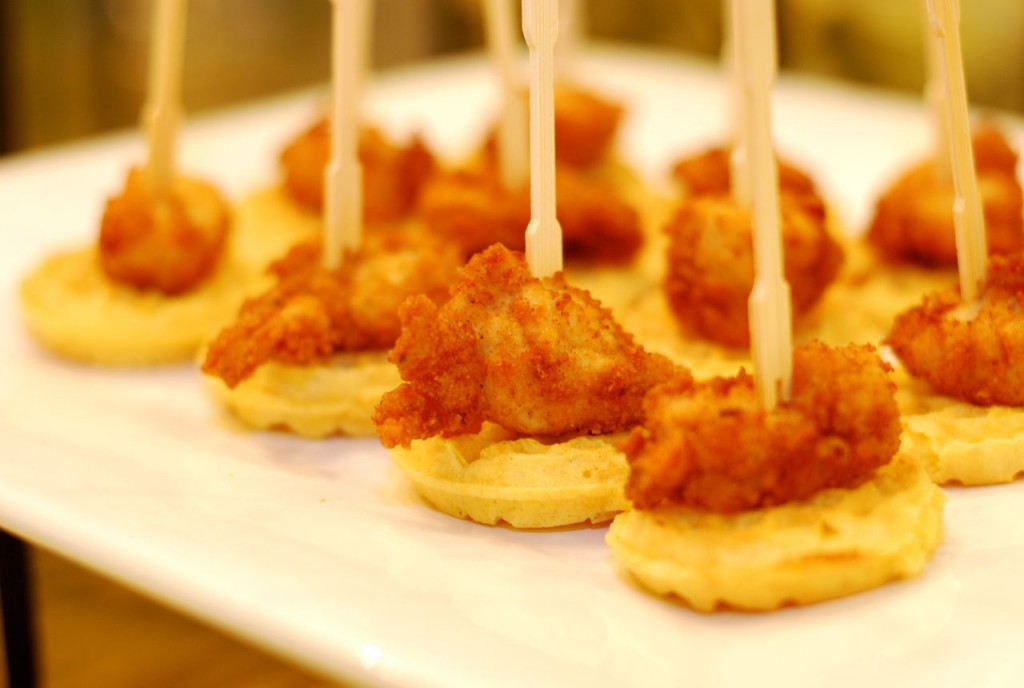 Wanna trick your mouf into thinking you're at Roscoe's House of Chicken & Waffles, but don't feel like jumping on a plane to L.A? Here's the secret: Mini Eggo Waffles and Chic-fil-A nuggets. (Chicken from Popeyes would also probably work fantastically.) You could go all homemade if you want, but then you wouldn't have time to make anything else. There are tons of variations on this appetizer, but we serve ours with a blend of pure maple syrup, Log Cabin syrup (for texture), and Sriracha for a small kick.
Spinach & Kale Bites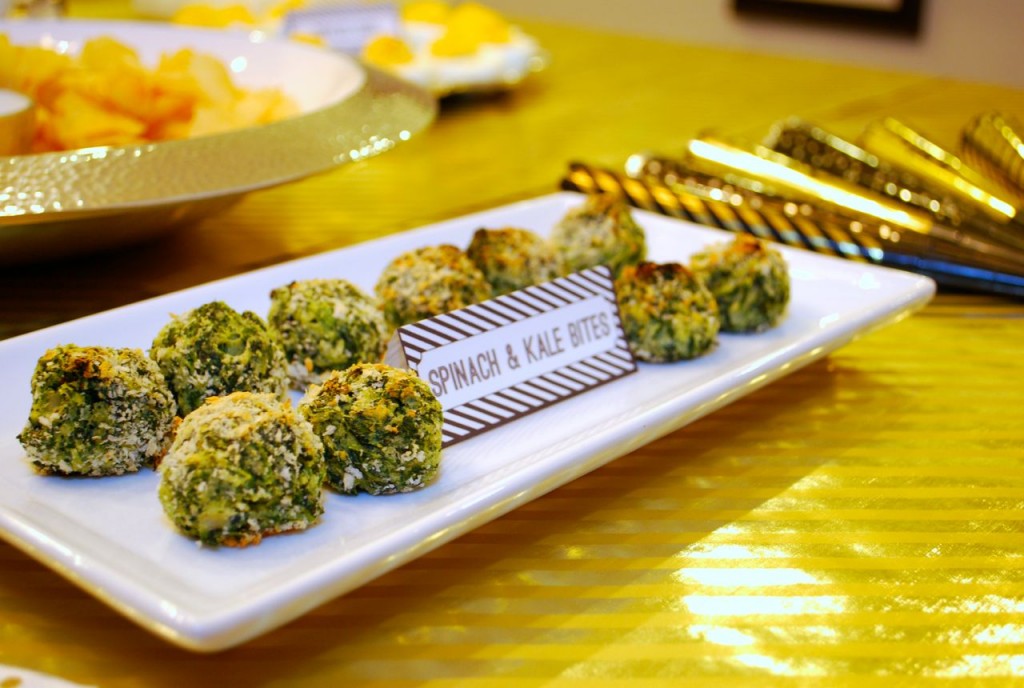 This is a small cheat, as these are frozen and are supplied by Trader Joe's. They're pretty good when they're hot, but be sure to re-heat for guests, as they're not so good at room temp.
White Chocolate & Cranberry Cookies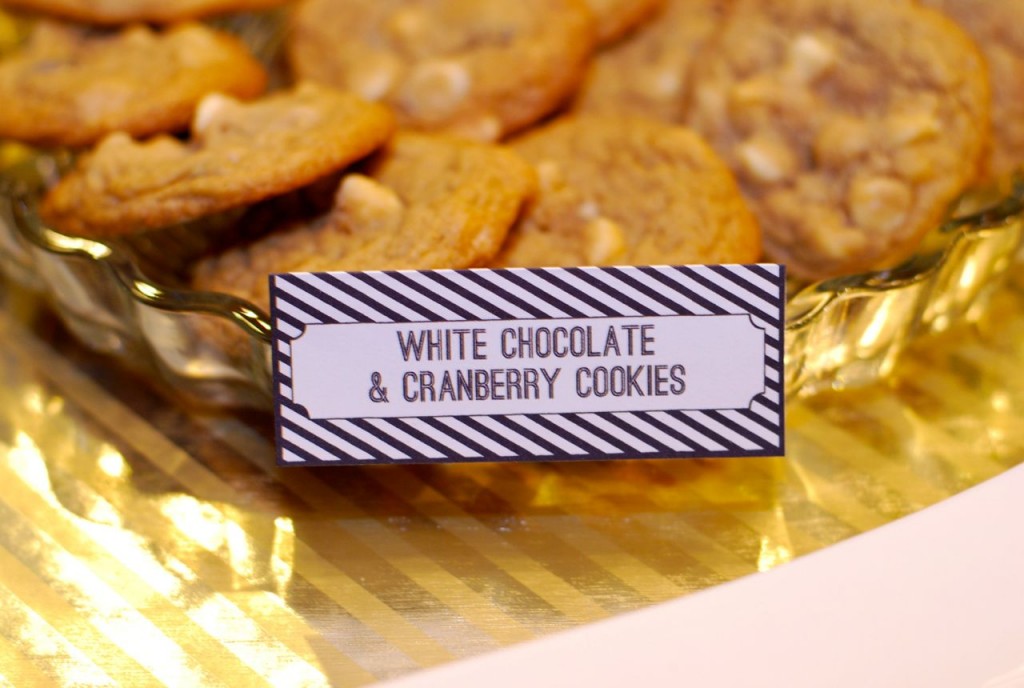 These cookies have become a holiday staple in our family. It's unfortunate, because I don't really like white chocolate all that much. However, it's a crowd favorite that ends up on all their Christmas wish lists, so we make a couple batches in early december and freeze the pre-formed dough to ensure we're fully-stocked and ready to bake throughout the season. The recipe is written down on a scrap of paper from my mom, so who knows where it originally came from. It's a fairly standard cookie nowadays, so take your pick from Google.
Cheesecake Bites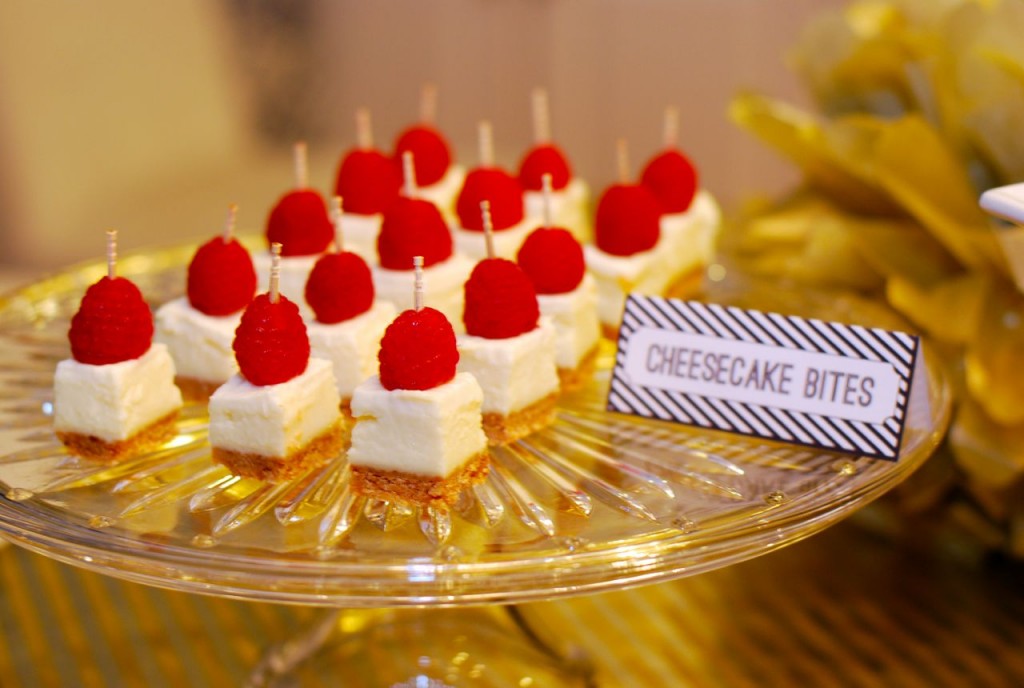 Tina first saw this "recipe" on the mint love social club blog. The reason for the quotes around "recipe" is that there's really no recipe other than cutting a frozen cheesecake into squares, adding a raspberry on each, then popping a thick toothpick in the middle. Seems a little too easy… After stuffing my face with salty snacks it's nice to have a sweet, fruity, creamy bite. But don't count how many you eat, as you don't want to realize you just ate an entire cheesecake one bite at a time.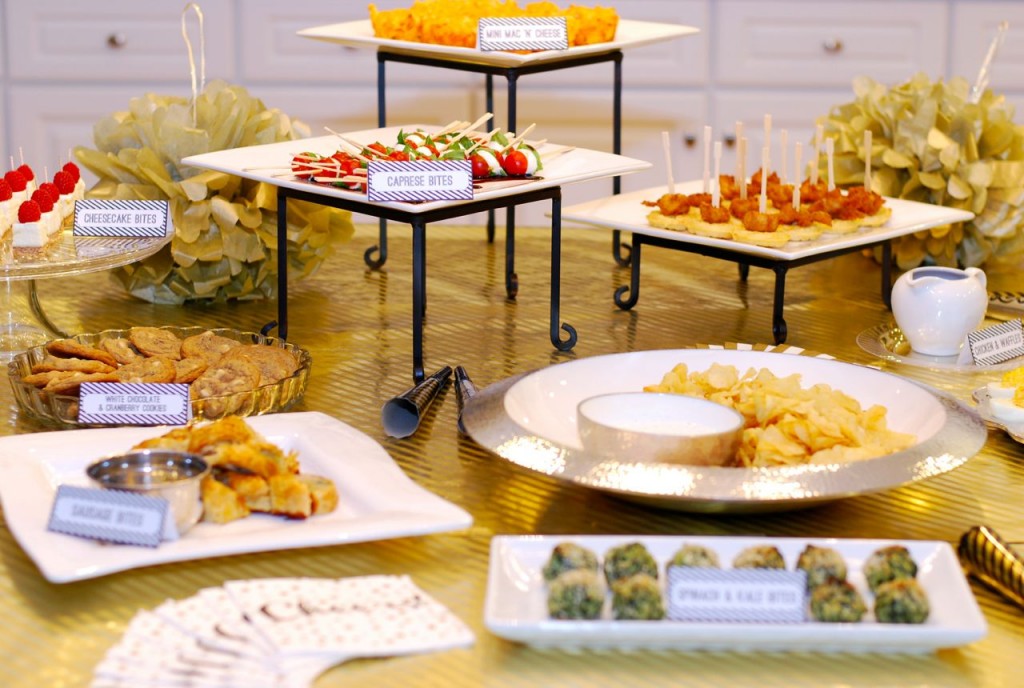 We clearly ate well and this was for a small gathering of about five people. Just imagine if we had a full-blown par-tay…
Stupid Disclaimer: No compensation or free stuff was provided from anyone for this post. All references to websites, products, and/or brand names are done so because we actually use and like them.