[This is post #044 towards #100DaysOfFoodBlogging, our goal to do 100 posts in 100 days as part of The 100 Day Project. Yeah, we're behind, but we'll catch up…]
First thing's first: What the heck is a pupusa?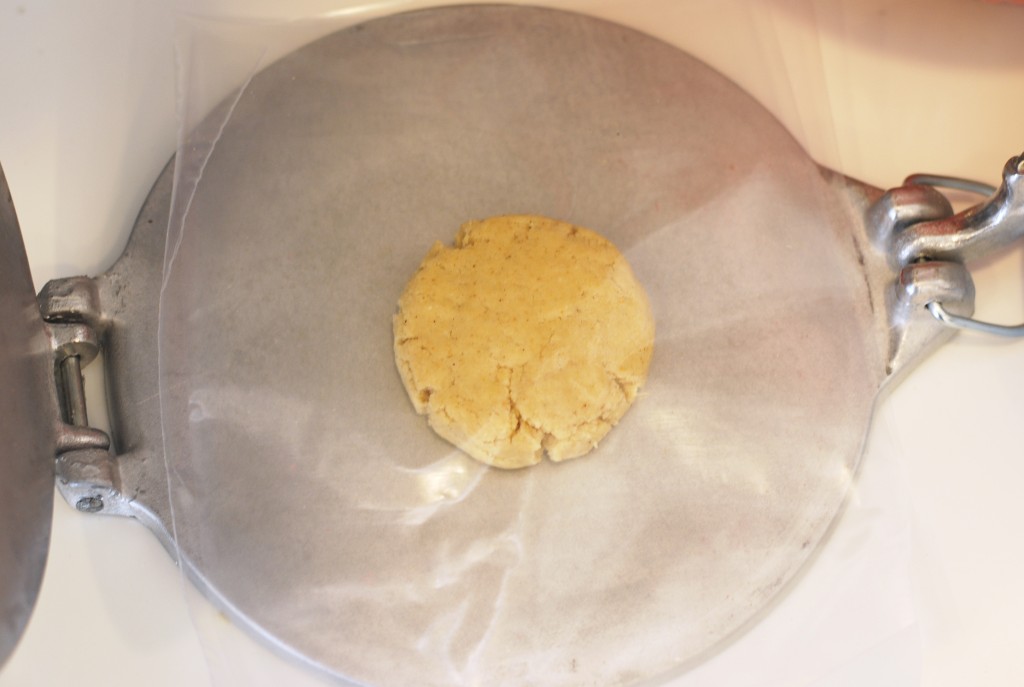 A pupusa is a Salvadorian dish which is basically a thick corn tortilla filled with meat, cheese, and/or beans. If you've ever made corn tortillas, the process is similar, except you stuff the middle with lots of delicious things and fry them in a small amount of oil. When eaten fresh, your mouf is treated to a crispy exterior hiding spicy meat and melty cheese. If you're really lucky, some of the cheese will escape when frying and get all nice and delightfully burnt. Traditionally topped with cabbage slaw and hot sauce, this makes for a solid meal.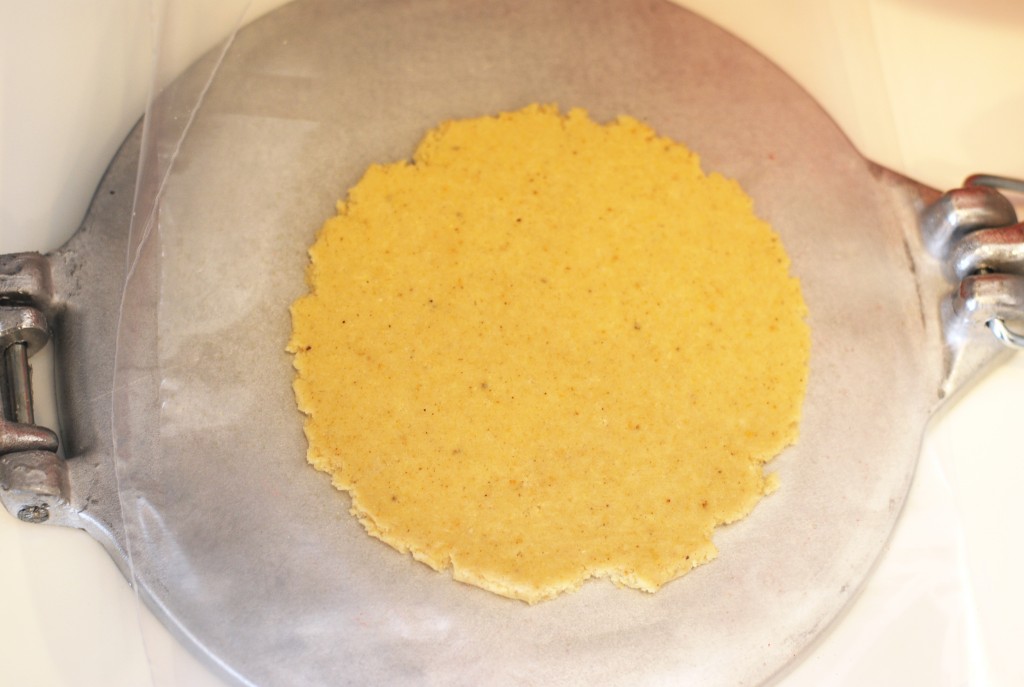 My hometown has a fairly good sized Salvadorian population, so there are plenty of pupuserias in the area, but it's not a dish you see gaining a ton of mainstream popularity. And I didn't even know what they were until I was introduced to them by my wife and mother-in-law (coincidentally, neither of whom are Salvadorian). Although our local Whole Foods in Fairfax, VA serves up some decent pupusas on Fridays, I'm still met with a flurry of questions when I bring them back to my office for lunch. So, there's clearly a ton of people who haven't been exposed to these filled corn creations.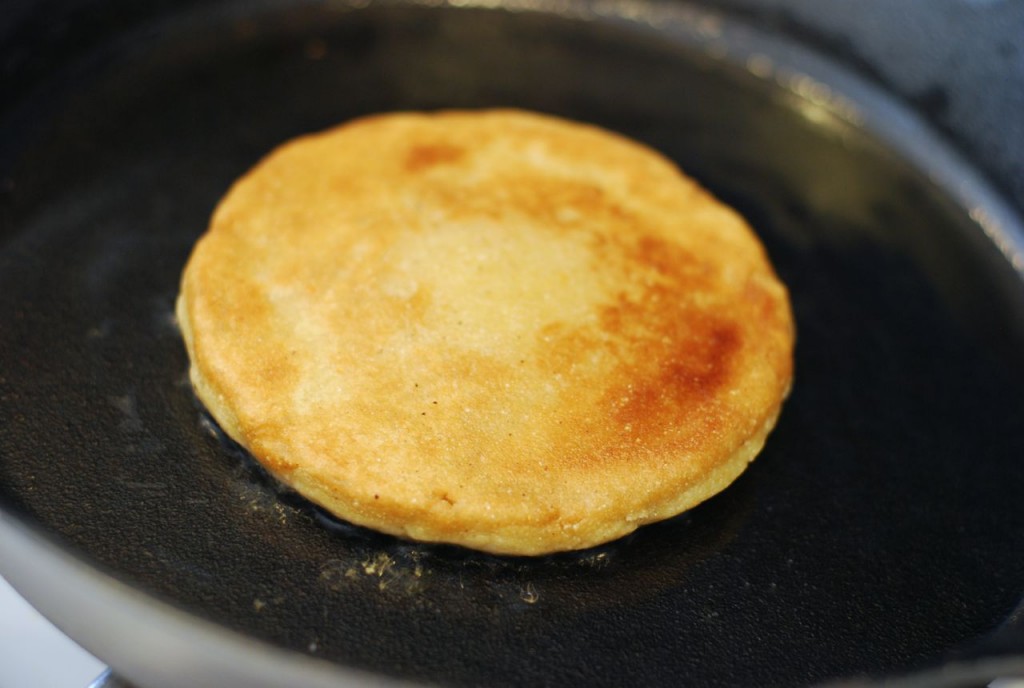 Okay now that you have all that great pupusa knowledge filling your mind grapes, let's take this traditionally savory dish and turn it into a dessert.
When you end up with four and half pounds of strawberries thanks to a day of strawberry picking, you start to look for interesting ways to use them. Thankfully, Tina tapped into her love of pupusas and her desire to use up as many of these juicy berries as possible and suggested we make a dessert pupusa. Oh and by the way, these are gluten-free. Yup. For folks with gluten intolerance, it never hurts to add another GOOD gluten-free dessert to the rotation.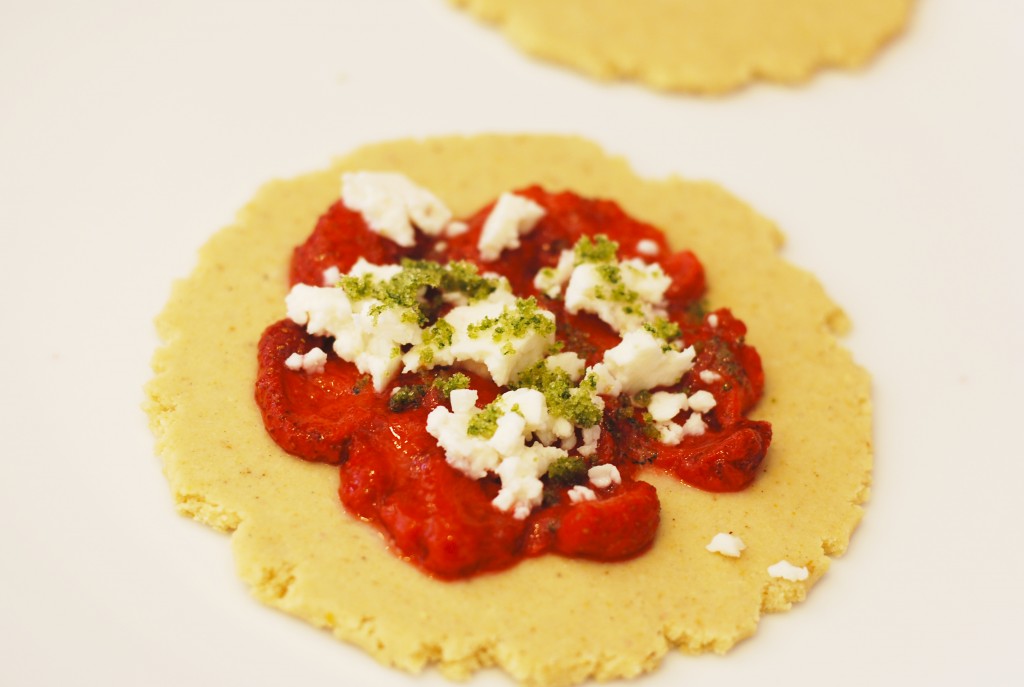 Here's the overall construction:
The corn dough is sweetened, filled with roasted strawberries, queso fresco, and mint sugar.
After cooking, the pupusas are topped with a sweetened Salvadorian crema. You could substitute fresh whipped cream if you can't find Salvadorian crema, but the crema makes for a nice change of pace and a better recipe title.
Since the traditional pupusa is topped with a slaw (and we still had almost four pounds of strawberries left), we topped the pupusas with fresh strawberries. It was a nice contrast in texture and flavor over the roasted strawberries and wasn't just because it also made the pictures "more pretty."
A touch more mint sugar on top. I'm not sure why we've never muddled sugar and mint together before, but we're sure going to be doing it again.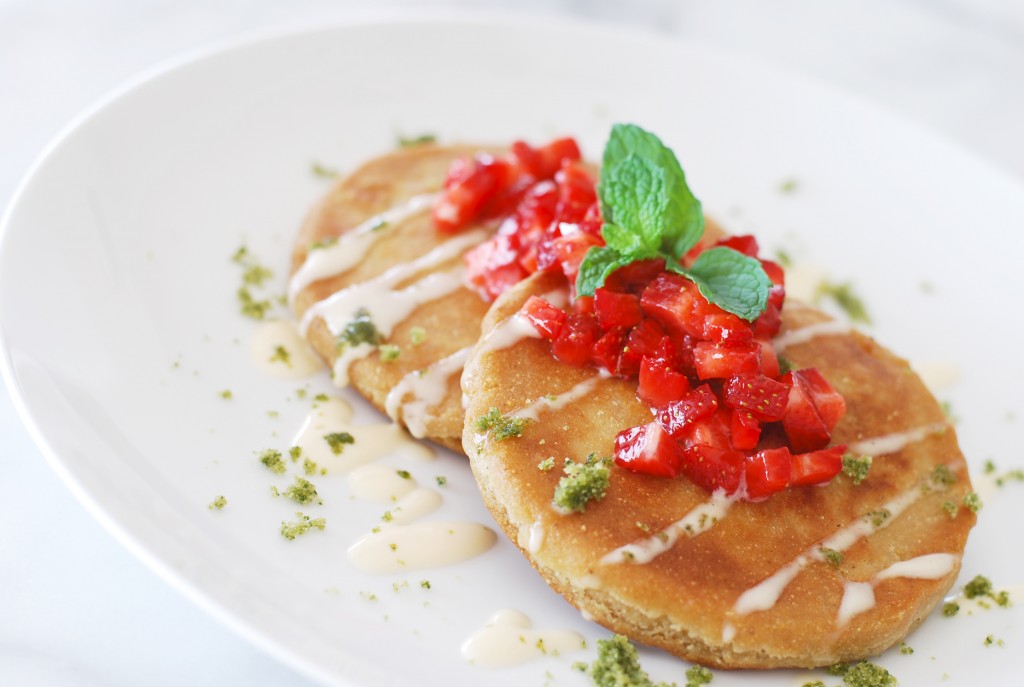 ROASTED STRAWBERRY PUPUSAS WITH MINT SUGAR AND SWEET CREMA
Makes about 4 Pupusas.
For the Pupusas:
2 Cups Masa flour
1 1/3 Cups Water
1/4 Cup Brown Sugar
1 Tablespoon White Sugar
Pinch of Salt
1.  Combine all of the ingredients by hand in a medium bowl and let sit for 20 minutes.
For the Roasted Strawberries:
Approximately 2 Pints Strawberries
1/8 Cup of Sugar
1 teaspoon Vanilla Extract
1.  Preheat oven to 450 degrees. While the oven is preheating, combine the ingredients in a medium bowl, then spread the strawberries out on a baking sheet lined with parchment paper. Bake for 20 minutes.
2.  After roasting all the berries, allow to cool to at least room temperature.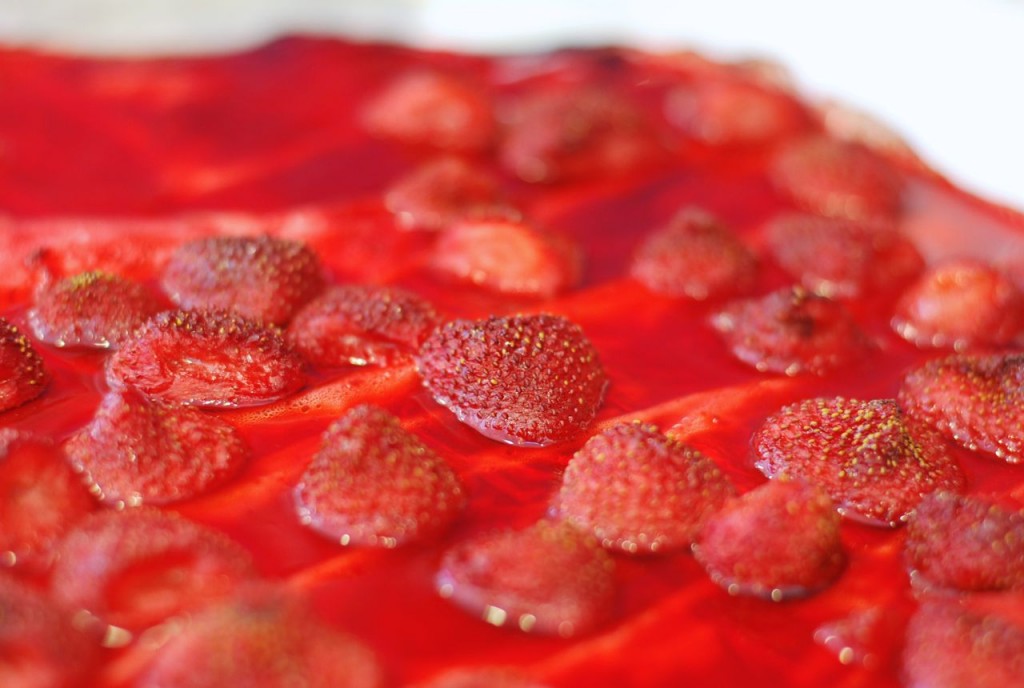 For the Mint Sugar:
5-10 Fresh Mint Leaves
5 teaspoons Sugar
1.  Using a mortar and pestle, grind the mint and sugar together until they are one.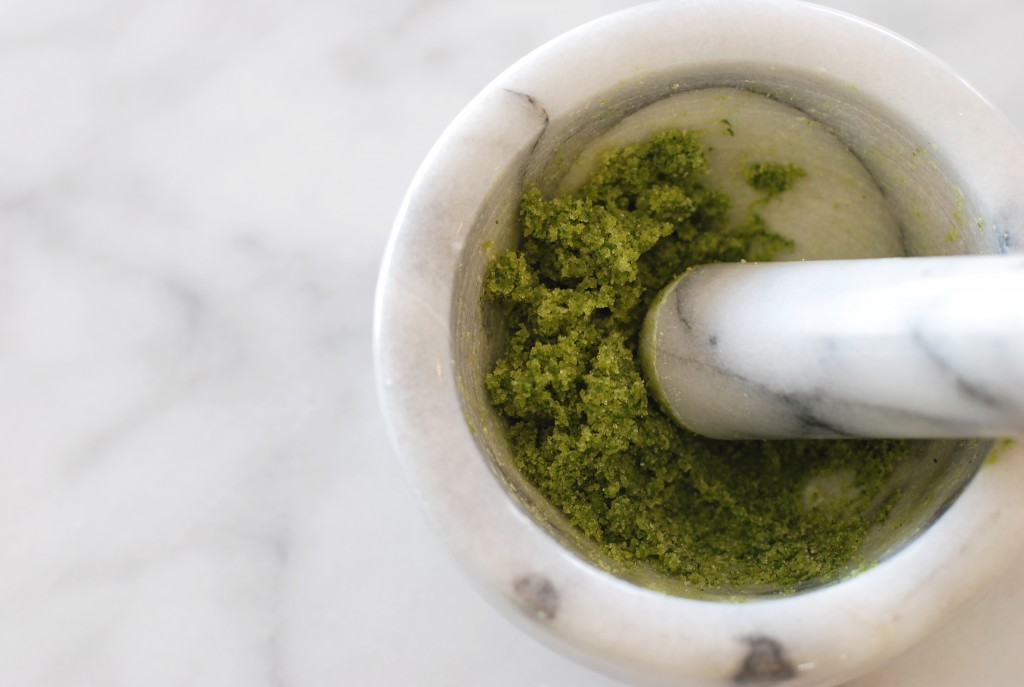 For the Sweet Crema:
1/2 Cup Salvadorian Crema
1 Tablespoon Confectioner's Sugar
1/4 teaspoon Vanilla Extract
1.  Whisk together the ingredients in a small bowl  until combined. Add more sugar to your liking.
Additional Ingredients You'll Need:
Queso Fresco
1 Pint Fresh Strawberries, diced
Coconut Oil for frying
Let's Make Pupusas:
1.  Using a standard size ice cream scoop, scoop out the dough and flatten with a rolling pin into a circle or use a tortilla press. Place a tablespoon of the strawberries in the middle, along with a slice of queso fresco, and a dusting of the mint sugar. Take another scoop of dough, flatten again, and place on top (kind of like a tortilla sandwich), then seal the edges. Repeat until you run out of dough.
2.  Heat a cast iron skillet or frying pan on medium heat and add enough coconut oil, so that the pan is generously covered, but still shallow enough that your pupusa won't be drowning.
3.  Fry each pupusa individually in the oil, about four minutes per side (they'll be golden brown). Place them on a cooling rack or paper towel to cool.
4.  Serve the finished pupusa with a sprinkling of the mint sugar, diced strawberries, and the sweet crema.