[This is post #048 towards #100DaysOfFoodBlogging, our goal to do 100 posts in 100 days as part of The 100 Day Project. Yeah, we're WAY behind, but we'll catch up…]
The legend of Duck Donuts has grown fairly quickly around Northern Virginia over the last year.
A staple of the Outer Banks (a beach vacation destination for many in the area), the donut shop has recently expanded up the east coast via franchised locations.
Although I have been to the Outer Banks before, I never had an opportunity to try Duck Donuts, so last year at this time, I didn't even know what a Duck Donut was. Now they're popping up all around us, including one in Herndon, the newly opened Fairfax location, and the soon-to-be open Bristow shop (which happens to be about five minutes from our house).
People who have enjoyed the fried treats at the beach are happy to sing their praises. So much so, that over the last year the lore of this brilliantly delicious, yet simple donut shop has spread with conversations that have included the following phrases:
"You're getting a Duck Donuts!"
"I don't eat donuts very often, but I always eat Duck Donuts when I'm at the beach."
"OMG! Is Duck Donuts open already?"
"DUCK DONUTS?! [followed by weird exclamatory noises]"
With so much hype, I was a little bit concerned of being let down. Could these fried dough rings really live up to the legend?
Fortunately, the Fairfax shop is near my office, so a co-worker kindly picked up a couple dozen for us to sample.  We tried nearly all of the  possible flavor combinations, with the highlights being orange glaze, classic cinnamon sugar, chocolate with peanuts, and french toast (the daily special, which I believe was a cinnamon sugar donut with maple glaze).
So, what'd I think?

I ate three donuts for breakfast, then went to the store at lunch to take a dozen home.
These donuts are freaking addicting. I'm typically partial to yeast donuts over the cake style, but these cake donuts are very light. When eaten fresh you'll be met with a nice crunch in the middle hole where the dough was fried crispy–I love that crunch.
What's their secret to a simple, yet addicting fried treat?
They don't have a case of pre-made items for you to pick from, because ALL of the donuts are made to order. What makes the process even easier is the order forms. You don't have to use them, but it definitely helps for large orders, as a grid of toppings and flavors lets you easily choose your favorite combinations.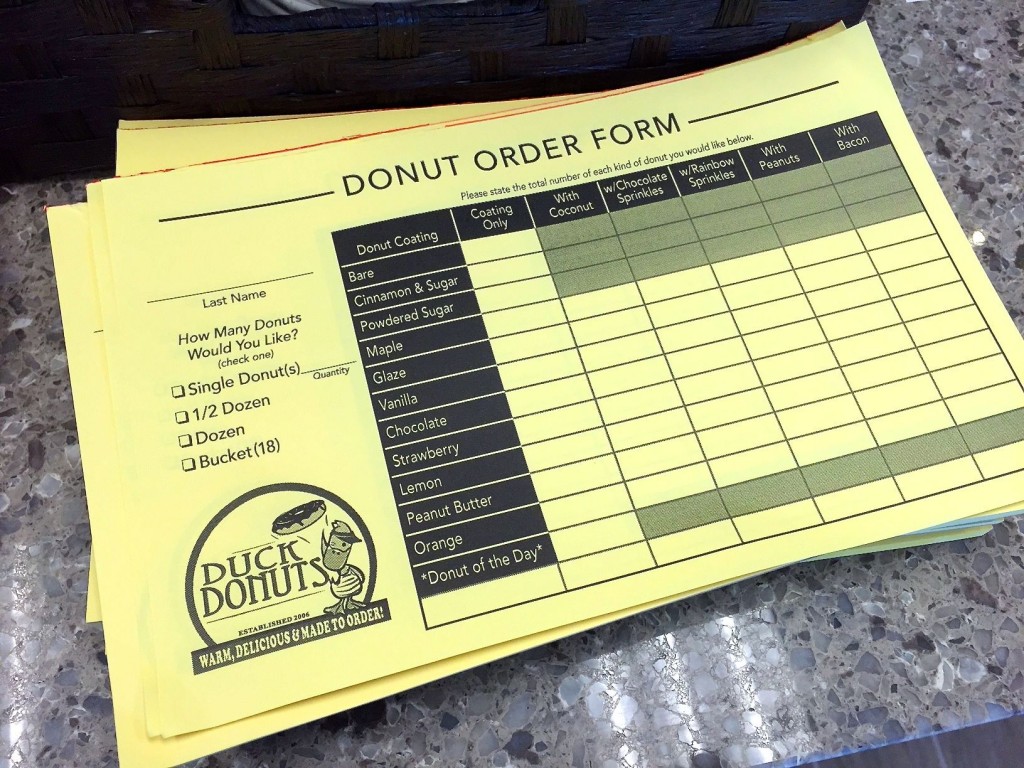 While waiting for your order, you can watch the efficient assembly line at work. On one end, guided by a human donut professional, a donut machine cranks out little fried halos of heaven. Another donut pro places them on a drying rack ready for the next group of employees to fill orders by glazing and topping the donuts with the customers' choices.
When your number is called, you're shown your box of donuts to confirm everything looks right. Then they close the box up, hand it to you, and–this is my favorite part–IT IS STILL WARM.
A warm box of donuts is a dangerous thing.
More dangerous though, are the actual donuts.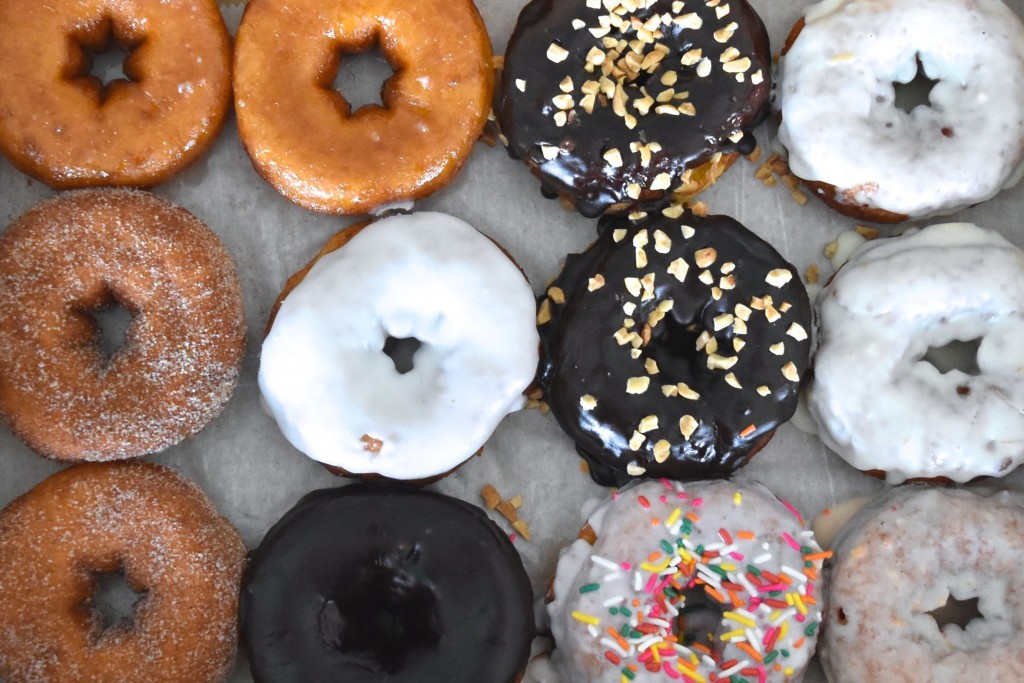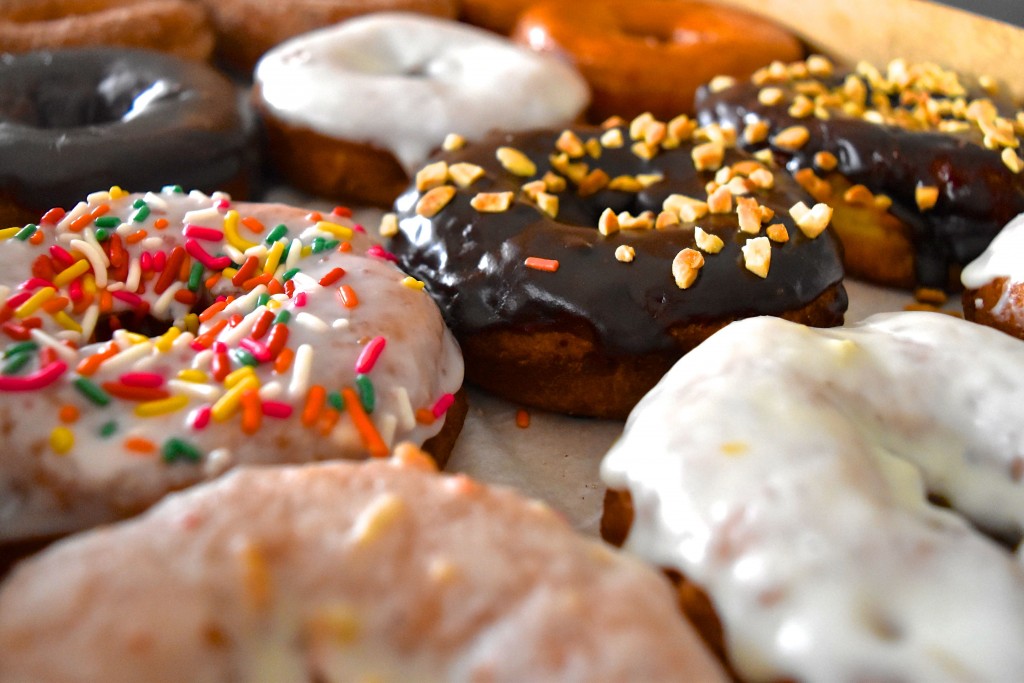 Like many before me, I am happy to help spread the legend of Duck Donuts. Go ahead and drool over this menu: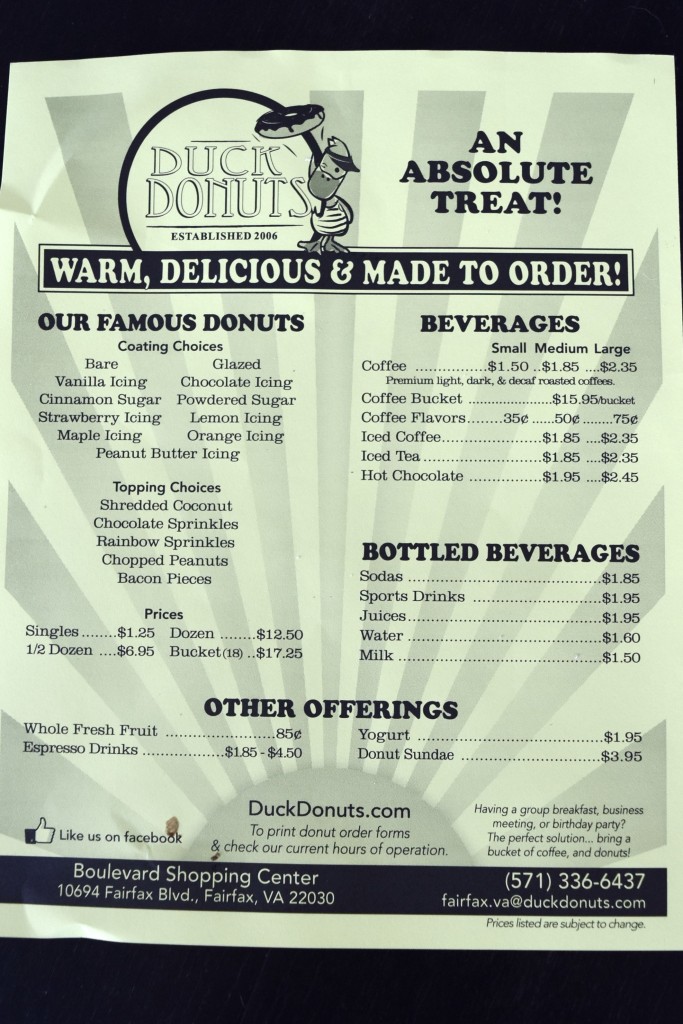 Disclaimer:  No free donuts or ducks were provided for this post. 
PS:  Their donuts are fantastic fresh, but if you do happen to have leftovers, might I suggest using them to make this >>> Doughnut French Toast Waffles