[This is post #049 towards #100DaysOfFoodBlogging, our goal to do 100 posts in 100 days as part of The 100 Day Project. Yeah, we're WAY behind, but we'll catch up…or not.]
The wait is over. At the beginning of July, Popeyes introduced their newest limited time offer:  Hushpuppy Butterfly Shrimp.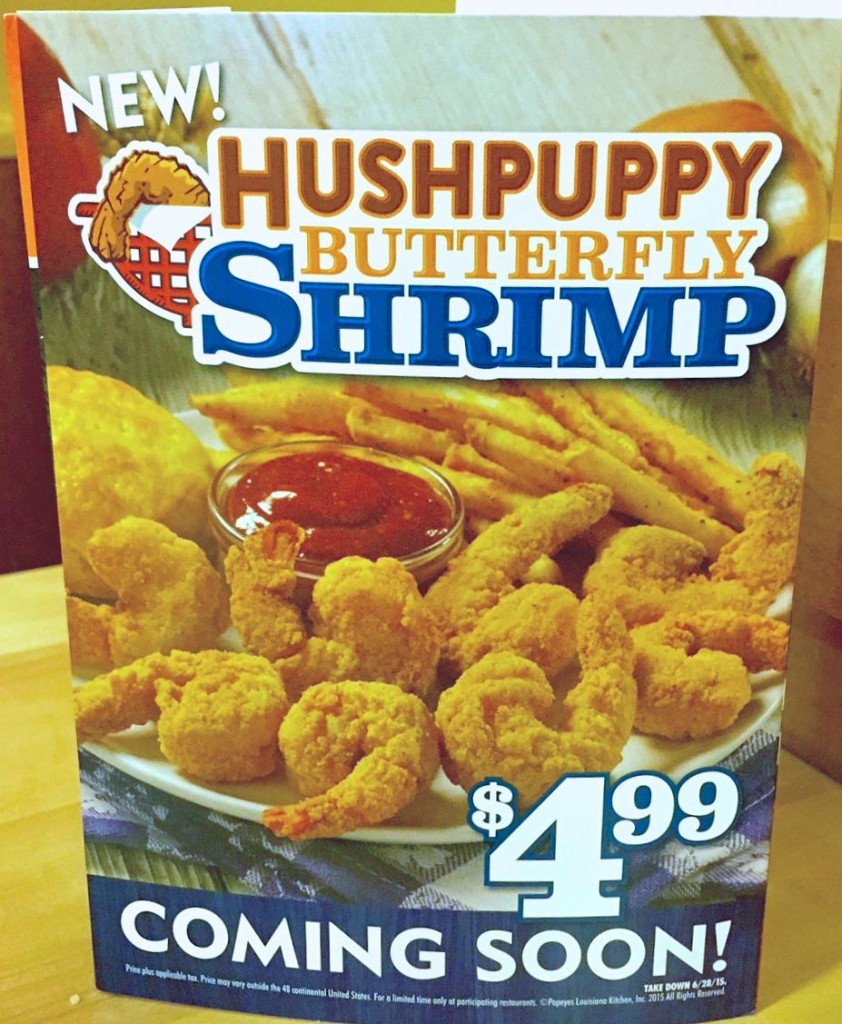 Basically, they take their marinated butterfly shrimp and toss it in a hushpuppy-inspired sweet cornmeal batter. To continue their cycle of new dipping sauces, the shrimp are accompanied by a Creole Cocktail Sauce. Makes perfect sense to combine two seafood favorites into one bite, but I honestly didn't have high hopes for these shrimp. I'm the first to profess my love of Popeyes chicken, but rarely does seafood translate well in fast food form. So, I liked the concept, but didn't expect it to be an item I'd want to order again.
Well, I was completely wrong.
Hushpuppy Butterfly Shrimp
Price:  Prices vary by location, so these are based on the Manassas, VA store.
Combo:  Approx. 8 shrimp + 1 Side + Drink = $5.99
Platter:  Approx. 8 Shrimp + 2 Sides + Drink = $7.99
I opted for the platter with sides of cajun rice and mashed potatoes. The platter also comes with an even larger drink which I believe they call Diabetes Size. Seriously, take a look at this monster, which is next to a half-gallon carton of milk: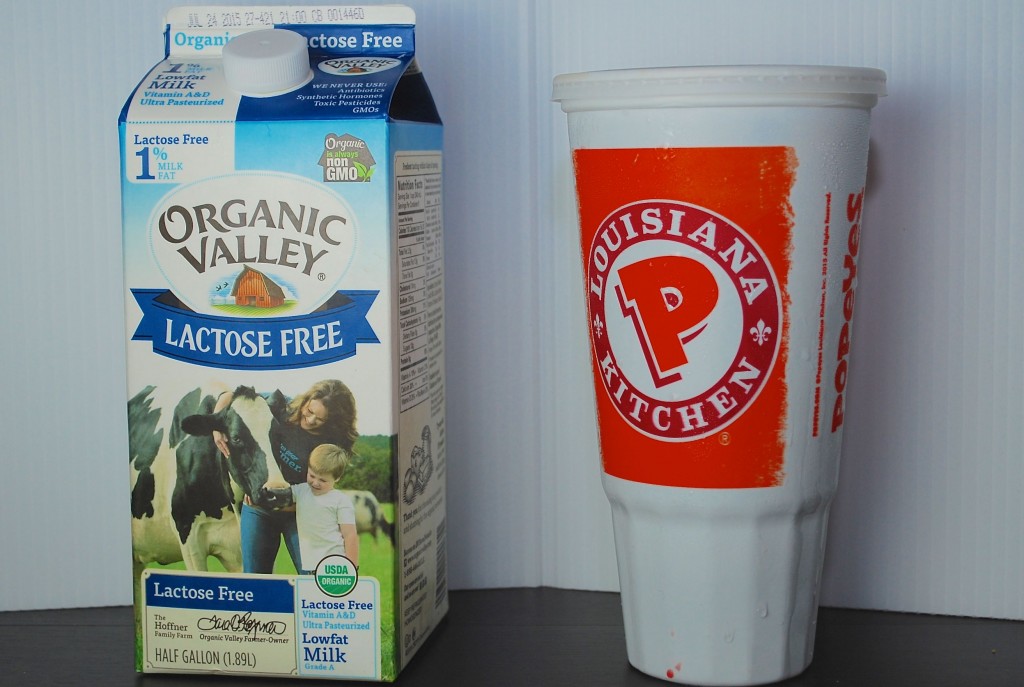 Looks:  The first thing I noticed was that the Shrimp are disappointingly small. I suppose for the price, it's hard to complain, but I would recommend going for the platter, which will help fill you up with that extra side. The crust is noticeably different than previous versions of their shrimp, which is clearly made with cornmeal. The shrimp are not quite uniform, with some looking more like a group of fried amoebas.
Smell:  I picked up my meal through the drive-through, so I had to spend about ten minutes smelling these things on the drive home. I can't say they specifically smelled of hushpuppies, rather they smelled more generally like a seafood restaurant (in a good way). I wanted to sneak a bite at a stoplight, but my hands were dirty from playing basketball with my brother. (And yes, I beat him two out of our three games, with a three-pointer at the end of the third game to confirm my greatness. I'm ready for you, Lebron.)
Texture:  The exterior crust was deliciously crunchy without being too heavy. A lot of fast food restaurants attempt to hide the actual shrimp with too much thick, cakey breading, but I like the shrimp-to-batter ratio on these. Hey, and shockingly, the shrimp wasn't overcooked! It was moist and as pretentious as it sounds, "its softness contrasted nicely with the crunch of the cornmeal breading." Yeah, I know…
Taste:  The good times kept rolling with the taste of this batter. As advertised, it had a nice hushpuppy-style sweetness, but the surprising part was that the shrimp were also a little bit spicy. It took me off-guard because I wasn't expecting any spice. It was a decent heat, but I wouldn't call it burning hot by any means. Overall, it reminded me of a hushpuppy, but even better. Most hushpuppies wish they were this good. I quickly became sad that I only had eight small shrimp to eat and regretted not getting a second "backup" order.
Creole Cocktail Sauce
Sadly, the name of this new dipping sauce should have been Unnecessary Cocktail-Sauce Inspired Ketchup. First, the shrimp are so good that the don't need any sauce. Second, if the shrimp did need a sauce, I would think a cooler tarter sauce would work well with the spiciness of the shrimp. Overall, I didn't hate the sauce by itself, as the Creole Cocktail Sauce's heat was pleasant and I wouldn't mind dipping some fries into the thick, dark red sauce, but it just seemed superfluous with these shrimp.
Verdict
Although I'd skip the sauce, I would absolutely order the Hushpuppy Butterfly Shrimp again. In fact, there's a 93.4% chance that I'll be stopping by Popeyes again this weekend. I loved everything about these, except for the size, which is in-part due to the fact that they taste so freaking good that I wanted more.
Not sure if it would translate well to chicken, but I'd be curious to try some chicken tenders with this batter. (You listening, Popeyes?) or maybe Popeyes should just PUT ACTUAL HUSHPUPPIES ON THE MENU. Just a thought.
Want a second opinion? Check out these other reviews:
Grubgrade | Review:  Hushpuppy Butterfly Shrimp from Popeyes
DanimalCrossing | Popeye's Hushpuppy Butterfly Shrimp Review
If you liked this post, you might enjoy this review of POPEYES SMOKY GARLIC CHILE CHICKEN: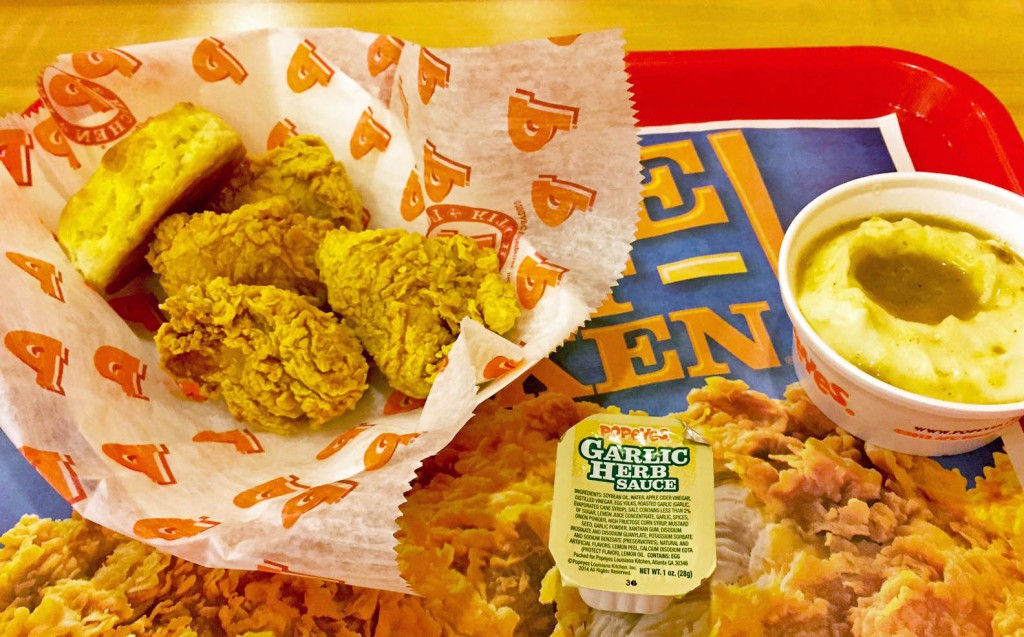 Disclaimer:  No free shrimp or cash money was provide to us for this review; however, they did accidentally give me a free side of mashed potatoes.