[This is post #050 towards #100DaysOfFoodBlogging, our goal to do 100 posts in 100 days as part of The 100 Day Project. Yeah, we're WAY behind, but we'll catch up…or not.]
Cost:  There is no admission fee; however parking is $5 per vehicle. There are optional $10 VIP tickets that allow you access to the festival for an hour before it opens to the public, along with free parking, and a beverage. Food from the trucks ranges in price, but be prepared to spend at least $20 per person to get a good sampling of food, drinks, and sweets. I ended up spending $31 for myself on all the food shown below along with a bottle of water. I was STUFFED by the time I left.
Dates / Locations
July 10, 2015:  Prince William County Fairgrounds – 10624 Dumfries Road, Manassas, VA 20112
September 26, 2015 (11 AM – 7 PM):  G. Richard Pfitzner Stadium – 7 County Complex Ct, Woodbridge, VA 22192
Okay, so we've complained in the past about the lack of food trucks out in the 'burbs, but on Saturday, July 10th we had absolutely nothing to complain about. With approximately 30 food trucks at the event, the Woodbridge Food Truck Festival arrived at the Prince William County Fairgrounds in Manassas, VA. Previously held at Gar-Field High School in Woodbridge, VA, the original festival attracted somewhere between 8,000 – 10,000 attendees, so the fairgrounds provided a larger venue, which can more easily accommodate that type of crowd.
With so many options, it was hard to decide what to eat. I think I spent more time wandering around the aisles of trucks lined along the the paved walkways than I actually did eating. And obviously it would be impossible and very expensive to try and eat something from every single truck (by the way I'm willing to do this if someone wants to be my financial backer). None the less, here are a few of my favorite bites and trucks from the event.
Meggrolls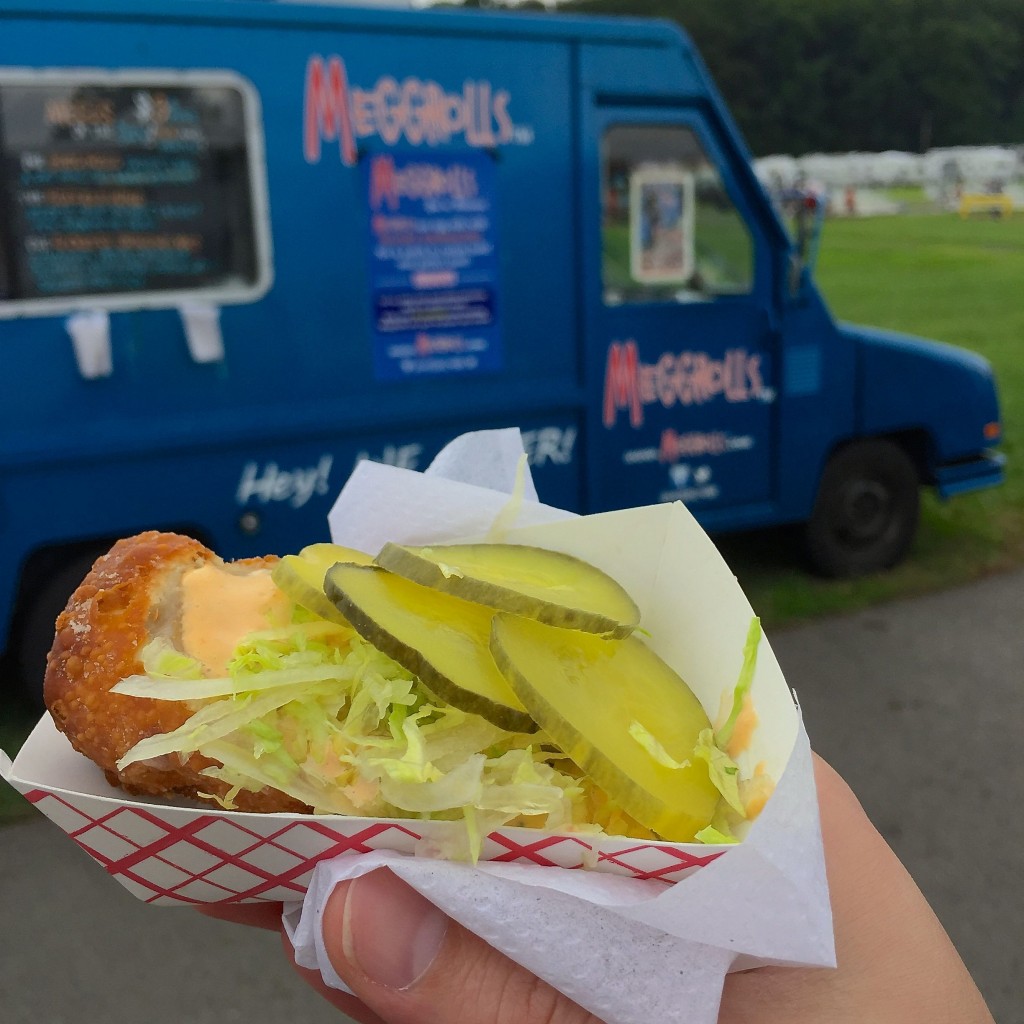 Literally two days ago, a co-worker of mine was telling me how she wished there was a food truck based solely on egg rolls. You can pretty much stuff anything inside of a crispy wonton, so why not, right? Well, Meggrolls is doing it and doing it well. Their "Big Megg" is a play on a Big Mac, complete with special sauce and pickles. I'll take the egg roll version over the classic burger any day. I also loved the Meggrolls truck because they offered smaller dishes ($3 for one egg roll), which helped me save room and money to try some other fare.
Feelin' Crabby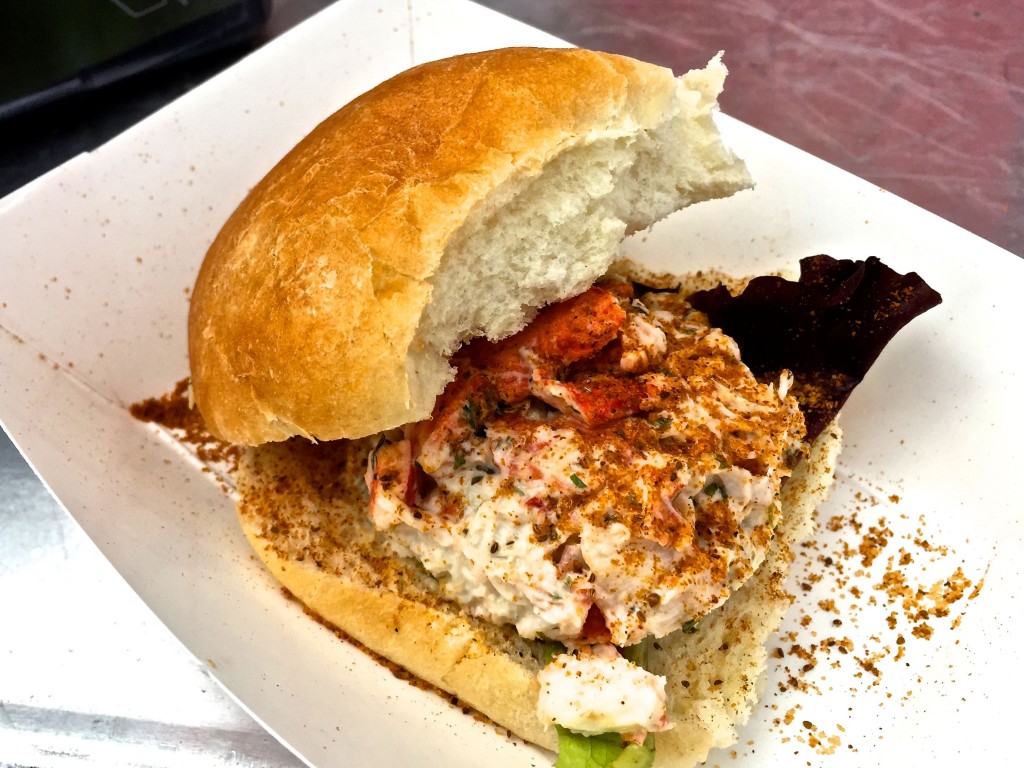 I've heard great things about this crab-themed food truck, so I made it a point to stop by Feelin' Crabby to check out the Crabster, their "hybrid" slider. For $6, The Crabster includes 1 oz of jumbo lump crab and 1 oz of lobster claw and knuckle meat dressed in an Old Bay seasoned sauce (it's kind of like cold crab/lobster salad sandwich). The slider was outstanding and was packed full of meat with a sauce that added that classic Old Bay taste without stepping on the delicate flavor of the seafood. If you've never tried this truck before, add it to the top of your "Must Search Out and Devour" list.
Arepa Zone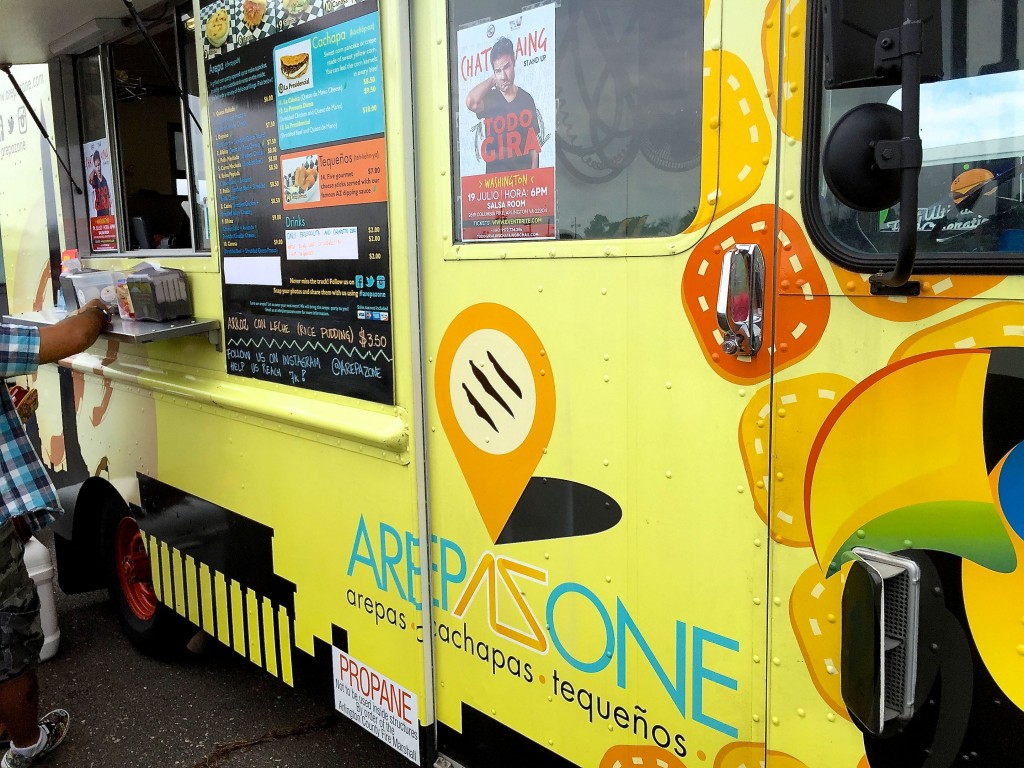 Having had a less than stellar arepa experience from restaurant in another city, I was eager for Arepa Zone to make me a fan of arepas. "What's an arepa?" I'm glad you asked! It's a grilled corn patty that is sliced open and stuffed with meat, cheese, and/or other delicious toppings. I opted to try the Catira, which is filled with shredded chicken and shredded yellow cheese. The corn patty had a nice exterior crunch, while the chicken was moist, packed with flavor, and plentiful. It's also served with a spicy sauce on the side that added a nice kick. The arepa was made to order, so it was burning hot which meant I was battling my will power not to quickly devour the whole thing and burn my mouf. In the end, Arepa Zone did make me a fan of arepas. BIG TIME.
Dyvine BBQ In Motion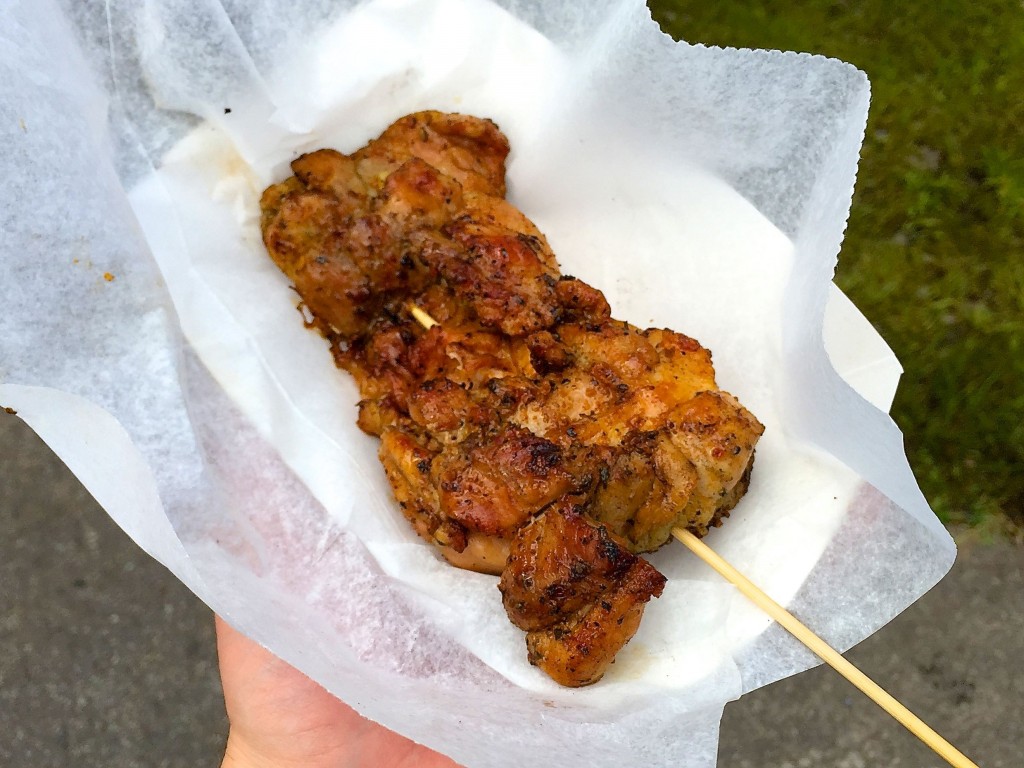 In an industry dominated by fusion food, quirky dishes, and food trends, sometimes it's nice to take a break with something simple, honest, and satisfying. All three are easily achieved by the chicken on a stick from Dyvine BBQ In Motion. An entire boneless chicken thigh, perfectly juicy with an awesome house rub (no BBQ sauce necessary) was the perfect way to end my adventure at the Woodbridge Food Truck Festival. So, yes, I basically had BBQ chicken for dessert.