My relationship with San Francisco's Deli Board all started with a single tweet:
@getinmymouf while you're in SF go to @deliboard

— Clifford. (@Catalyst_Red) July 16, 2015
The tip from @Catalyst_Red would become the recommendation of all recommendations during our recent trip to San Francisco. An hour after that tweet, I was mouf-deep in one of the best sandwiches of my life, the Ramone: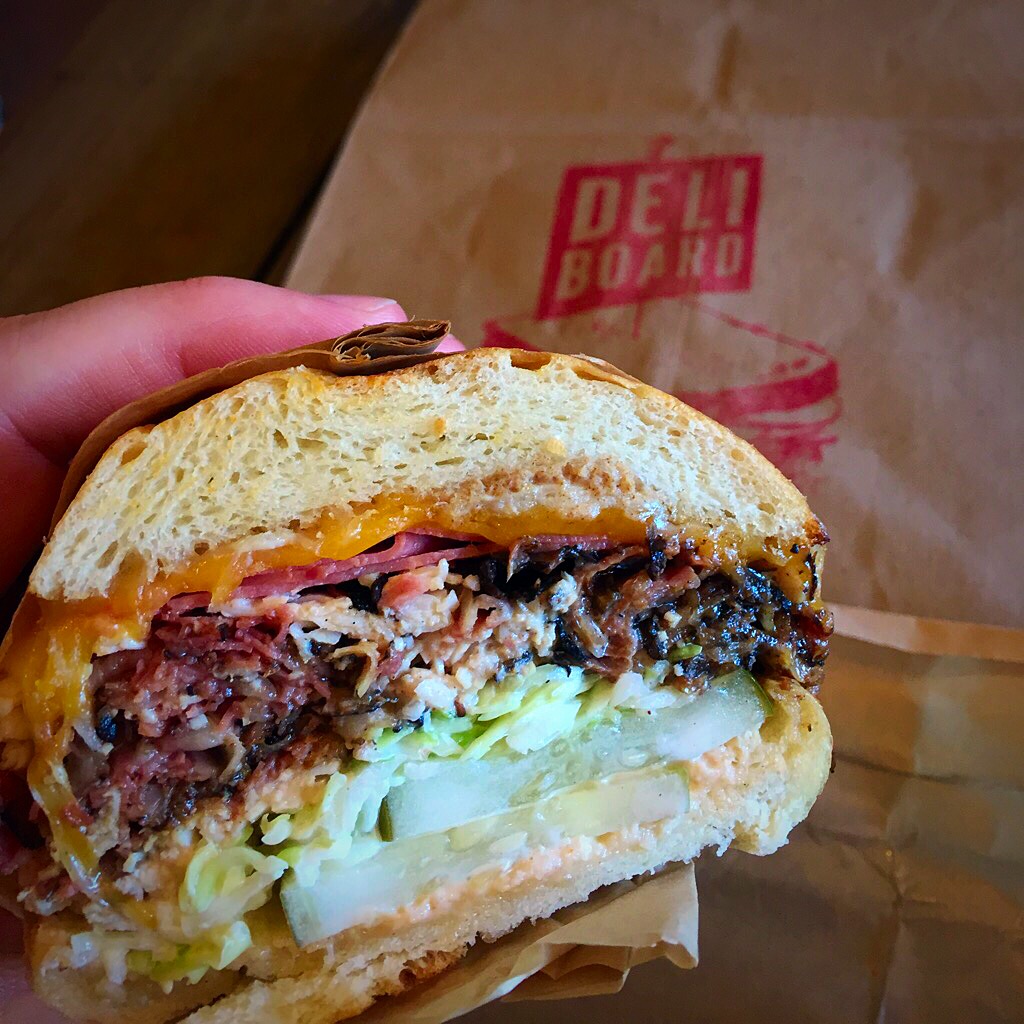 Let's get a little closer: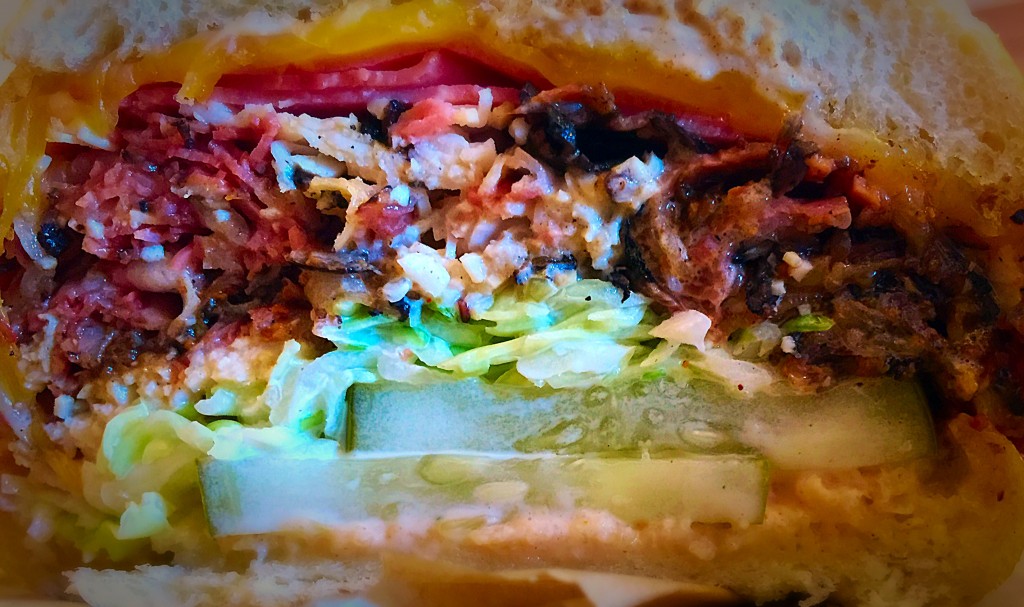 Meet Ramone:  Romanian pastrami, turkey breast, kosher salami, provolone, cheddar, pickles, coleslaw, board sauce, brown mustard, and a fresh baked French roll.
Did it taste as good as it looks? Yes. Better, even. It was warm. It was satisfying. It was sure to appear in my dreams one night–every night. It's construction felt like the design of a true sandwich engineer; each component working with the others, moist meat, the varying textures, house-made pickles, the bread–oh, the bread.
Before this gets too foodpornigraphic, let's jump to the man behind Deli Board–The Chairman of the [Deli] Board–Adam Mesnick. A Cleveland native and former mortgage banker, Adam has turned his love of sandwiches into a carefully crafted deli destination in San Francisco's SoMa neighborhood. Although he is perpetually busy running Deli Board and the recently opened "newish delicatessen," Rye Project, Adam was kind enough to take some time to answer these 11 questions:
1.  What is your fondest memory of food and why? 
For me, food evokes so many memories. I have too many amazing food memories to count–I have been eating food for 41 years. My memories of food are similar to many people's feelings about music or a certain song, it takes me back to a certain place, a setting, it helps preserve great memories for me. Sometimes just cooking certain things, like matzo ball soup. I have so many memories, it really just depends on the day, and which woman in my family was yelling about too much salt in my broth.
2.  Do you have any specific morning routines or rituals that you do every day to prepare yourself for being the Chairman of the Board?
I am an early riser as we mainly focus on lunch, so I usually take my pooch for a quick stroll, grab coffees for my crew and head in to get the day prepped and ready. I live a block from both stores, so I am always close.
3.  Do you listen to music in the kitchen? If so, what artists are on the regular rotation?
I am mainly an old dead head, my crew not so much. They listen to all sorts of shit I don't know the names of. But I do like that Usher song, "I Don't Mind," and they have really been into N.W.A. recently–I know all the lyrics from when I was a kid.
4.  You have a pretty solid team at Deli Board, what attributes do you look for in your employees?  
I am always looking for driven individuals that are service-oriented and have a positive attitude. Service and attitude are everything to me. Also, I am not afraid to spend the time training someone who is inexperienced; sometimes I actually prefer it.
5.  When you're not working in your restaurants, what do you do to relax and unwind? 
Mainly eating out, I do yoga as much as seven days a week, hang out with friends and my pooch, and work. I am always working on something or thinking about food. I am sort of obsessed with food and those closest to me would tell you I never stop.
6.  Aside from yourself, is there one person (or people) who has been vital to the Deli Board's success? 
There have been so many great additives along the way. It would not even be close to possible without great individuals working their tails off.
7.  Outside of sandwiches, is there another food item or genre that you'd like to master next? 
We are always looking to learn more about sandwiches, salads, salad dressings, soups, and sauces. We make everything in-house and they continue to evolve. We currently sell hot sauce at the stores and people dig it…I dig it. I am a pepperhead and love hot sauce, so packaging and the outsourcing of bottling is on the horizon. Way back in the day, when Deli Board started in 2009, we were a soup wholesaler and caterer. We now only cater, but we are working on a soup revamp as well right now, but for Deli Board and Rye Project, not wholesale.
8.  In an interview with SFGate, it was mentioned that the catalyst that eventually led you to Deli Board was losing your job in the  mortgage banking business. If you hadn't lost your job, do you think you would still be working in banking industry today?
I stuck around mortgage until 2009–it was the catalyst for sure. It was my best job in the mortgage industry, and things went south from there. I sold my home short, and have built Deli Board from the ground up. There have been some angels along the way, but it was all loans and most are complete, or close to it. I needed to do food.
9.  If you could travel back in time to when you started Deli Board and give yourself one piece of advice, what would it be?
The fact is, it's food and my dream come true, but it is a business and needs to be sustainable.
10.  What's the first thing you eat or first restaurant you visit when you go back to Cleveland?
I love Tommy's Restaurant in Coventry; I eat a falafel. I also am a huge fan of pepperoni bread, so I run to the West Side Market.
11.  Has Lebron James ever eaten at Deli Board? If so, what'd he eat? If not, what sandwich would you recommend for him?
Lebron has only eaten at Deli Board in my dreams. He strikes me as a simple eater–he grew up in Akron. He would probably want corned beef or roast beef and cheese, bread, simple…maybe a little sauce.
A HUGE thanks to Adam for taking time out of his busy schedule to answer these questions. And for everyone else out there, I hope your next task of the day is to book a ticket to San Francisco (especially you, Lebron).