This post is made possible through a partnership with the awesome folks at DriveShop and Mazda, who provided us with a vehicle to test drive for a week. You can follow the conversation on social media with the hashtag #DriveMazda.
Also, one of the cool things about testing out this Mazda, was that upon receiving the vehicle, we were provided with a $25 charitable gift card redeemable at OneOC.org/givingcards to donate to the charity of our choice. The Mazda Drive for Good charitable program has helped raise more than $7.6 million and has resulted in over 120,000 charitable service hours pledged since 2013.
Given that Thanksgiving is right around the corner and this is a food blog, we chose Food & Friends. The organization is dedicated to helping men, women and children living with HIV/AIDS, cancer and other life-challenging illnesses by preparing and delivering specialized meals and groceries in conjunction with nutrition counseling. What does that entail exactly? They deliver meals year-round, six days a week (including holidays) and since inception have delivered 18 million meals to over 26,000 individuals. Thus, the impact is huge, but they can't do it without volunteers and generous donations! To learn how you can help, visit their website for more info.
***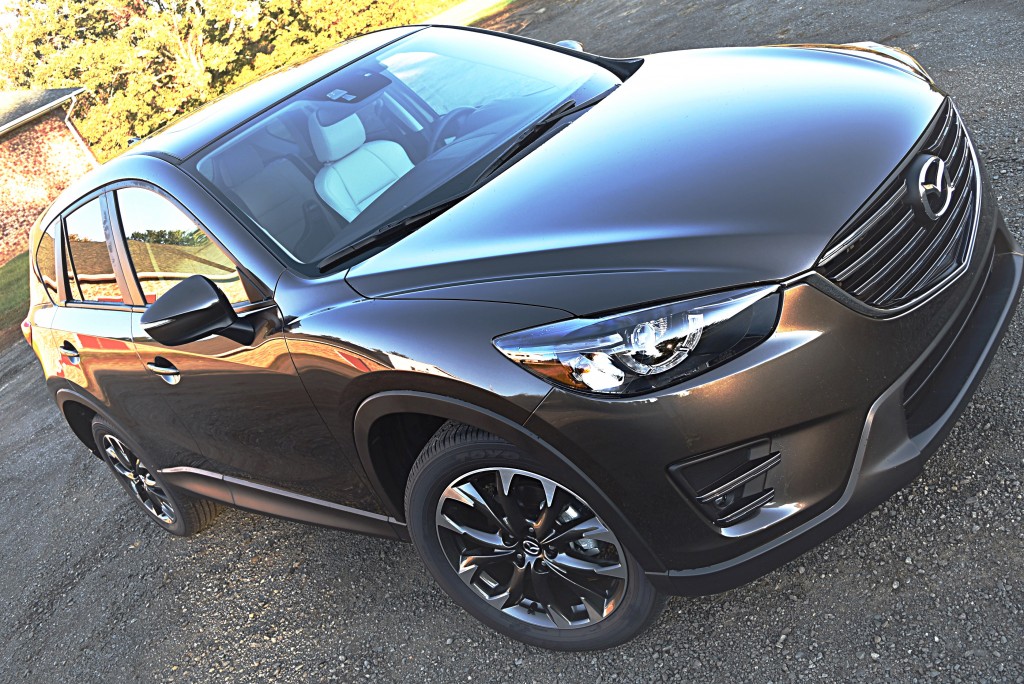 Full disclosure: I owned a Mazda for almost a decade. Does that create bias? Maybe. Does that also create some higher-than-normal expectations. Maybe. So, everything should balance out…
Specs
MSRP (as tested):  $32,340
MPG Estimate: 24 city – 30 highway
Engine:  2.5L Skyactiv, DOHC 4 cylinder
Power:  184 hp @ 5,700 rpm  | 185 lb-ft @ 3,250 rpm
Transmission:   6-Speed Automatic
Color:  Titanium Flash Mica
Options:  Grand Touring Technology Package (Navigation System, Smart City Brake Support, LED headlights with auto leveling, Adaptive Front-lighting System, LED fog lights, LED daytime running lights, LED combination tail lights and auto-dimming mirror)
For more info, click here to view the 2016 CX-5 Brochure.
Amenities
The entertainment system works really well, keeping in mind it does take some time to get familiar with navigating through everything. So, it's not quite as initially intuitive as others, but I easily learned what I needed within a few days of driving. No biggie for a car you'll keep for a decade.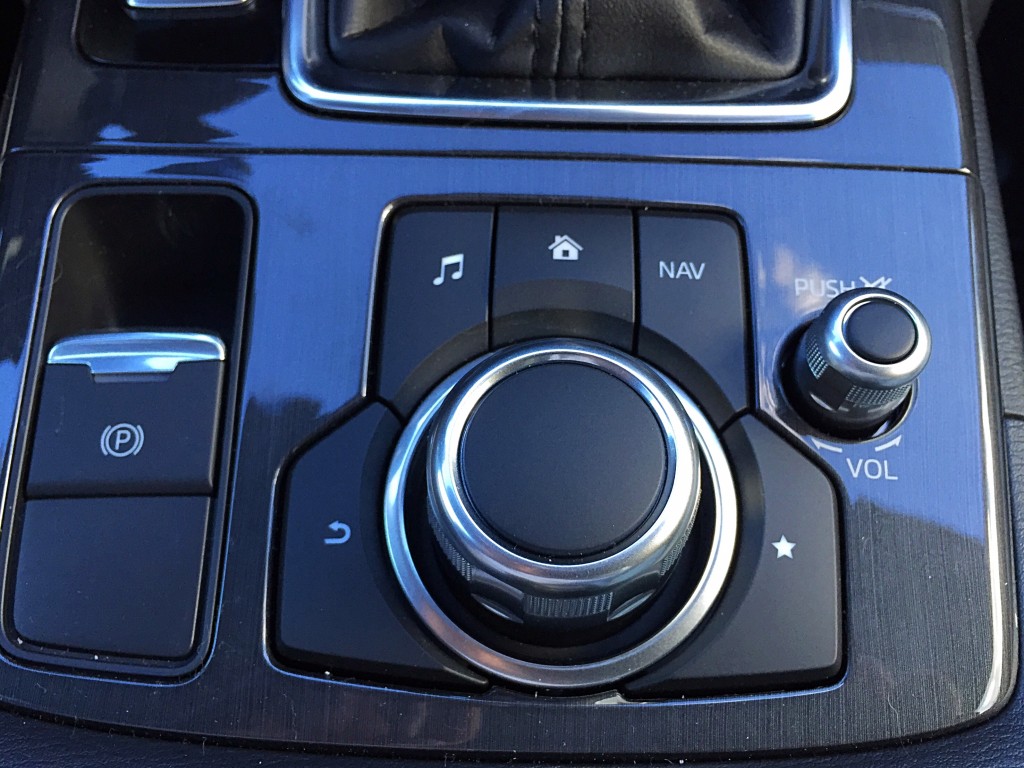 Voice commands also worked easily for making calls and entering addresses for the navigation system.
In my opinion, a huge plus is the fact that the Grand Touring comes standard with a Bose sound system (it's also optional in the Touring trim). I love me some Bose. I've got a pair of Bose computer speakers that can shake our house. So, needless to say the system in the CX-5 is plenty good enough to rock out, hip hop, or blast whatever your preference is.
Comfort
Although the seats were comfortable, the ride is a bit harsh, but that's the trade off you get for some of the zoom zoom that's discussed later.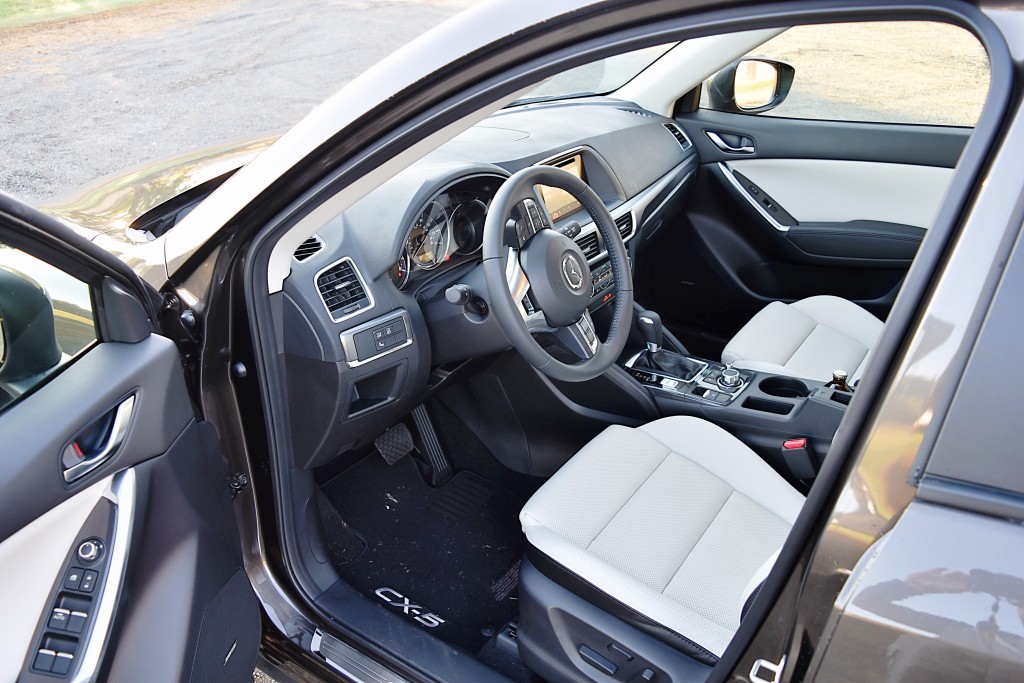 The A/C was decently cold and I only bring that up, because my old Mazda's only fault was its air conditioning. Quite the testament to how much I enjoyed that car, as I spent nearly a decade enduring long, sweat-filled summer commutes. This car was a sweat-free zone. Except when I took that one hairpin turn at 80 MPH. Kidding. Or am I?
Oh and not sure if you're into safety, but the 2016 CX-5 was named an IIHS Top Safety Pick+, which means this car could save your life. Especially during those 80 MPH hairpin turns. KIDDING. Drive safely.
Performance
This is quite a deceiving little SUV. First impressions would likely lead one to believe that this little go-getter is a suburbanite's dream, ready for trips to big box warehouse stores, home improvement shops for weekend warriors, and carting the little ones (two and four legged) around town. But honestly, all that stuff seems to bore the CX-5. Not that it won't do all that stuff well, but it seems to do the chores almost begrudgingly.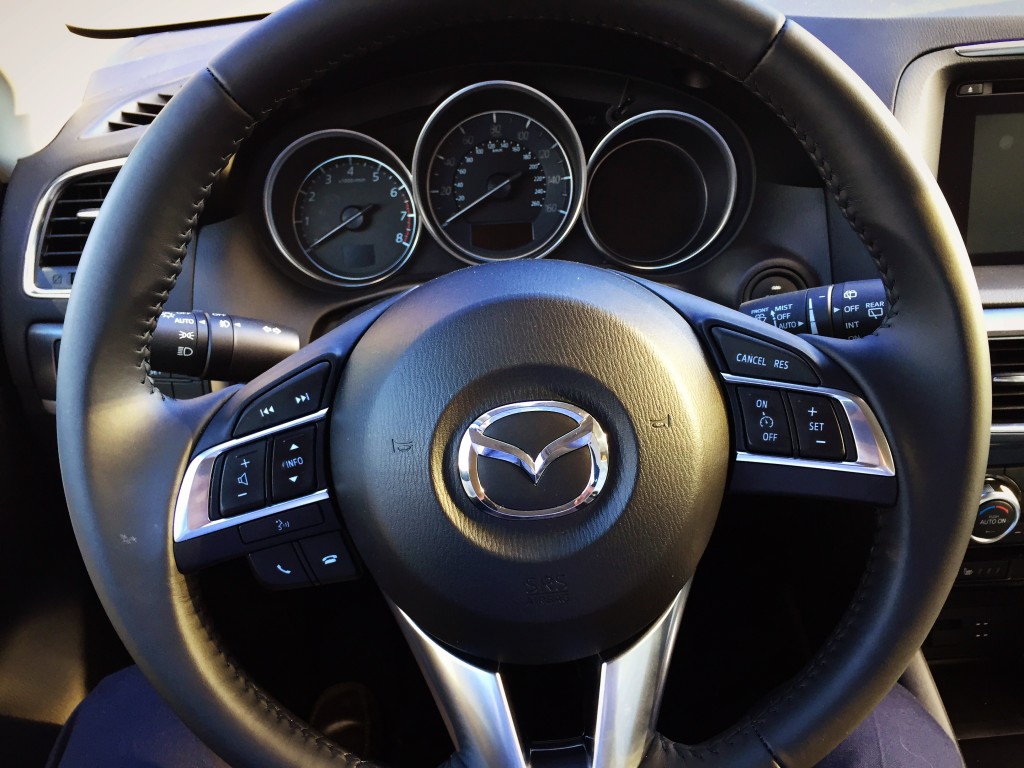 The CX-5 yearns to stretch its legs and search for winding roads, rural scenary, and areas where there might not be a road at all. During our time with the CX-5, the most fun we had was exploring the curvy roads on our way to visit Potomac Point Winery, and soaring across a grassy field, escaping the hellacious parking situation of a just ended Renaissance Festival.
I really wish we had some snowfall to play with like in this video.
Oh, and the gas mileage. Was it good? Well, for an AWD compact utility vehicle, I was pretty happy with our average of 26.8 MPG. That included five days of commuting to and from work (32 miles round trip) along with two longer trips with mostly highway.
Because of the nature of this car, my only complaint on the performance is the lack of a little more umph. And sure it might be gratuitous, especially for those who want to retain the solid gas mileage, but oh the fun you could have with a turbo-charged MazdaSpeed CX-5…
Smashing Good Looks
Co-workers and neighbors were happy to compliment the looks of the CX-5. The light Parchment color interior was noted on more than one occasion to be sexy. Also, the Titanium Flash Mica exterior made the car look almost like a mini-tank, which was cool. B-Y-O-Rocket Launcher.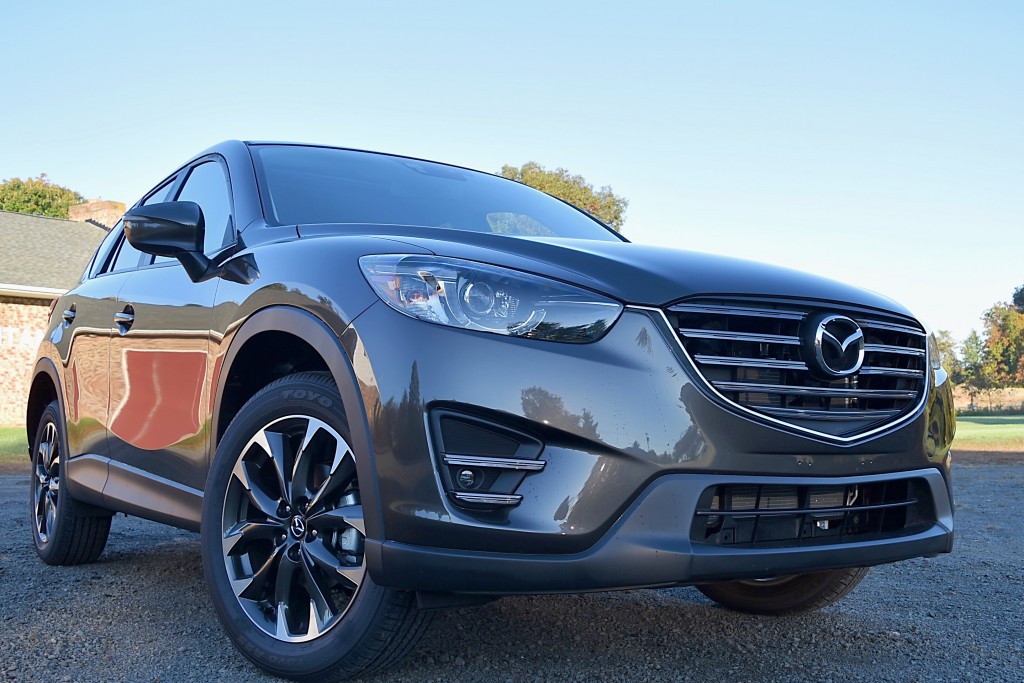 And personally, upgrading to the Grand Touring model is worth it for the wheels alone.
Who Should Buy This Car
This might be the car for you if you need a little more suburban hauling capacity, but you're not ready to sacrifice the handling of a smaller vehicle. You might want to check this car out if you enjoy taking weekend trips off the beaten paths and you'd rather take the long way versus a highway. And in all honesty, I was very close to purchasing this vehicle a couple months ago. Had it not been for our dog's extreme fear of change and anything remotely resembling an SUV, I might own one right now.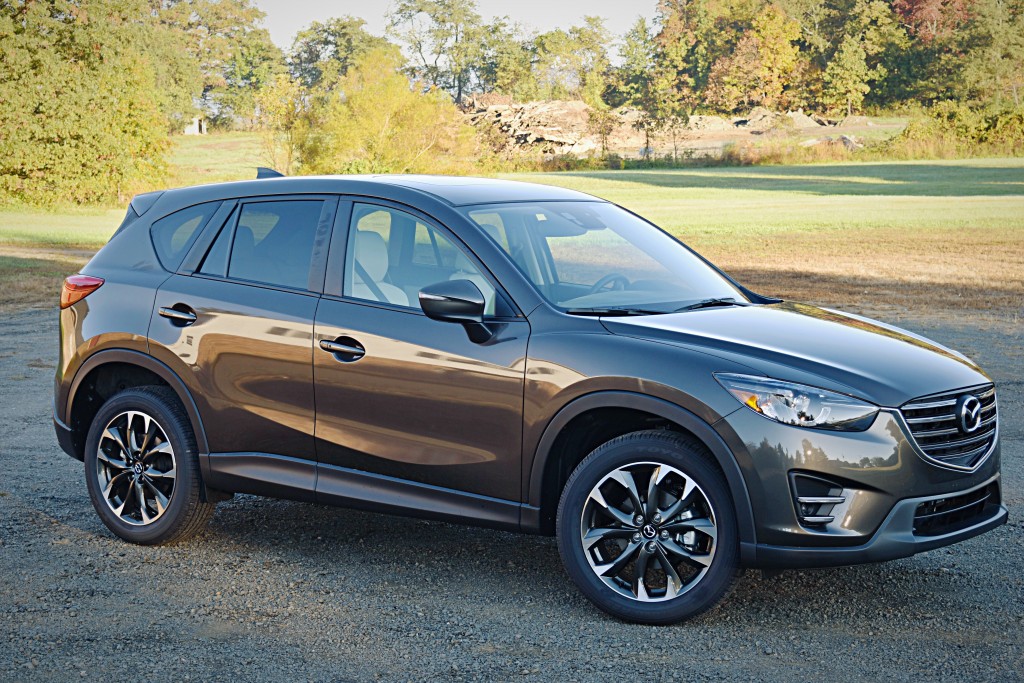 Disclaimer: As noted above we were provided this vehicle courtesy of DriveShop and Mazda. Other than being allowed to test drive this vehicle, we were not provided any monetary compensation for this post. All opinions remain our own and I seriously almost bought this vehicle. 
More care reviews…