This post is made possible through a partnership with the awesome folks at DriveShop and Kia, who provided us with a vehicle to test drive for a week. You can follow the conversation on social media with the hashtag #DriveKia.
Between this Sorento and the 2015 Optima SX we were able to test drive last fall, Tina and I have been surprisingly impressed. Full disclosure, there was a lot of overlap in what we enjoyed with this SUV and the sedan. So, for fear of this sounding repetitive to the last review, let's start out with something a little different: Out of the two vehicles, I would definitely choose this Sorento over the Optima in a Zombie Apocalypse situation.
Specs
MSRP (as tested):  $46,495
MPG Estimate:  17 – 23 MPG
Engine:  3.3 L V6 GDI Engine
Power:   290 hp @  6,400 rpm | 252 ft-lbs @ 5,300 rpm
Transmission:  6-speed Sportmatic Transmission
Color:  Titanium Gray
Options:  SXL Technology Package (Xenon HID headlights, lane departure warning system, forward collision warning system, electronic parking brake, surround view monitor, smart advanced cruise control)
Click here for the 2016 Kia Sorento Brochure
Comfort
No complaints from the comfort department. Of course, if you're being chased by zombies you probably wouldn't have time to realize how nice the seats feel for long stretches of driving. And you're hands will also be too sweaty from the adrenaline that you wouldn't need to use the heated steering wheel. However, the ventilated seats are nice for cooling your tuckus during tense situations.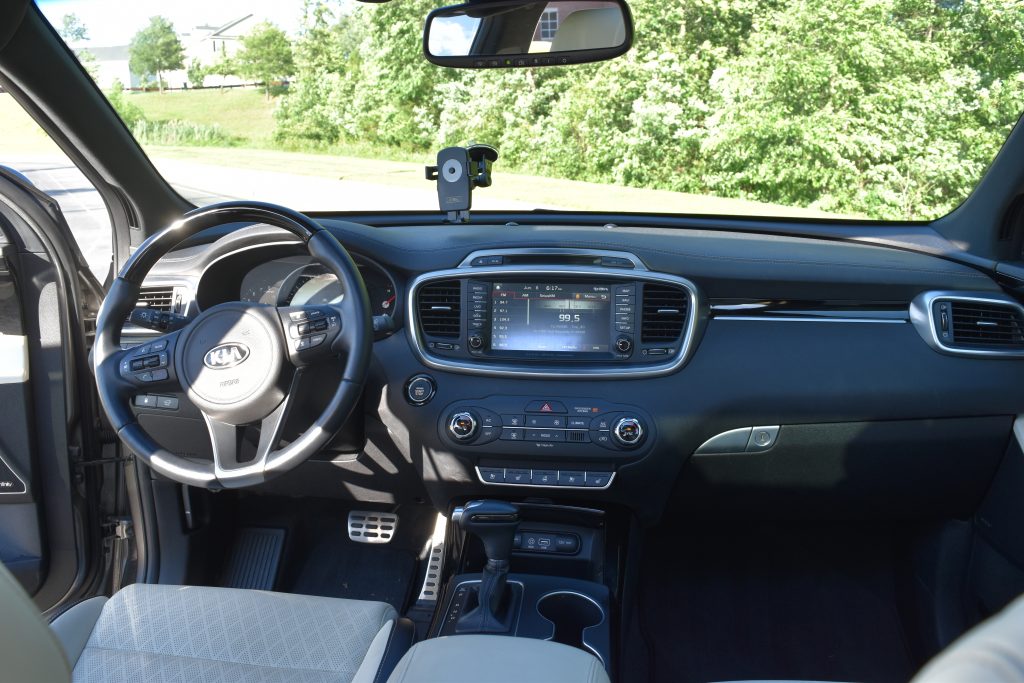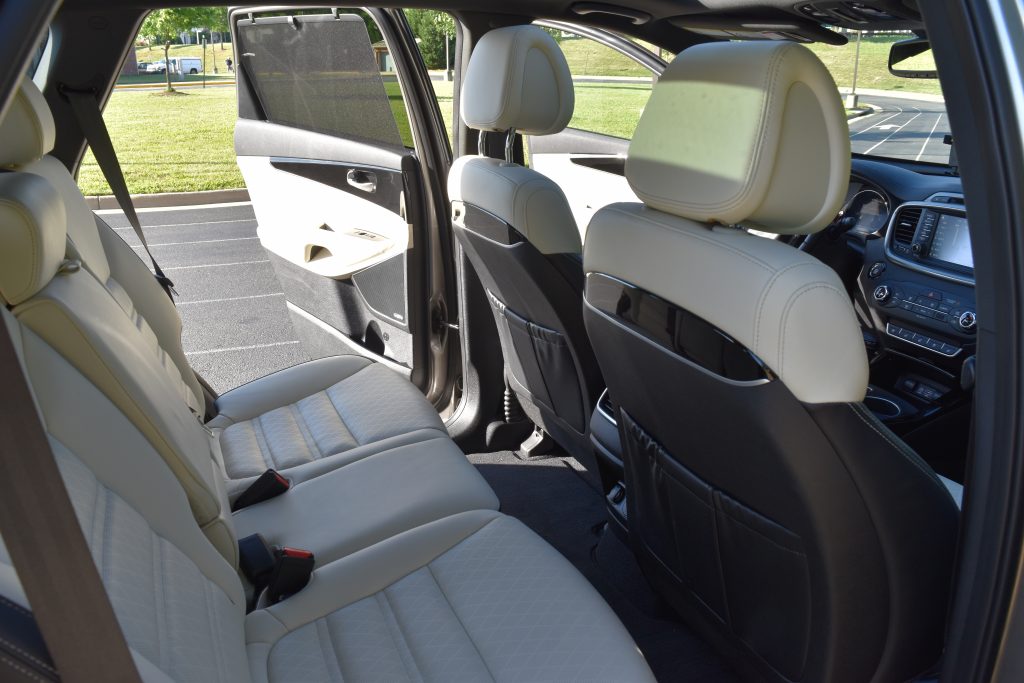 Also, the third row of seating could easily fit children, but you'd probably want to save that room for food rations, weaponry, and ammunition.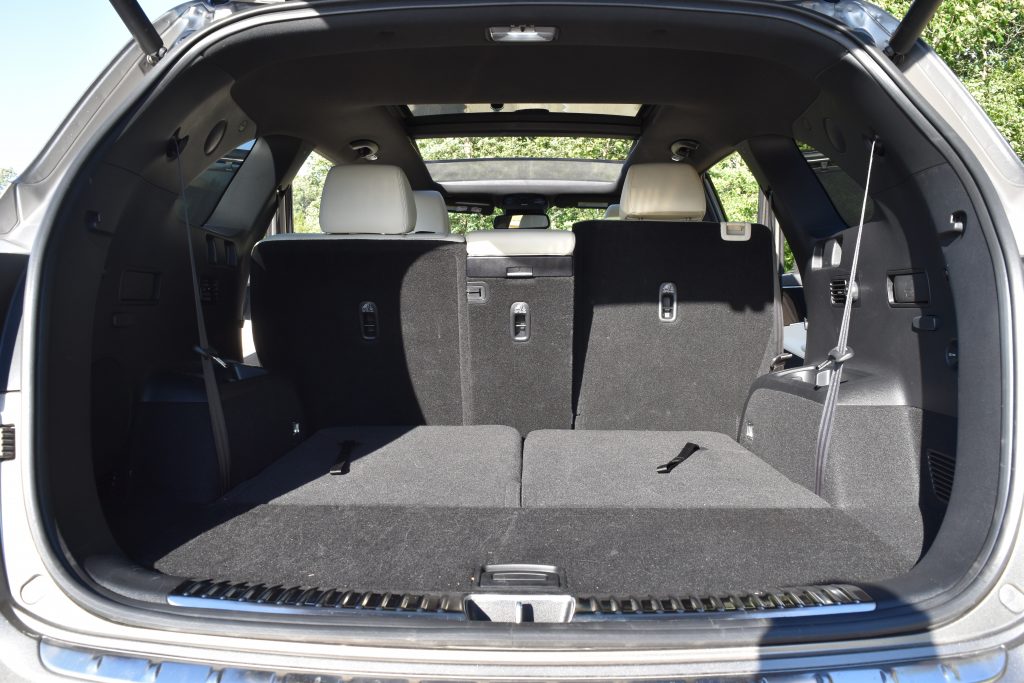 Amenities
In terms of bells and whistles, there were two major perks that I will miss most. The first is, well, the first thing you notice when you enter the car:  The Panoramic Sunroof. It's a cool feature that really makes the car feel open–the extra glass almost feels like a mid-century modern home (minus the pool). The roof is also big enough that a few people could–hypothetically–stand up simultaneously and wave to a passerby like a boss. Or, alternatively, one could shoot down zombies with a machine gun…like a boss.
The second feature that stole my heart away was the surround view monitor, which provides a 360 degree aerial view of the SUV. For someone who predominantly drives smaller sedans, it definitely made me feel better about squeezing the Sorento into tight spaces. When I drive SUVs I always feel like I'm about two cementers away from hitting every car in the parking lot. Not so in this SUV. It's also great for ensuring that no zombies are lurking in search of brains in your blind spots.
Performance
For a big guy, the Sorento SXL had enough umph that I really wanted to floor it around a corner and try and flip the car.
I did not try this (nor should YOU), but the spirit lives on.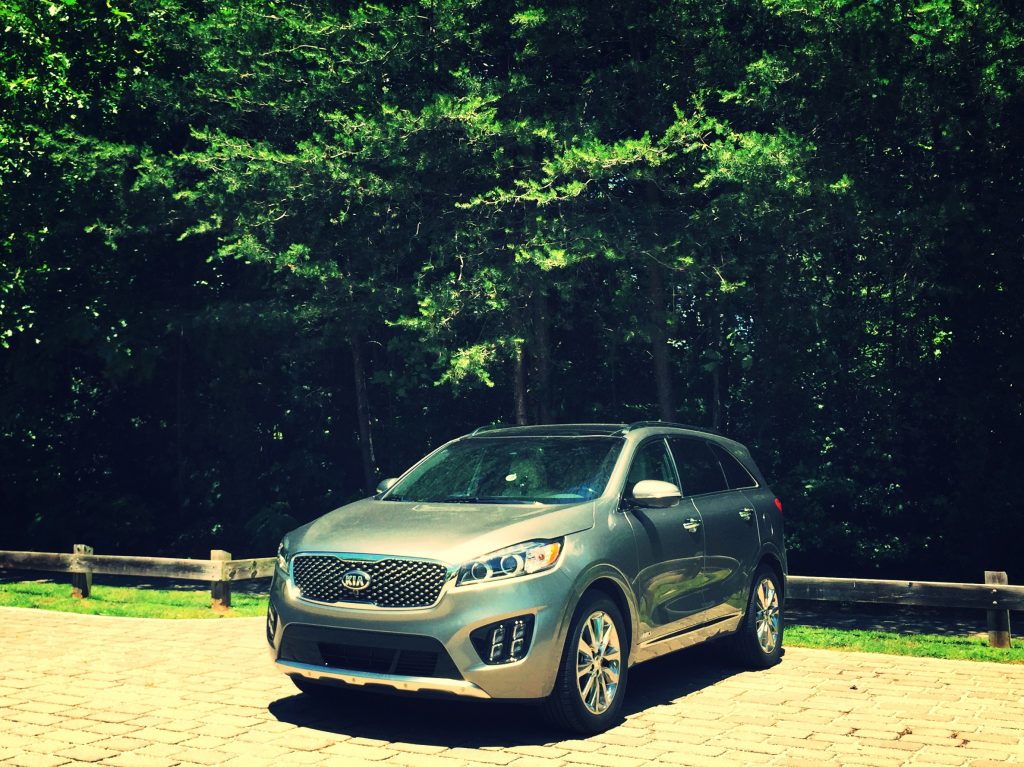 For every day purposes, changing lanes and merging was no problem. Gas mileage was acceptable at about 21 MPG for our test week, which included mostly stop-and-go commuting and some short weekend road trips.
And yes, you can also use that umph and good gas milage to efficiently run over zombies.
Dog Friendliness
The biggest surprise was not the SUV itself, but rather the fact that we were able to coax Cooper into the back. He hates SUVs and doesn't trust automatic lift gates. But, with enough treats, we got him to sit in the back for a short ride.
The pictures don't show it, but he is terrified.
Anyway, if your dog is not a coward, he or she would love all the room in the back. Coop's a big guy and he was able stand up without any issues (aside from mental issues). It's also good practice, we'd hate to leave him behind during the Zombie Apocalypse…although it might be cool to have a zombie dog for a pet.
Food Friendliness
Not worried about the Zombie Apocalypse? Fine, let's say you want to escape from becoming an office zombie at work. Go grab some Popeyes and take the Sorento out to tailgate at a park for lunch.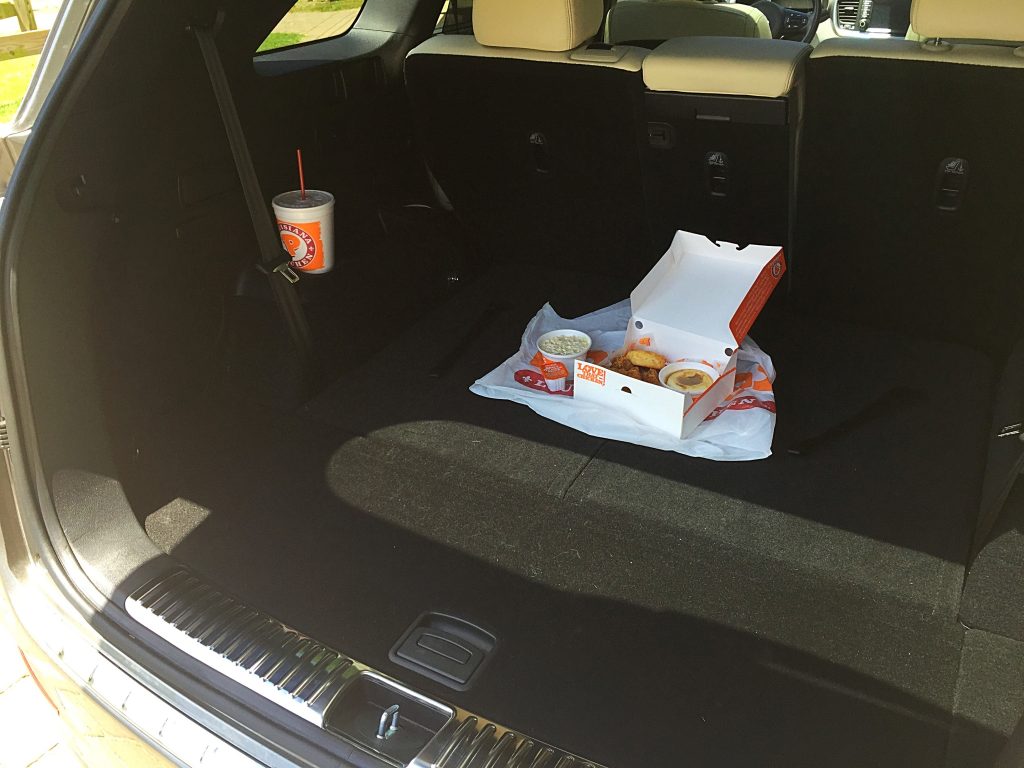 Who Should Buy This Car
Although a very versatile vehicle in a Zombie Apocalypse, the Kia Sorento is a fine choice for a normal suburban life as well. It all comes down to the fact that it's an affordable SUV with luxury car amenities and a solid warranty. We now understand why there are so many Kia Sorentos in our neighborhood.
***
Disclaimer:  As noted above, we were provided this vehicle courtesy of DriveShop and Kia. Other than being allowed to test drive this vehicle, we were not provided any monetary compensation for this post. As always, all opinions remain our own.