I love Los Angeles, but I know there are a lot of people out there who have either had bad experiences, or just have zero desire to spend any precious vacation time in La La land.
There's actually so much to do and so many ways to experience L.A. that, after a few trips, I think I've finally figured out how to experience the city in way that can even change the minds of nonbelievers:
Choose Your Location Wisely
Los Angeles covers a wide geographic area, so when planning a trip, try and stay in a location central to most of the things you want to check out. Otherwise, you'll be spending A LOT of time in traffic.

For my last trip I stayed in this Airbnb guest house, located in Silver Lake. The location had a ton of perks including easy street parking (rare for L.A.), it was central to an infinite number of food options (I'll touch on that later), and because it's a residential neighborhood, the atmosphere is much calmer than staying in a hotel in Hollywood.
If you're a runner, staying near the Silver Lake Reservoir gives you an easy jogging path to start or end your day. As an added bonus, there's a dog park nearby, so how can you run past dogs and not have great day? Oh, it is a reservoir, but don't expect to see any water…
Keep Your Wheels Small
You'll be doing a lot of street parking (you do know how to parallel park, right?), so make it easy on yourself and rent or borrow a car that's on the smaller side. Thanks to DriveShop and Mitsubishi, I was hooked up with a 2016 Mitsubishi Lancer for the week (check out our car review here). The Lancer was nice because it was nimble enough to get around easily, yet wasn't so small that I felt cramped.
Ridesharing is Your Friend
Although you'll have to drive most of the time, it's nice to occasionally not have to get behind the wheel. As much bad press as Uber and Lyft get, I still have yet to have any experience that is anywhere close to as awful as nearly every taxi ride I've had.
I also highly recommend using uberPOOL or Lyft Line to share your ride with a stranger. Sounds a little weird at first, but your ride costs will be cut in half AND you might meet some cool people. Thanks to sharing a ride one night, I got some sweet restaurant recommendations from two locals (shout out to Christine & Nick!). Unfortunately I didn't make it out to their top pick, a new Nashville hot chicken joint in Chinatown, Howlin' Rays, but I can guarantee I'll be back soon…
Eat as Much as Possible
If you're not eating well in L.A., then you're doing something horribly wrong. I ate so well that it was almost painful (I didn't wake up hungry once during the trip). There are hundreds of must-eat lists, celebrity chef restaurants, and local-filled dive joints to discover, but here are a few of my favorite bites:
The Fairfax breakfast sandwich from Eggslut (Downtown in Grand Central Market) – Almost custard-like scrambled eggs with chives, cheddar cheese, Sriracha mayo, caramelized onions, on the world's softest brioche bun. And of course I added bacon. Easily the best egg sandwich I've ever eaten.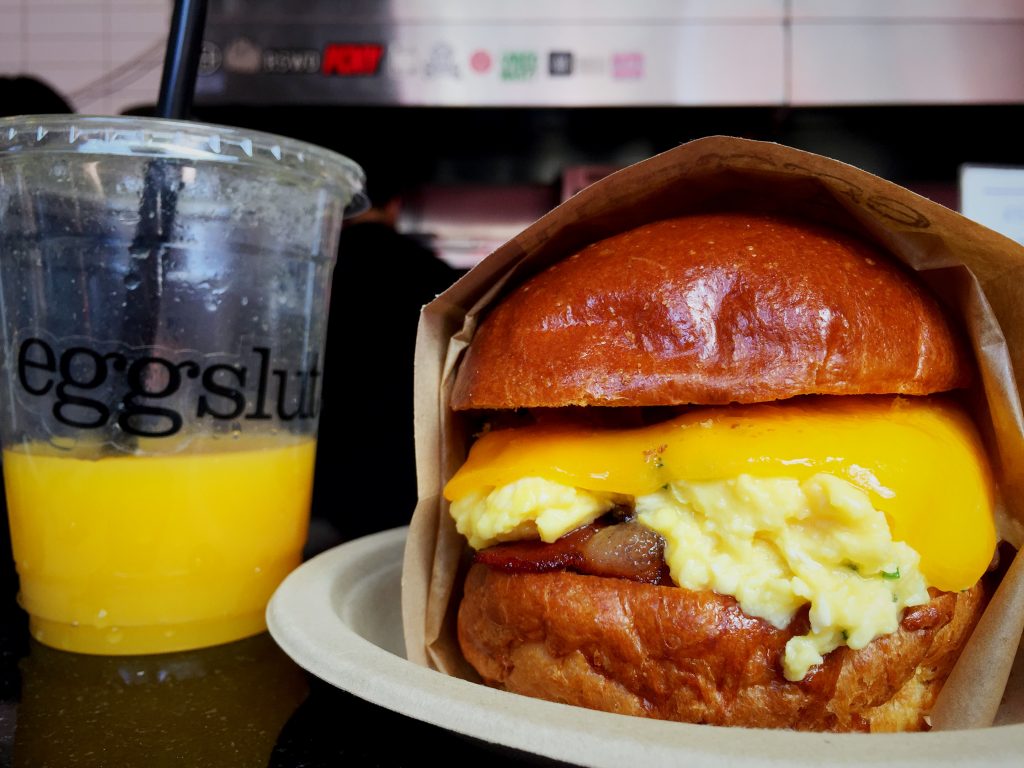 Good brews and great burgers from Stout (Hollywood) – Their signature Stout Burger did not disappoint and was topped with blue cheese, Emi Gruyere, rosemary bacon, caramelized onion, horseradish cream, and roasted tomatoes. And with over 30 beers on tap and 4 0z pours, you can sample nearly all of them in one night (thanks to Uber and Lyft). The staff is super friendly as well, and will happily share some celebrity sighting stories (everyone apparently has an Andy Dick encounter) and most of the waiters will even let you read their screenplay. Kidding, I actually didn't meet any writers, but I did meet a stunt man, stand-up comic, improv performer, and a DJ.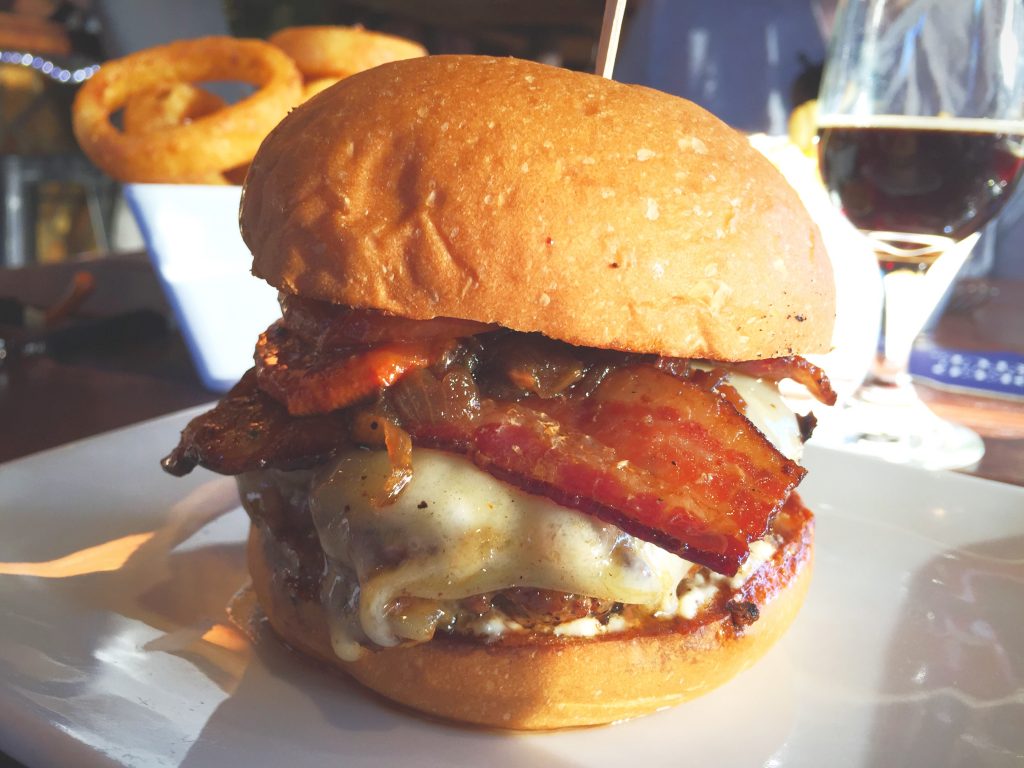 World class dim sum at Din Tai Fung (Glendale) – Din Tai Fung is a popular international restaurant with only six locations in the U.S. (all on the west coast). Man those soup dumplings…You think you've had dumplings, but you just don't even know! Go with a group and order everything on the menu.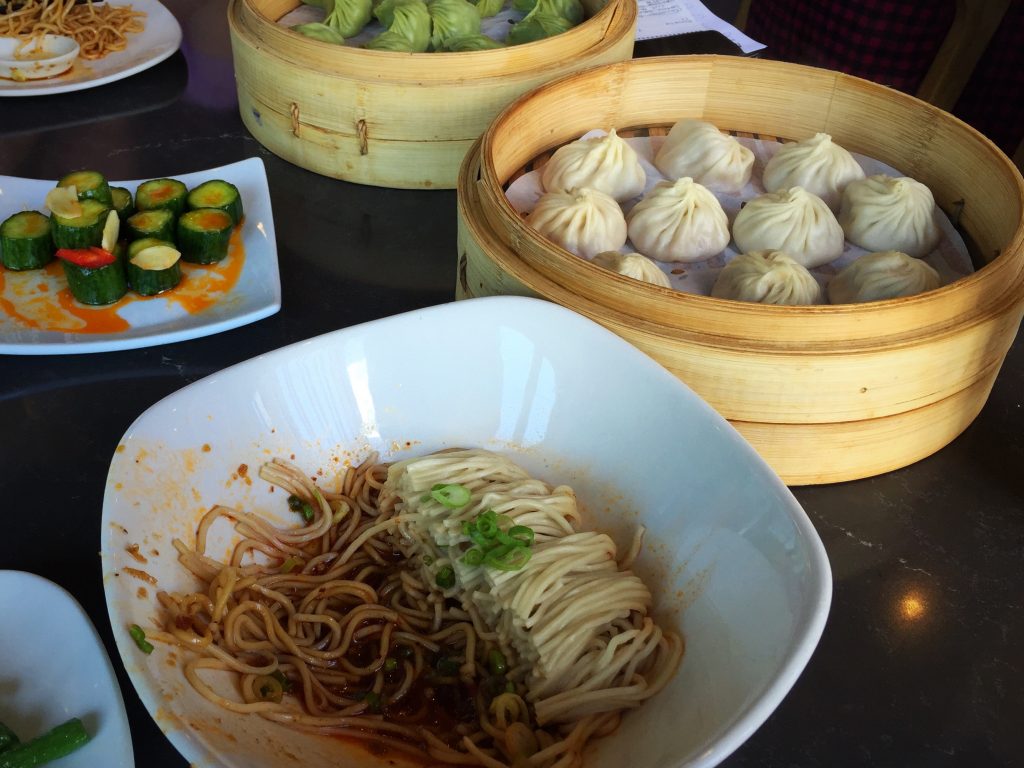 Cheap eats at Porto's Bakery & Cafe (Glendale) – Porto's is one of those places where–no matter how much you order–you always feel like your bill is way too low. This bakery has it ALL. Literally anything you could possibly want. My favorites were the fried potato balls filled with cheese or meat. And dessert…good luck picking one item.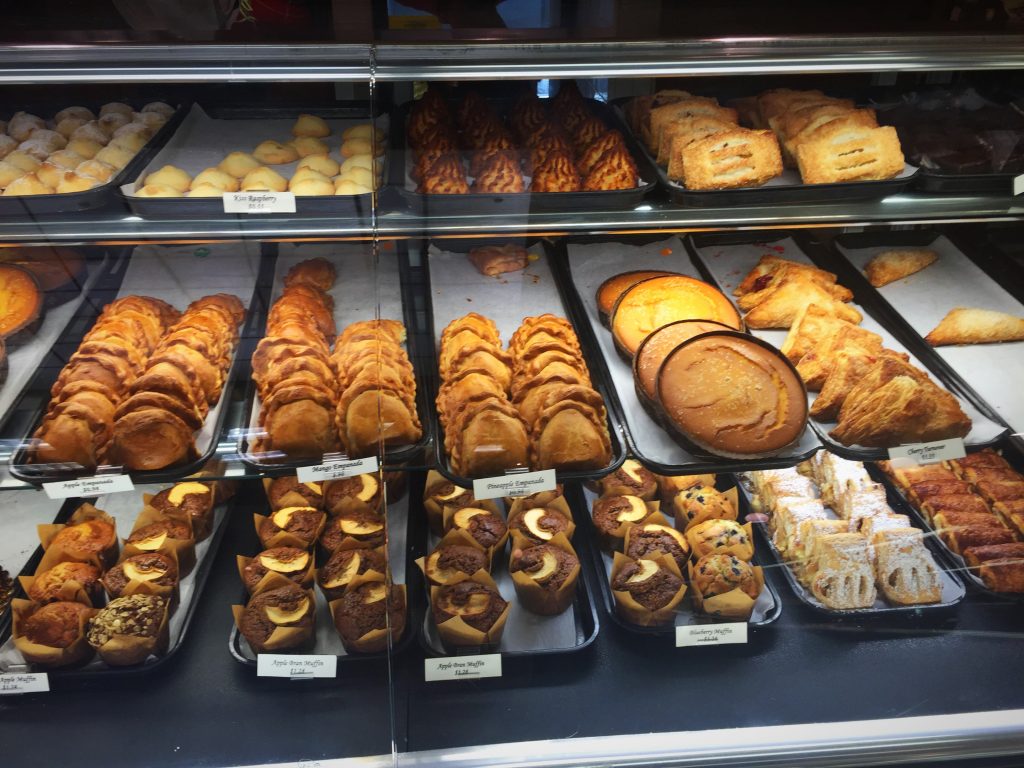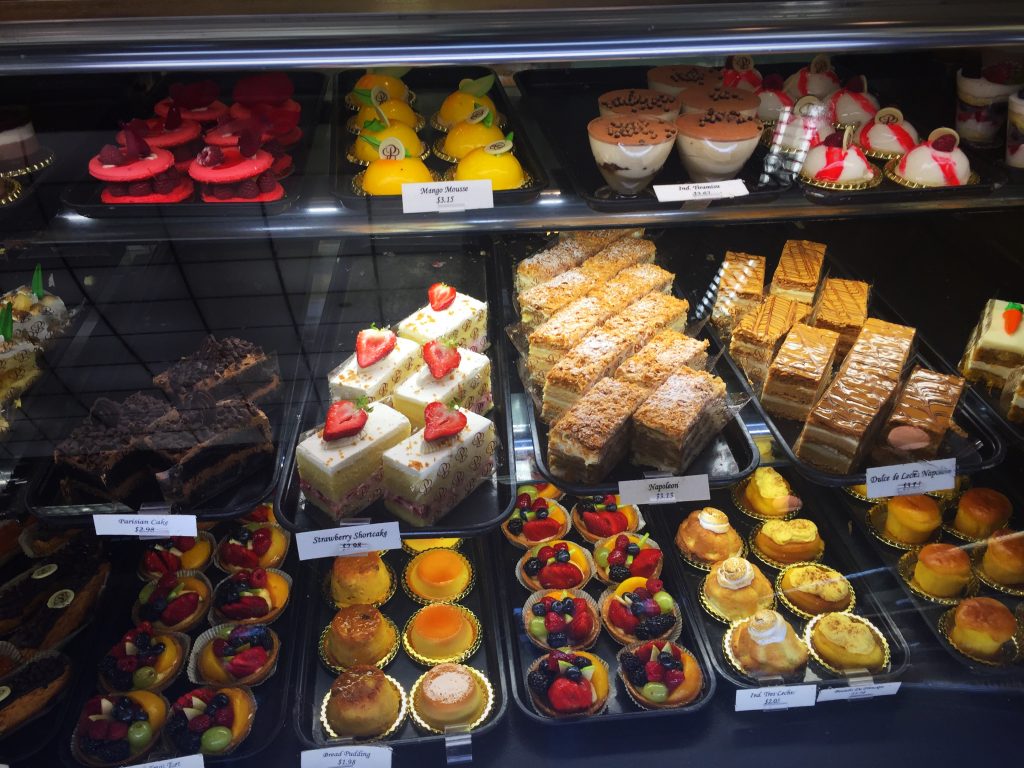 Everything at Republique (Hancock Park) – With such huge range in flavors drawing inspiration from around the world, you will definitely find something that hits any craving you have. They cure their own meats. They bake their own pastries. They even have a daily house-made soda special. My Cuban sandwich was perfect and the Tangerine Vanilla Soda was like a liquid creamsicle on steroids. DO indulge in something sweet; my jam-filled bomboloni (basically a filled doughnut…also on steroids) was so good I cried a little.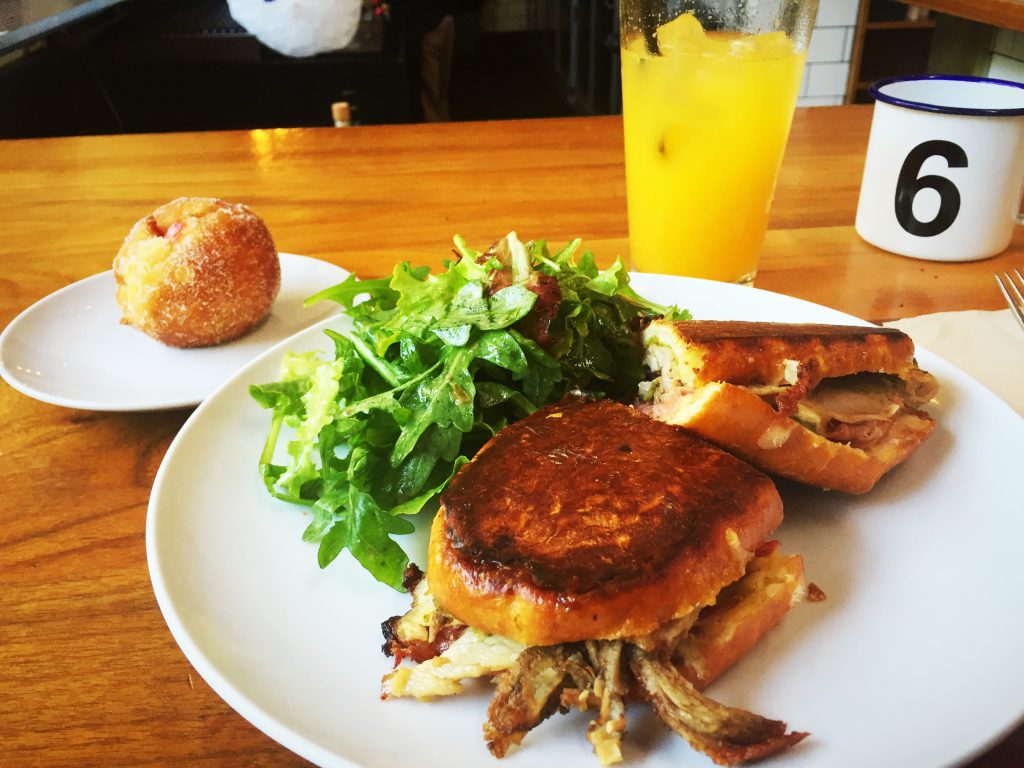 Indulging in ice cream at Salt & Straw (Larchmont) – Check out these insane flavors. Bet you're craving ice cream now. I went with two of their staples:  Almond Brittle with Salted Ganache and Stumptown Coffee & Compartes Love Nuts (chocolate-dipped caramel-coated pecans). Ice cream nirvana was immediately achieved.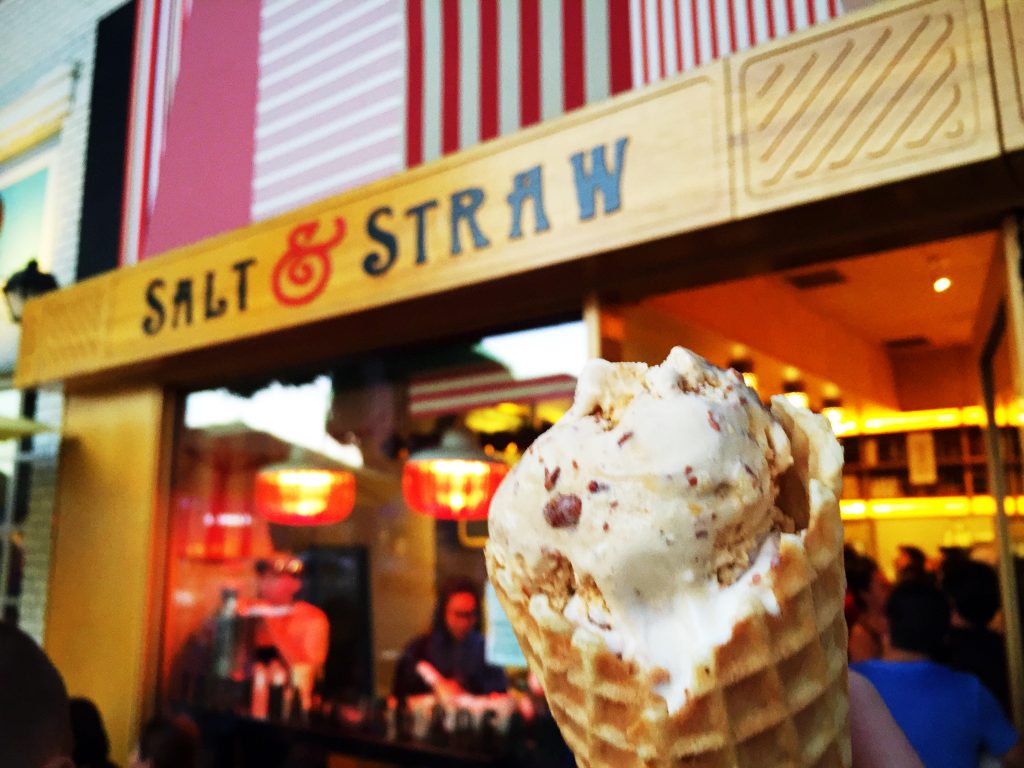 A delicious marriage of French, Mexican, and California cuisine at Trois Familia (Silver Lake) – As my final meal in L.A., I enjoyed breakfast of a real champion: Crispy hash brown chilaquiles, sunny side up egg, cotija, salsa macho. I had tears streaming down my face as I took the last bites.
Take a Hike
With as much eating as you should be doing, you might want to hike off some calories.  Luckily, there are tons of trails to check out like Runyon Canyon, the Griffith Observatory hike, and of course the famed Hollywood Sign hike.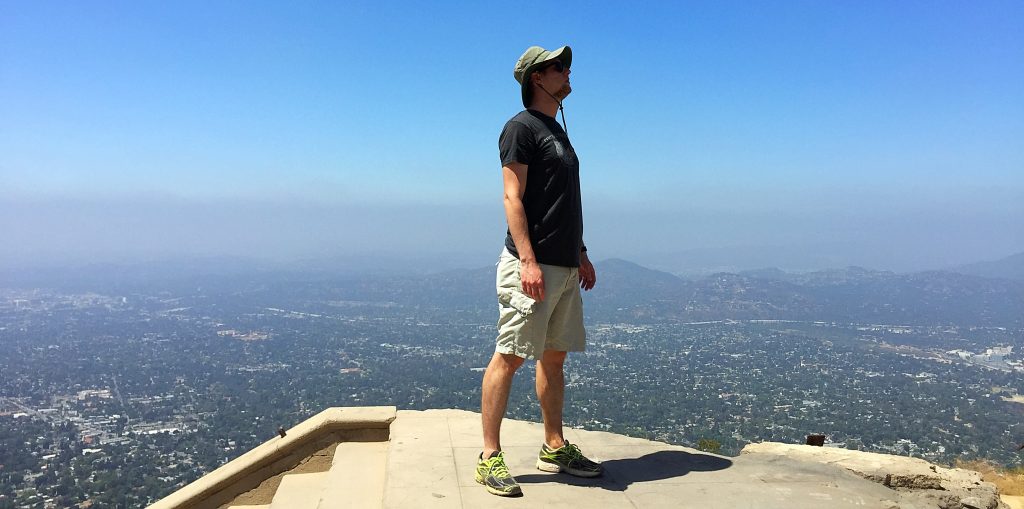 Thanks to my L.A. hiking buddy (and cousin) Stephanie, I was directed to my new favorite spot:  Echo Mountain. It's was a reasonable 30-minute drive from Silver Lake and wasn't very crowded (although it was a weekday). The hike itself is a moderate five-mile round-trip adventure that rewards hikers with scenic views and the ruins of "White City," a former resort at the top of the mountain. Bring water and sunblock, 'cause you'll be in a lot of sun.
***
Still not convinced? Fine. Guess I'll just have to go back for more 'research' to try and make a better argument…