[This is post #007 towards #100DaysOfFoodBlogging, our goal to do 100 posts in 100 days as part of The 100 Day Project.]
Yes, this is an Asian taco post. No, this isn't 2009.
This taco isn't inspired by a food truck. It's not a gimmick post in search of clicks. We're not the first people to do a Vietnamese taco and we won't be the last.
So, what's the deal with these tacos (which might be my favorite recipe we've posted)?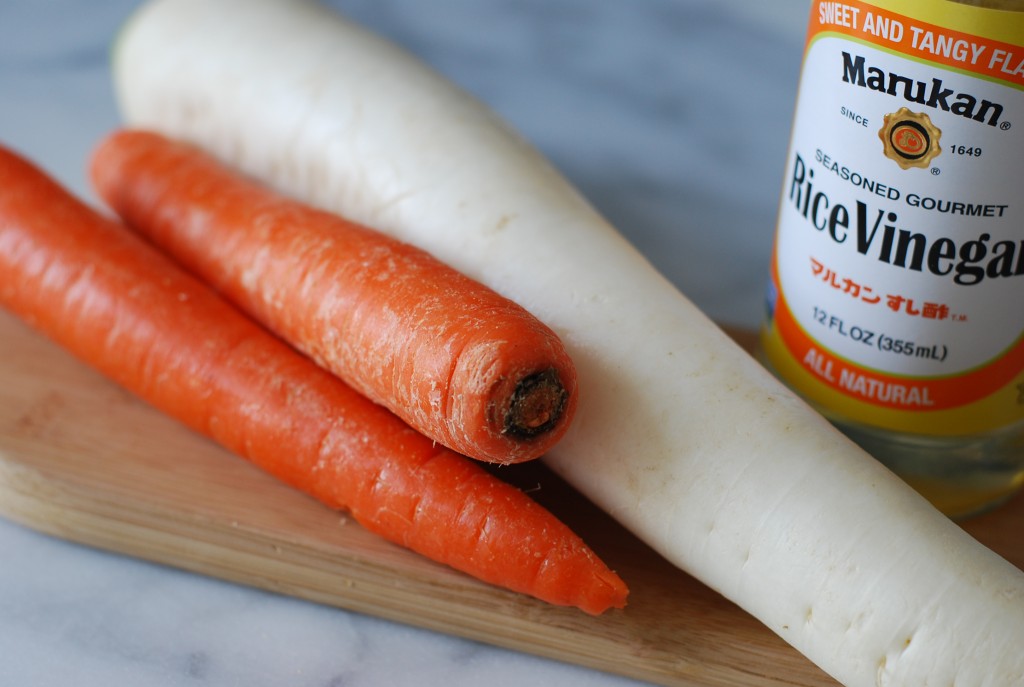 Over the weekend we encountered what can only be described as a "perfect storm" of culinary crossroads:
It was 70 degrees and sunny.
Our grill was begging to be used.
There was a significant lack of bánh mì eating in our lives.
We were seriously craving spicy shrimp tacos from Oscar's Mexican Seafood in San Diego.
We were torn between what we thought were several different options. Breaking out the grill meant an infinite number of possibilities from BBQ chicken to a thick burger (stuffed with bacon of course). Shrimp tacos would help calm a craving that had been stuck with us since last fall. And it's hard to really beat a homemade Vietnamese bánh mì on crusty bread, which always seems to find that perfect combination of sweet, salty, spicy, and tangy.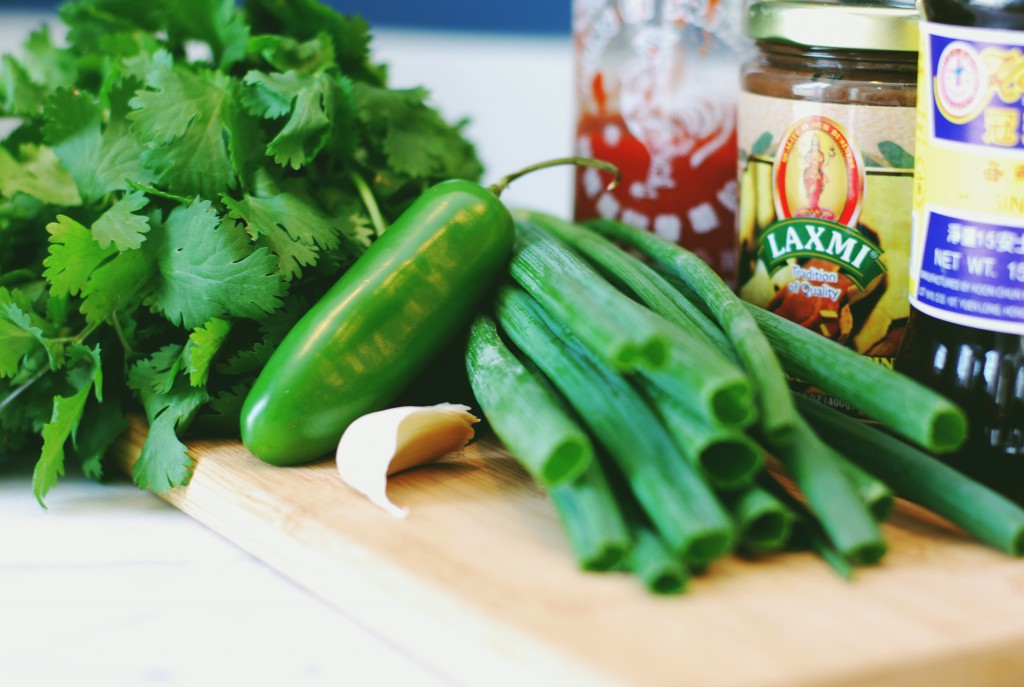 Choosing one meant leaving the other options on the table and with only one day of the week that we can entirely dedicate to cooking, we didn't want to squander the opportunity. Like Spider-Man's uncle said, with great power, comes great responsibility. He was definitely talking about food.
So, as we pondered over this Sophie's Choice, Tina had one of the best ideas in the history of our kitchen: Grill the shrimp, make the do chua (pickled daikon and carrots), and serve it on a taco with Awesome Sauce, and queso fresco. A Spicy Shrimp "bánh mì" Taco.
If we weren't already married, I would have proposed on the spot.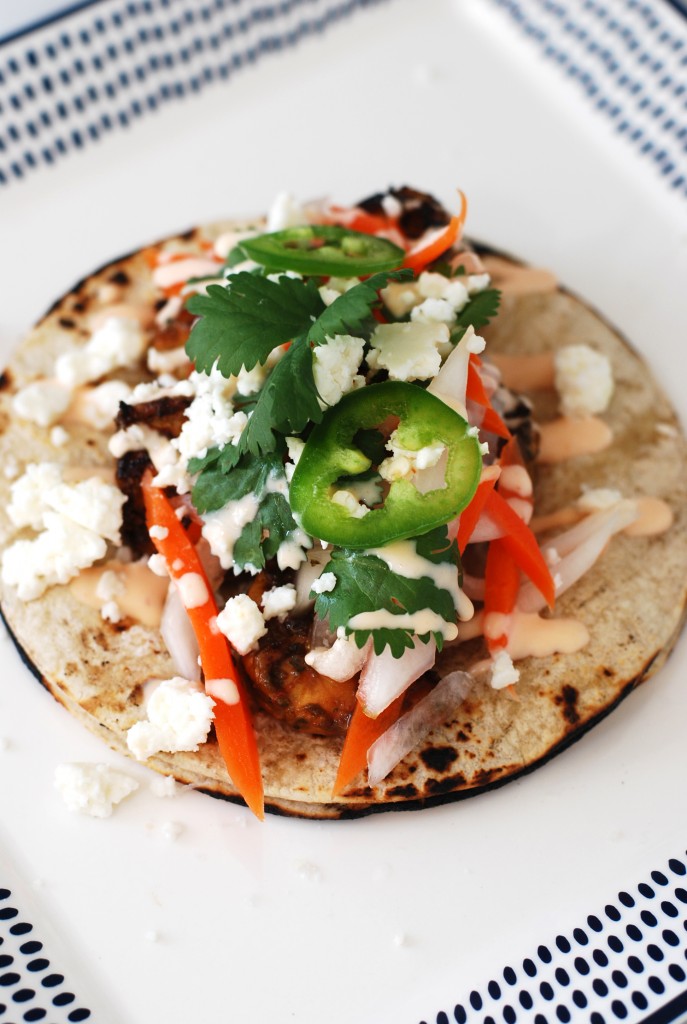 Actually, if we weren't already married, I'd propose to these tacos.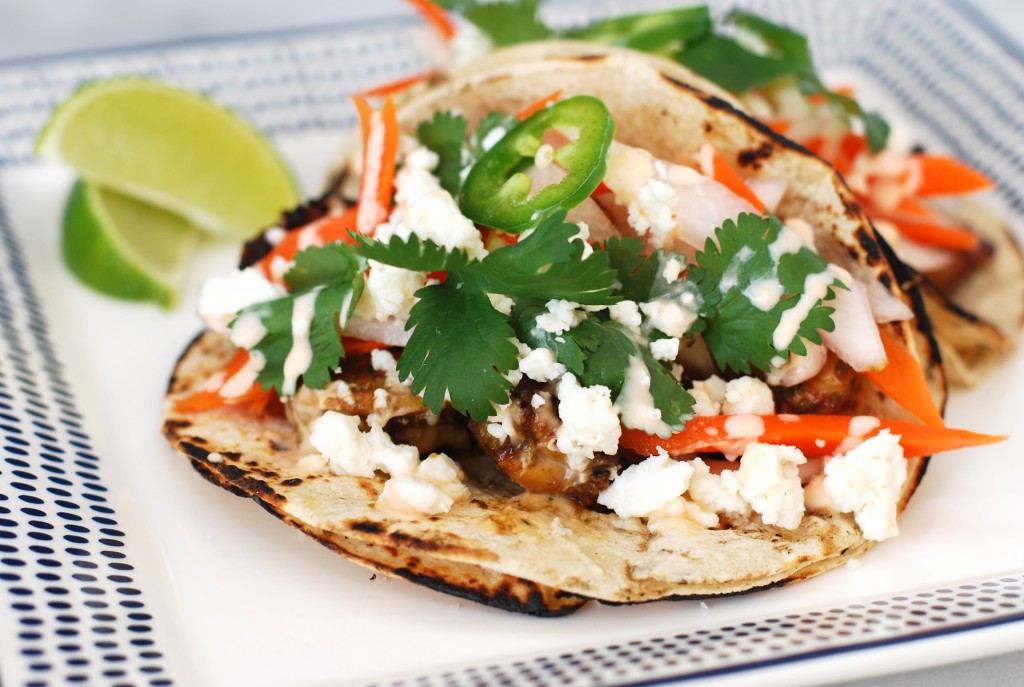 Or at the very least, I'd take them behind the middle school…
Spicy Shrimp "bánh mì" Tacos
Makes between 6-8 Tacos
Shrimp & Marinade Ingredients:
1 lb Raw Shrimp, peeled & deveined (30-40 count)

1/4 Cup Fresh Cilantro
1 Garlic Clove
1 Jalapeño w/ seeds
1 Green Onion
1/4 Cup Tamarind Concentrate
2 Tablespoons Soy Sauce
1 Tablespoon Sriracha
1 Tablespoon Vegetable Oil
1/4 Cup Hoisin Sauce
Do Chua (Pickled Daikon) Ingredients: 
2 Medium Carrots, peeled
1 Medium Daikon, peeled
1 1/2 Cup Rice Wine Vinegar
1/2 Cup Sugar
2 Cups Warm Water
1 teaspoon Kosher Salt
1 teaspoon Sugar
Taco Accoutrement Ingredients: 
3 sprigs of Cilantro
6-8 Corn Tortillas (12-16 if you're doubling up)
Queso Fresco
Awesome Sauce (recipe)
Do Chua (Pickled Daikon & Carrots)
1.  Chop the daikon and carrots into matchsticks and place into a bowl with the 1 teaspoon of sugar and 1 teaspoon of salt. Knead them with your hands for approximately three minutes to pull out some of the water. Afterwards they should have more flex and be bendable. Rinse the daikon and carrots under running water to remove the salt and sugar.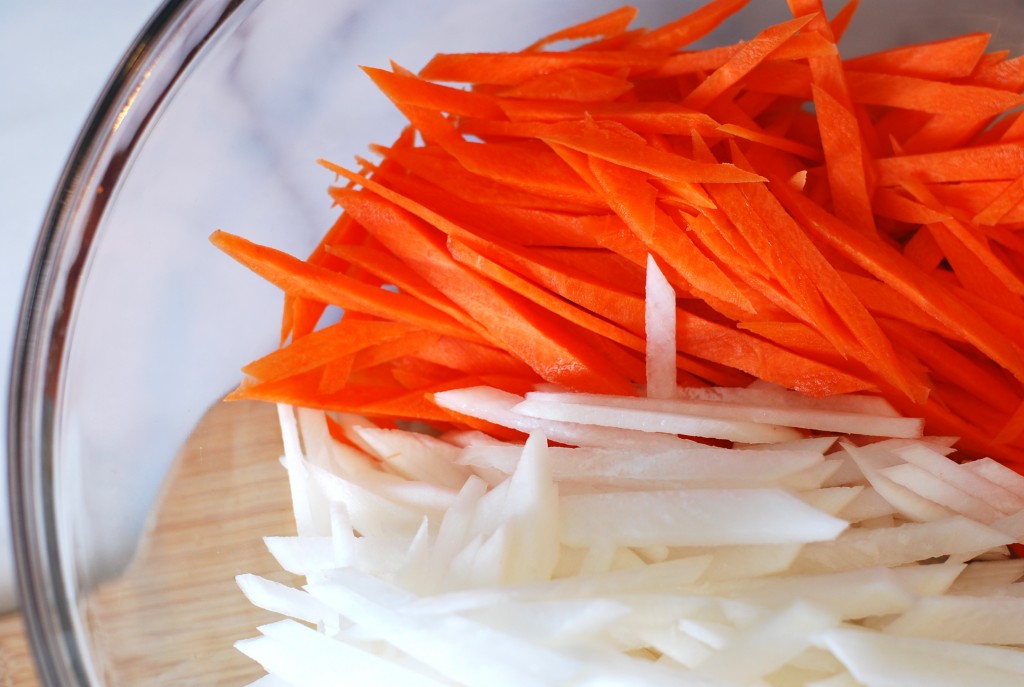 2.  Place the daikon and carrots into a resealable plastic container. In a separate bowl, dissolve the 1/2 cup sugar in the warm water and add the vinegar, now you got yourself a pickling liquid. Pour the pickling liquid into the container with the daikon and carrots and refrigerate. Let sit for at least two hours before eating.
Spicy Shrimp Marinade
1.  Blend the tamarind concentrate, hoisin sauce, soy sauce, garlic clove, green onion, cilantro, jalapeño, Sriracha, and vegetable oil in a blender or food processor.
2. Pour the marinade on the shrimp and let sit at least two hours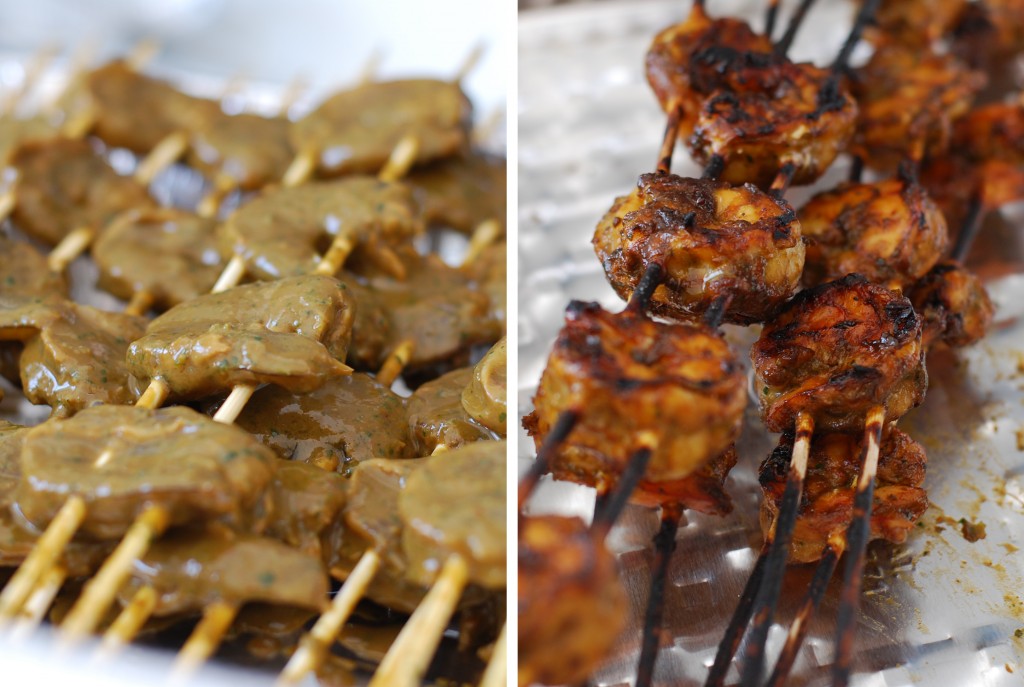 Taco Time
1.  Skewer the shrimp and grill until you have a nice char. Cooking time will depend on how hot the grill is; hotter and faster is better. Test a few to get the time right. You can also cook the shrimp on the stove with a cast iron skillet, but I wouldn't recommend a non-stick pan.
2.  Heat up the tortillas on the grill, in a microwave, or on the stove.
3.  Now build your tacos any way you want! We used 4-5 shrimp per taco, topped with the pickled daikon and carrots, crumbled queso fresco, Awesome Sauce, and garnished with fresh cilantro. If you want more heat, slice up another jalapeño and throw those on, too.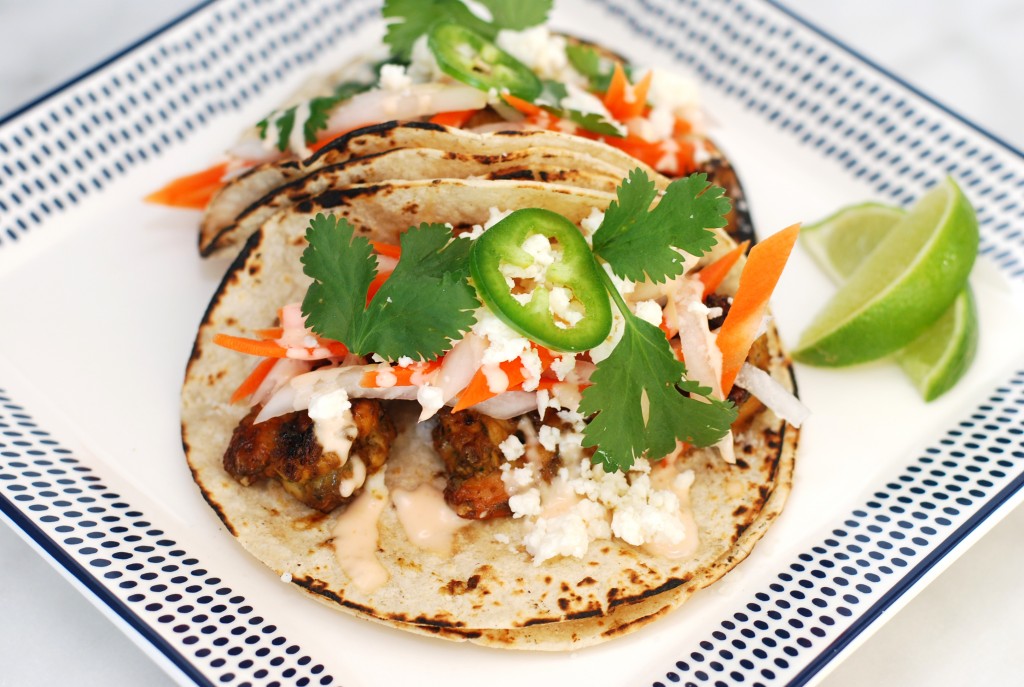 HEY! Let's be electronic pen pals: