There are only two times in my life where I've felt so gluttonously full that I thought my digestive system was near shutting down. The first involved consuming two Chipotle burritos in under an hour. If anyone ever asks, it is 100% possible to get drunk off burritos.
The second involved the first trip to San Francisco that Tina and I ever took. I need to point out that this second occurrence was not a result of being full from one meal. Nope. Rather it was a slow build throughout the day starting with breakfast and ending with a regret-filled dinner. My fingers ache just thinking about having to type it all out…
Bacon, egg and cheese croissant
Mango smoothie
Porchetta sandwich
Pizza w/ yukon gold potatoes, parmesan cheese, and bacon,
Spicy Korean chicken tacos w/ pineapple
Fried chicken
Cheeseburger w/ white cheddar, bacon, and a fried egg
Herb fries
Bacon-wrapped dates
Curry deviled eggs
Macaroni and cheese
Chocolate cream pie
Grapefruit sorbet
Raspberry cream soda
That day involved a lot of snacking, a couple of lunches, and a dinner with unnecessary appetizers. We struggled to walk out of the restaurant after dinner and collapsed once we got back to our hotel. We were able to try a lot of food in a short period of time, at the expense of what could have been our final day on this earth. We, of course, survived our first-world problem of consuming too much food and lived to tell about it.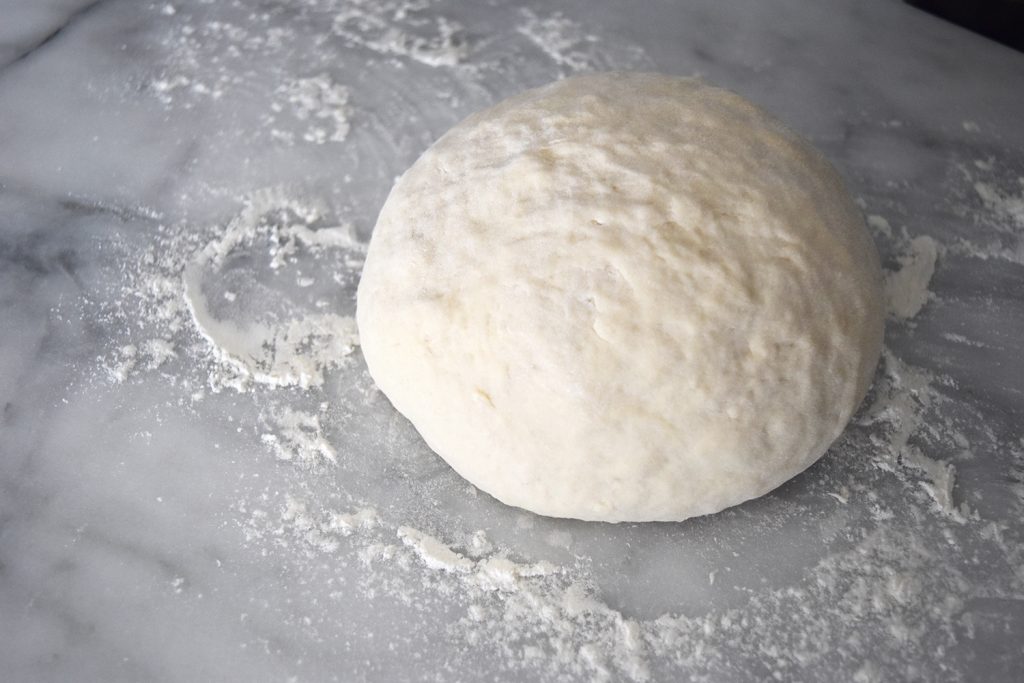 One might think that gorging to that extent would link those foods to the pain and thus create negative connotations to the individual foods that we ate. One might think that consuming easily thrice our recommended daily caloric intake would kill any future cravings of those infamous foods. One might. But one might be wrong.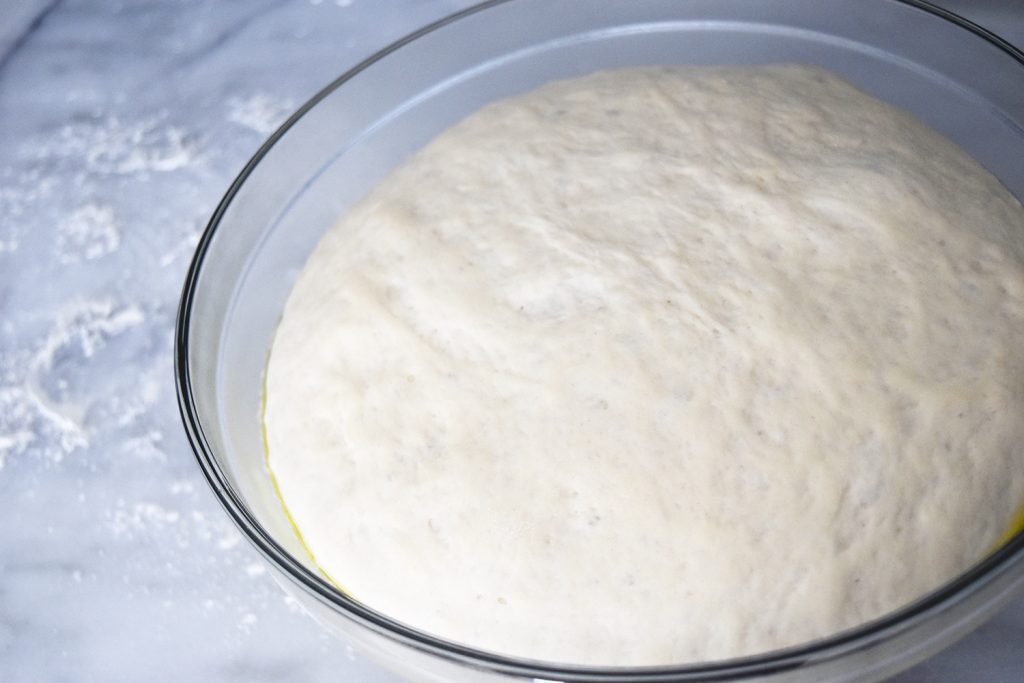 It's hard to have a bad meal in San Francisco (or any part of California), so we had like seven great meals that day. And each part brings back fond memories, but there was one item in particular that we could not stop thinking about:  Yukon Gold Potato Pizza.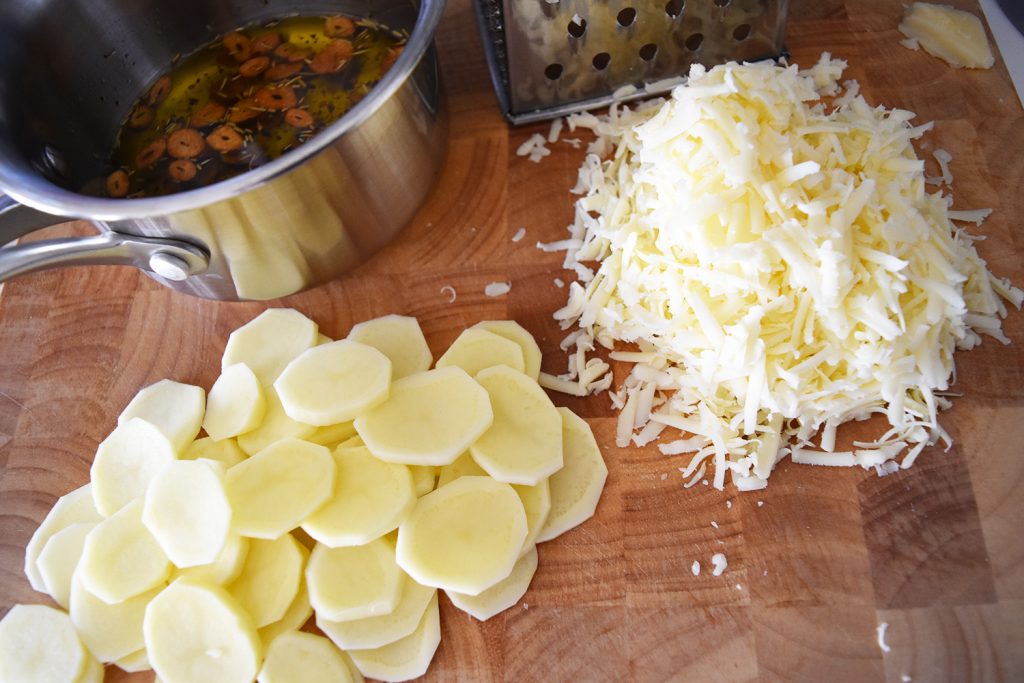 The pizza came from a small stand at a farmer's market right outside of the Ferry Building. I honestly don't remember the name of the company, I just remember there being orange somewhere in the logo. But they had a portable pizza oven, which created an alluring smell of fresh crust and melty cheese. The menu had a few standard options, but one clearly stood out:  Yukon gold potatoes, Parmesan, rosemary, and bacon.
Putting potatoes on pizza isn't some grand creation, but it was new to us. When we returned home we tried to find an equivalent, but failed and gave up the search pretty quickly (partially not wanting to tarnish the memory with a mediocre east coast version).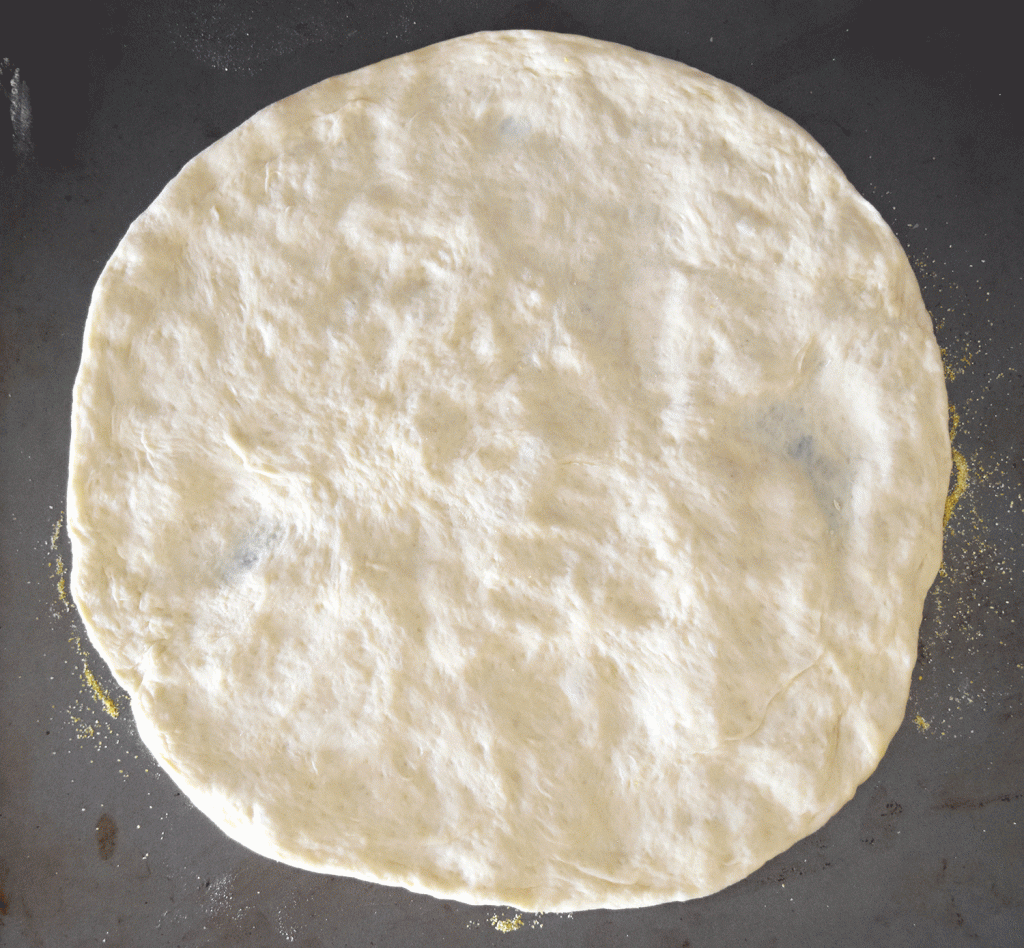 After a couple years, we finally realized that we could just make the pizza ourselves. So, after years of our tastebuds lamenting the loss of this potato-topped pizza, we took destiny into our own hands.
You could certainly make this in the oven on a pizza stone–it's definitely easier–but there's something awesomely primitive about cooking a pizza over an open fire.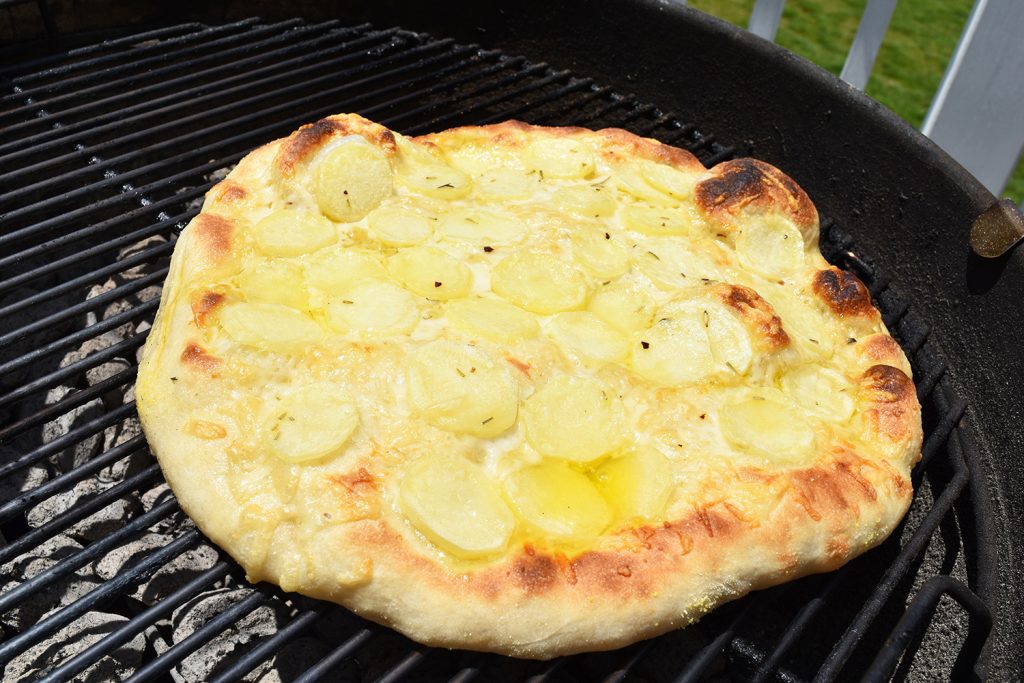 GRILLED ROSEMARY POTATO PIZZA
Pizza Dough – Makes 2 14″ inch crusts
3 1/2 – 4 Cups Bread Flour
1 1/2 Cups Water 110 degrees
1 Tablespoon Honey
2 teaspoons Salt
1 Packet Active Yeast
2 Tablespoons Olive Oil, plus 2 teaspoons
Combine the water, honey, salt, 2 tablespoons of olive oil, and active yeast in a bowl, preferably one with a spout for easy pouring later. Leave this to proof for approximately 2 minutes.
Meanwhile, place 3 1/2 cups of bread flour in a mixer fitted with the hook attachment.
Once the yeast has fully dissolved into the liquid solution (it should float to the top, creating a spongy top layer), turn the mixer on low and pour the mixture in.
Allow the dough to mix on medium-low speed until it pulls aways from the sides and rolls into a ball. If the dough doesn't pull away from the sides, add more bread flour by the tablespoon until you have the proper consistency.
Pour the dough out onto a lightly floured surface, and knead lightly into a ball. Place in a large oiled bowl (remaining 2 teaspoons), cover with plastic wrap, and let rise in a warm place until double in size. Approximately one hour.
Once the dough has risen, split into two equal portions, cover with plastic wrap, and let rest for ten more minutes.
Pizza Toppings
3 – 4 oz Shredded Fontina Cheese
1 Cup Thinly Sliced Yellow Potatoes
Rosemary Garlic Oil (ingredients below, recipe to follow)

1/2 Cup Olive Oil
1/2 teaspoon Dried Rosemary
1/4 teaspoon Red Pepper Flakes
4 Garlic Cloves, thinly sliced

Sea Salt & Dried Rosemary, to taste

Optional:  Bacon (we made ours vegetarian-friendly, but you don't have to)
Directions
 Make the pizza dough per the instructions above, or buy a pre-made dough from your favorite grocery store.
While the dough is rising, make the Rosemary Garlic Oil:  Cook the olive oil, 1/2 teaspoon dried rosemary, red pepper flakes and sliced garlic on medium-low heat for approximately 10 minutes, or until the garlic just starts to brown. Remove from heat and set aside.
Get your charcoal grill ready. We have a 22-inch Weber kettle grill we use with this chimney starter, fire starter cubes, and Kingsford charcoal.
Here's where a pizza peel might come in handy. If you don't have one, a cutting board or flat baking sheet should work well, covered with enough cornmeal that the pizza dough slides of easily. Spread out your dough (toss it if you dare) into the shape of your pizza. Brush with the olive oil, cover lightly with cheese, and add the sliced potatoes making sure none of them overlap. Finish by brushing the potatoes with more oil and topping with rosemary and sea salt.
 Slide the pizza directly onto the hot grill and cover for about five minutes. Since all grills are different, you might need to baby sit your pizza. If the heat is uneven, rotate once throughout to even out the charring.
Once the bottom crust has some nice dark color, remove from the grill, and broil on high in the oven for about three minutes.
Slice and eat immediately!