[This is post #045 towards #100DaysOfFoodBlogging, our goal to do 100 posts in 100 days as part of The 100 Day Project. Yeah, we're behind, but we'll catch up…]
Since 1969, the tourism slogan for our great state has been "Virginia is for lovers." A nice sentiment indeed, but I'd like to propose a small change:
Virginia is for food lovers.
With a growing craft beer culture, acres of wineries, southern cooking influences, and innovative modern cuisine, what's not to love?
I'm clearly not the only person who feels this way, as José Andrés' America Eats Tavern is hosting it's first annual Virginia Festival June 17th – 30th. The festival will include a "Blend Your Own Bordeaux Competition," a variety of local wine and spirits tastings, as well as a prix fixe tasting menu and à la carte items with a focus on Virginia ingredients.
We were fortunate enough to get a sneak peak of the food and beverages during a media preview night, so we've highlighted a few of our favorites below.
Cocktails and Fried Chesapeake Oysters
José Andrés doesn't mess around when it comes to libations. We enjoyed a refreshing Blackberry Smash and José's Gin & Tonic. The Gin & Tonic was carefully constructed and nearly too beautiful to drink. Nearly. Not to mention the mammoth cocktail glass it was served in to allow the drink to breathe and to accommodate a giant ice cube that could have easily sunk the Titanic.
As for the oyster… I didn't intend on licking rhubarb remoulade out of an oyster shell. I also didn't intend on eating every fried oyster that was put in front of me (I lost count at seven). These actions were not my fault. When an oyster is perfectly fried–crispy on the outside, tender and without chew on the inside–one cannot be held responsible for his or her actions. So, I shall plead temporary insanity.
Virginia Peanut Soup
Although I've lived here my whole life and Tina's lived here her entire adult life, neither one of us had ever had peanut soup before. I know! A crime in a very peanutty state. And personally, I never did get the appeal of boiled peanuts.  So, I didn't expect to like peanut soup, but I really enjoyed it and found that the fresh blackberry worked very well to complement the richness of the peanuts.
Summer Squash Casserole
From the name of this dish (and at any other restaurant) you'd expect a heavy, creamy, cheesy dish with some overcooked squash in there somewhere. But this Squash Casserole was refreshingly light with crunchy squash and crispy bread crumb topping. Not what I expected at all and a good change of pace from what people tend to expect from southern cooking.
Shrimp 'N' Grits
At events with passed hors d'oeuvres, I can always tell which dishes are my favorite based on the amount of time I spend hunting for servers with said dish. For the latter part of the night, I was playing a game of Where's Waldo, zeroing in on any server with a tray of Shrimp 'N' Grits. It was also the dish we woke up craving this morning, so…yeah, we kinda loved it.
Cake!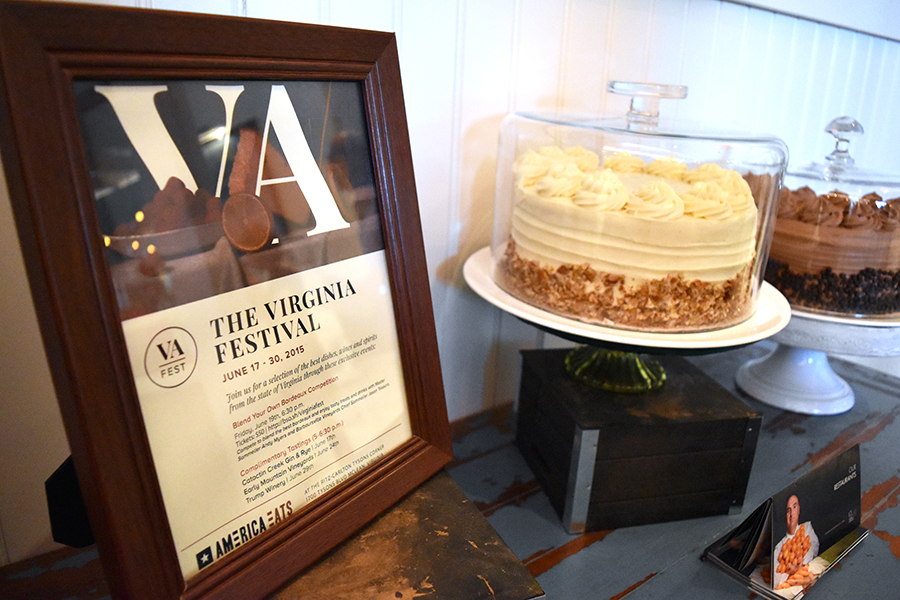 First, let me say that I'm a pie guy. But I think a really good cake is truly a beautiful thing. With bakeries and cupcake shops being ubiquitous in the suburbs, it's hard to get excited about cake nowadays. However, last night I was excited about cake. I don't know what they heck they're doing in the kitchen at AET, but I've been a huge fan of both their Coconut Cake and Martha Washington's Chocolate Cake since I first laid a fork in them. For dessert during our preview, we were given a parting gift of cake pops–one chocolate and one coconut–and they were as good as the their forefathers. We ate ours in the car before we left the parking lot.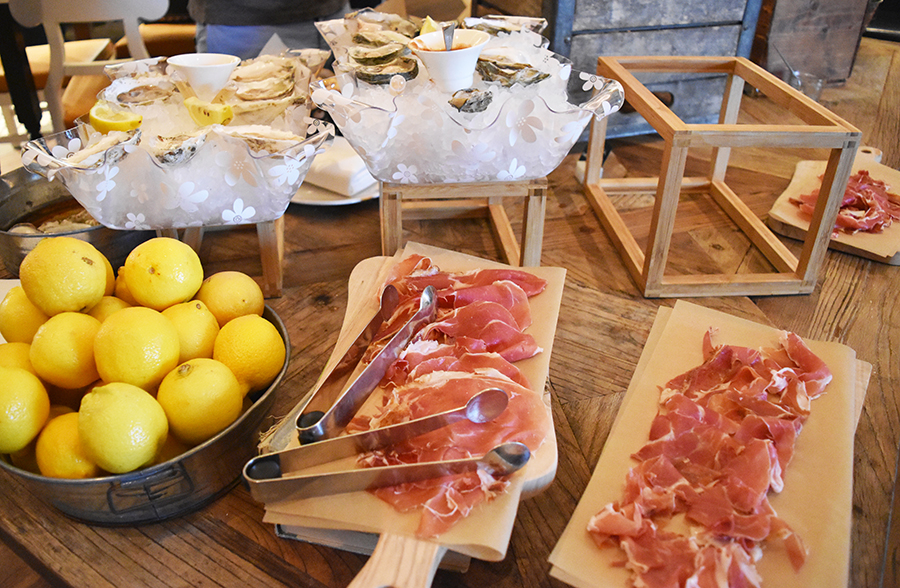 And that's not to say the rest of the food wasn't top notch (sweet stewed cherry tomatoes, a raw oyster bar, biscuits with Edwards Surryano ham and pepper jelly, and the simple, yet so addicting fresh bread and honey butter). With the talented Chef Nate Waugaman at the helm, a friendly staff, and a constant flow of outstanding dishes, it was easy to fall in love the food at America Eats Tavern. [Cue sappy romantic comedy music.]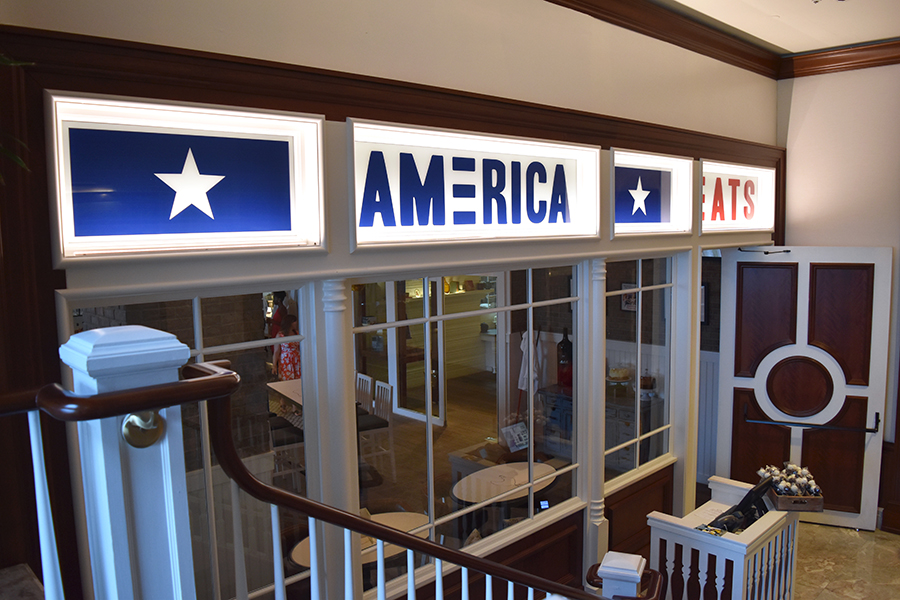 If you're in the mood to love some food, check out their Virginia Festival events below (most of which are complimentary). And if you can't make it to one of the events, stop by any time during the festival to take advantage of special menu items including a selection of Virginia hams, Yohanan Farms Roast Chicken with Mushroom Jus and Pickled Lemon, and Lemon Chess Pie, a classic Virginia dessert.
Virginia Festival Events
Wednesday, June 17th (5:00 PM – 6:30 PM) – Catoctin Creek Rye & Gin Tasting: Sample Catoctin Creek's award-winning 92 Roundstone Rye and Watershed Gin while enjoying delicious bites from America Eats Tavern. Catoctin Creek is Loudoun County's first legal distillery, so come out and support a growing local business. Click here for more details.
Friday, June 19th (6:30 PM) – Blend Your Own Bordeaux Competition: Ever wanted to be a winemaker? Here's your chance to create your own blend for a chance to win vineyard tours, dinner at America Eats Tavern, and more. Bring your A GAME, because the judges include Master Sommelier Andy Myers, and Barboursville Vineyards' Chief Sommelier Jason Tesauro. Tickets are $50 per person (click here to purchase) and include food, wine, and all the tools necessary to blend your very own Bordeaux.
Wednesday, June 24th (5:00 PM – 6:30 PM) – Early Mountain Vineyards Wine Tasting: Enjoy a "Wine Wednesday" with Early Mountain Vineyards, an award-winning winery located in Madison, VA. This tasting is complimentary and does not require a reservation.
Monday, June 29th (5:00 PM – 6:30 PM) – Trump Winery Tasting: Start the week off right, with a complimentary wine tasting with Trump Winery,  an award-winning winery and also the largest wine producer in Virginia. Click here for more details.
Disclaimer: We were a guest of America Eats Tavern during a media preview night. As always, all opinions are our own.