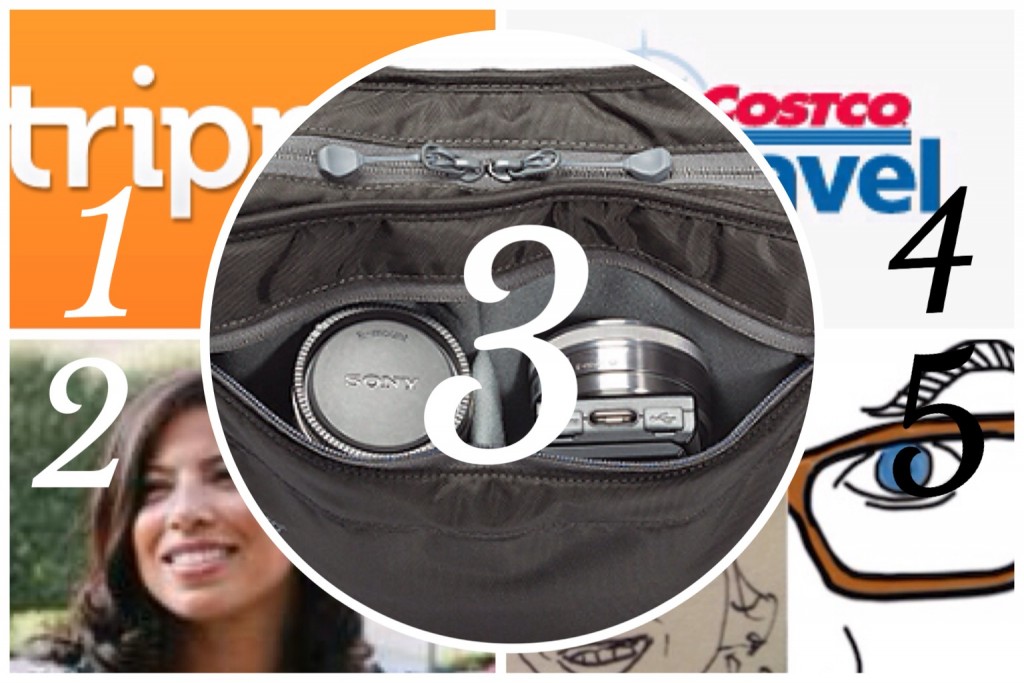 Although this is mostly a food blog, you can't find great food without a bit of traveling. With the travel bug still in our systems from our recent California trip, we figured it would be a good idea to share a few travel-related links. The recipe is simple: Click the links. Travel. Find food. Eat. Mouf is happy.
1.  Trippy.com
No, this isn't an online store that sells hallucinogenic mushrooms. Trippy is a travel-based social media site designed to connect travelers around the world in a user-friendly Q&A style site. Expert travelers also engage with the community, so your travel question may be answered by the likes of Andrew Zimmern or Anthony Bourdain. The design is clean and site allows you to integrate maps, links, and pictures in your answers, resulting in a rich, intuitive design that will be your new BFF in travel. Seriously, this site makes that other advisory travel site look like an old Buick station wagon.

2. The Dining Traveler Blog
Our DC #Foodiechats friend, Jessica van Dop DeJesus recently re-branded her travel blog from the DC Repatriate to The Dining Traveler. Go check out her new site, packed with travel and food info from not only her current home in Washington, DC, but also other places like New York City, Chicago, Belgium, Germany, Australia, and especially her childhood home, Puerto Rico. And if you're planning a trip to Washington, DC, feel free connect with her on Twitter for some advice from a local (she's pretty much eaten at EVERY great restaurant in DC). WARNING:  When you visit her website, you will become extremely jealous of all the beautiful places she's visited and delicious food she's eaten. 
3.  Lowepro StreamLine 250 Camera Bag
I've been using this camera bag for the last year and it's graduated (with honors) into an all-purpose travel bag. Since it's supposed to hold all your camera goodies, there are lots of nooks and small pockets for batteries, lenses, etc. I've found it works great as your "one personal item" for flights since it easily holds an iPad, magazine, plane snacks, headphones, and anything else you might need to help you forget you're stuck on a plane for hours. You can even squeeze in a 13-inch Macbook if you don't mind not being able to zip it up.  For those of you traveling with mushrooms, the small front pockets should work wonderfully. This little guy is also perfect for hiking since you can tote around some camera stuff, with plenty of room for a bottle of water and a burrito. Yes, a burrito. What do YOU pack on your hikes? (I'm not getting paid to write this and I actually bought the bag with my own money. I really like it.)
4. Costco Travel + Alamo
There are lots of travel packages and deals you can find on the Costco Travel site, but I've never actually used them. I'm sure they're fine, but what I do use almost every trip is the rental car section. If you travel and rent a car (even just a couple times each year), it's worth it to become a Costco member. The deals are always the best and the booking process is fantastic since you don't have to pay upfront and you can cancel at any time.  I may save it for another, longer post, but Alamo is the company I always try to use since they have check-in kiosks (yay, no human interaction!) and they let you physically walk around and pick out your own car at most locations. When you combine Costco and Alamo, renting a car is smoother than room temperature butter. (Again, not paid to say any of this. I mean, come on, like Costco is going to pay to be on this silly little blog.)
5. Alton Browncast Episode #43:  Samantha Brown
Fill your ear-moufs with this podcast full of tips and stories from the undisputed queen of travel, Samatha Brown. She's been around the block (or globe) more than a few times, so heed her advice with more than a grain of salt. I specifically enjoyed her explanation of why taking a simple walk can help open up your travel experience to something beyond tourist traps. Not to mention, Alton Brown is as good of an interviewer as he is a devious Cutthroat Kitchen host.