It was June 25, 2013.
Dirt from Muir Woods stained our clothes–a tailored suit for me and a wedding gown for my bride–and our stomachs were in a constant state of growl. It was late and we were tired. And VERY hungry.
Our elopement was far from a traditional wedding, so we had a lot of memorable surprises on our wedding day. Since we "ran away" to California, we didn't know our officiant or photographer very well. Rick Kaplowitz, our officiant, turned out to be a sweet, thoughtful gentleman who customized the ceremony to fit our vows. While Ryan Polei was an organized, talented photographer, and such a nice guy that in under 30 seconds we felt like we had known him our whole lives. The rain was another surprise, which luckily stopped just in time for our ceremony and helped fuel some epic fog. And little did we know that on this special day, one of the final surprises would reveal itself in the form of the greatest peach pies our moufs have ever experienced.
After having fun and dancing in the redwoods, we headed to downtown San Francisco for dinner at Wayfare Tavern. The food here was not a surprise, as we had eaten there once before and experienced some of its famous fried chicken during a prior gluttony filled visit. I'm not sure if it's a saying (or a sign of good luck that I made up), but I'm 99% sure that if you eat the equivalent of a whole fried chicken on your wedding day, then you'll have a long and happy marriage. Just to be safe, I ordered and ate all of said chicken. Tina enjoyed a sweet pea ravioli that was so artfully plated that it belonged on a wall at SFMOMA. And those were just the entrees which we devoured AFTER several light, buttery popovers, a few deviled eggs, and a burrata appetizer that would have been fit for a royal wedding.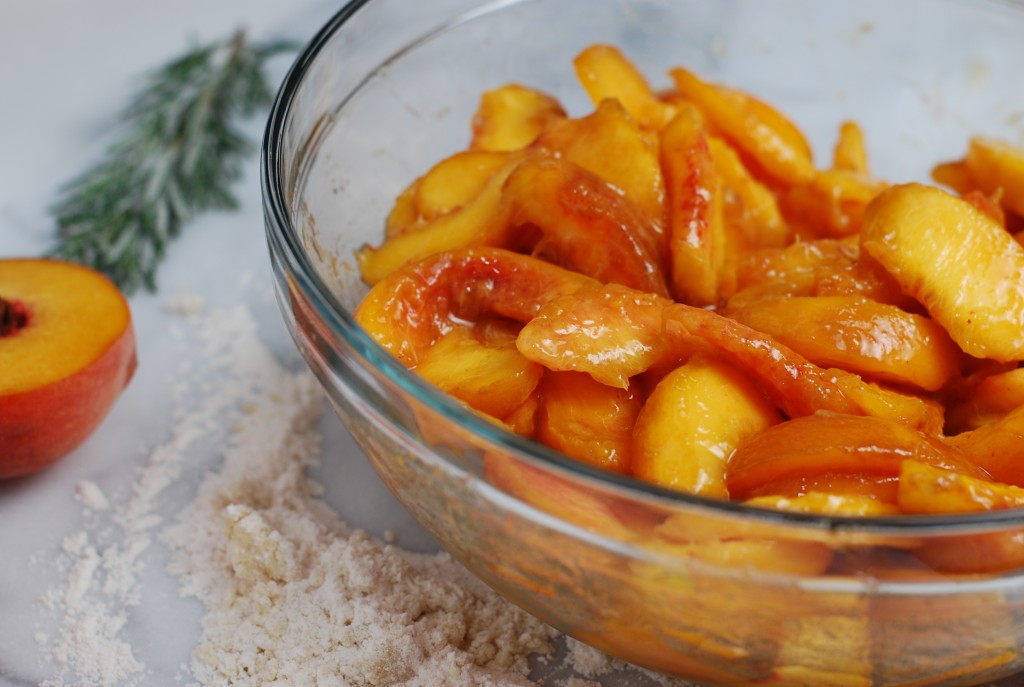 We were clearly too full for dessert; another spoonful of food was sure to send both of us into a Thanksgiving worthy food coma. HOWEVER, we couldn't NOT take a peek at the dessert menu. That's when we both saw it…
DARLENE PEACH PIE | Frog Hollow organic peaches, brown butter ice cream, rosemary sugar
No words needed to be spoken between me and my new wife. She knew I was going to order it. And I knew that she knew that I was going to order it. I promptly told the waitress to box up some Darlene Peach Pie. I thought about sneaking a bite, but it arrived to the hotel minifridge without a blemish. Apparently, I can occasionally exercise restraint.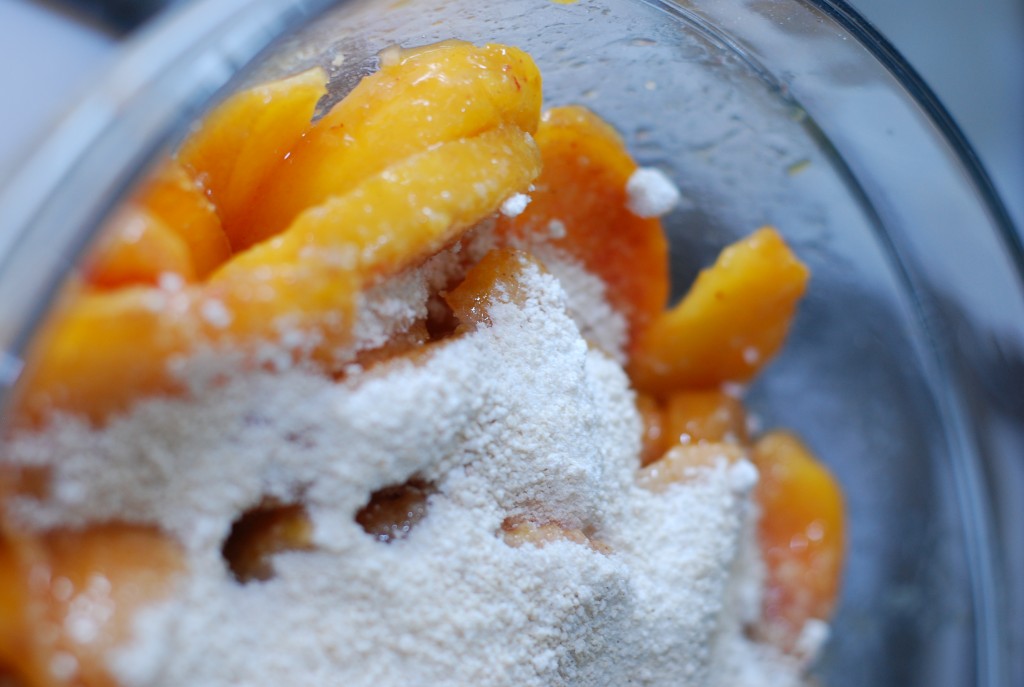 We ended up eating the pie and ice cream the next morning after breakfast (because even breakfast needs a dessert). Although it was a day old and cold, it was still remarkable. It was everything a peach pie should be. The peaches were plump with little filler, letting the natural sweetness and flavor of the bright orange flesh shine. As much as I love pie, rarely have I experienced a pie filling that gives me the feeling as if I were eating the fresh fruit. I assume peach pies don't grow on trees, but this tasted so good that only the earth could have made it. (If anyone knows where I can get some peach pie seeds, please let me know.)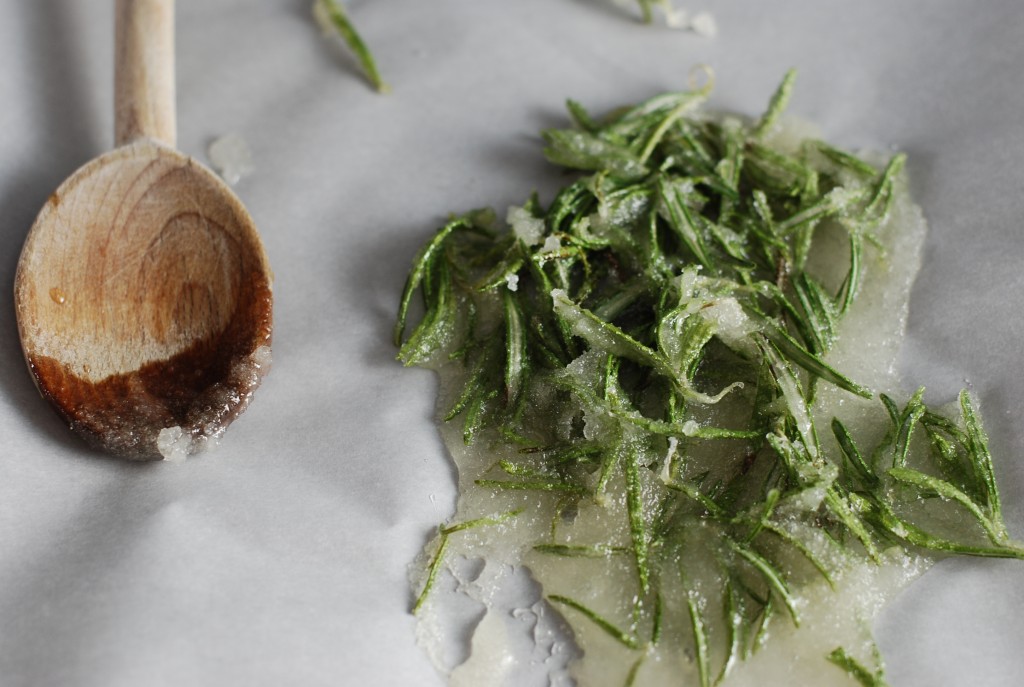 Let's not forget about the rosemary! I can't think of a better complementary herb to peaches than rosemary. Herbaceous, sweet and crystallized from the sugar. Do you, Peach, take Rosemary to be your lawfully wedded pie wife? I certainly do.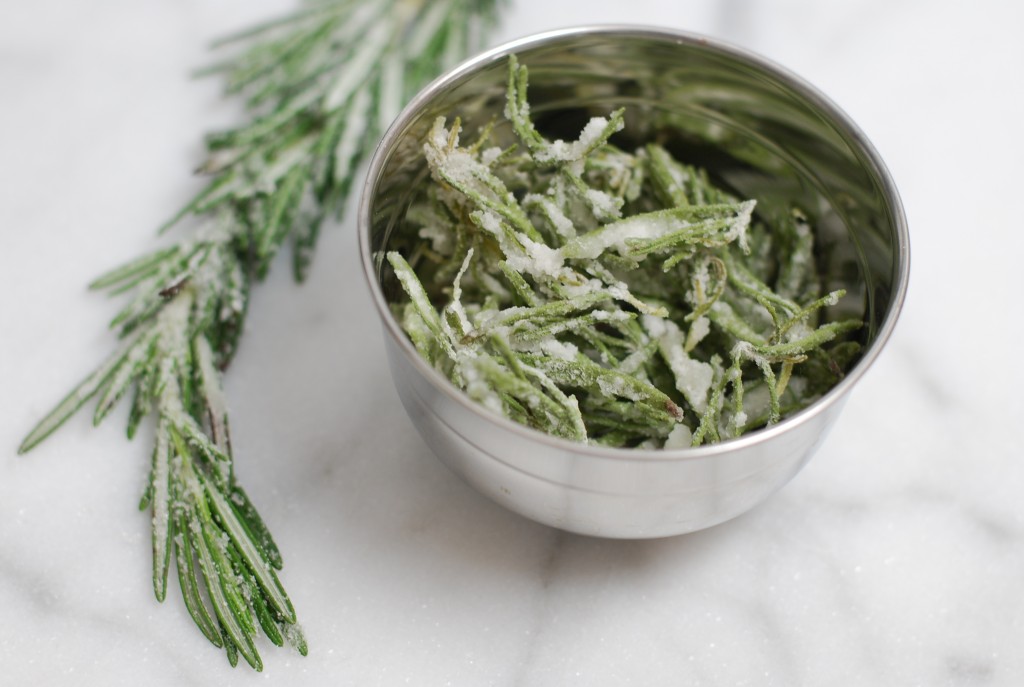 And it all came together with that brown butter ice cream. Come on! This dessert should be illegal. But I'm glad it's not, because otherwise I'd find myself at the center of a police chase crossing the Golden Gate Bridge. So, while many couples have memories of smashing cake and buttercream into each other's faces on their wedding day, we ended our wedding celebration by (what should be a new tradition) eating peach pie after breakfast in our hotel room. We wouldn't have it any other way.
Except maybe next time I'd order TWO pies.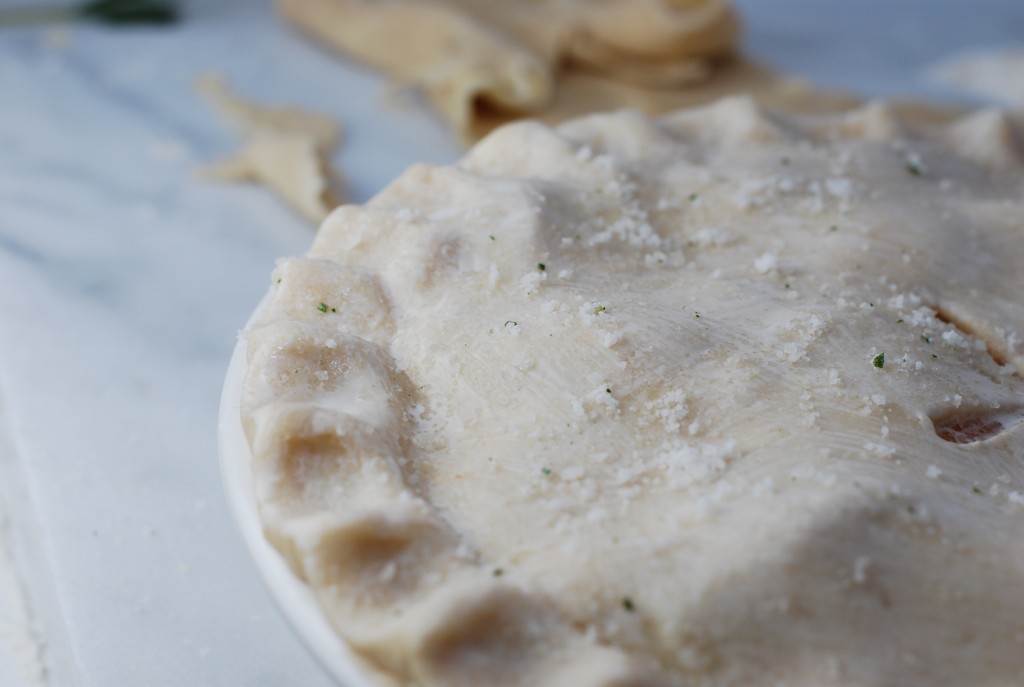 Since there is only what feels like a three-day window for good, fresh peaches in Virginia, we haven't had too many opportunities to recreate this dish. Fortunately for us, this year mother nature was kind, so our area has been cranking out good quality peaches by the basketful.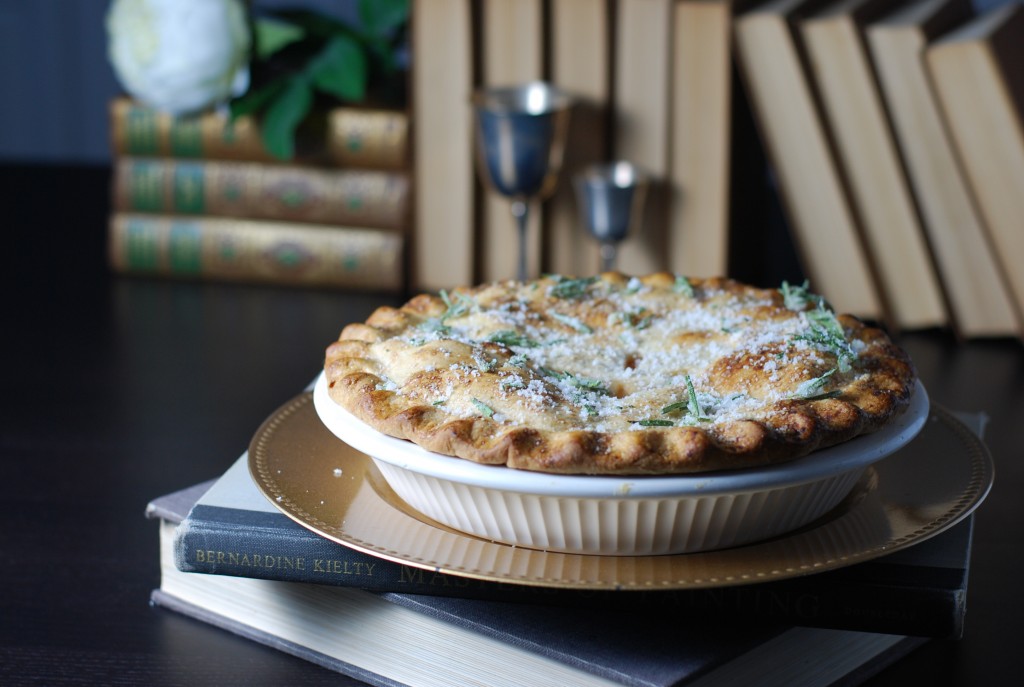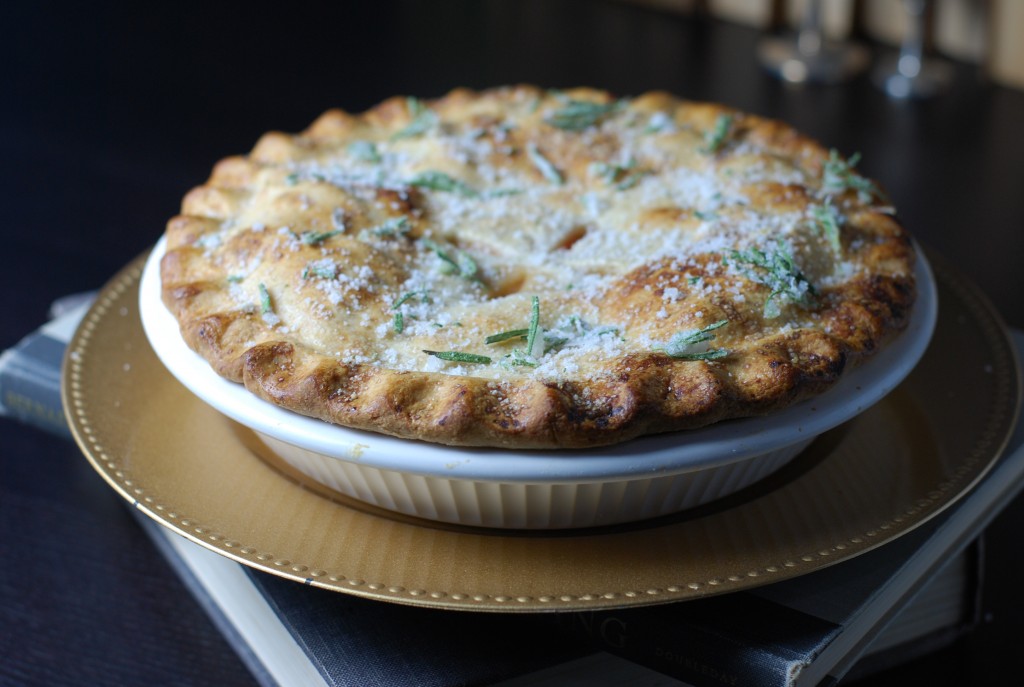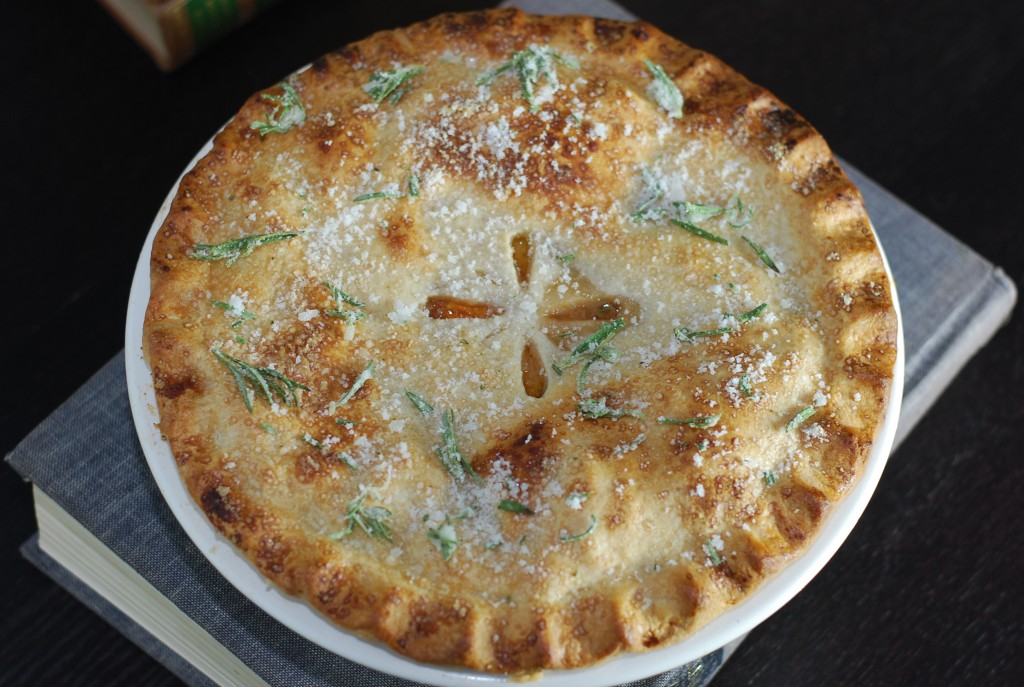 The recipe below is a modified hybrid of several different recipes that we found online. Recipes and inspirations include Ina Garten's Perfect Pie Crust, Smitten Kitchen's peach pie filling, and of course no part of this "imitation creation" recipe would be possible without Wayfare Tavern.
PEACH PIE WITH CANDIED ROSEMARY 
Pie Crust (Ina Garten's Perfect Pie Crust from Foodnetwork.com):
12 Tablespoons (1 1/2 sticks) COLD Unsalted Butter
3 Cups All-Purpose Flour
1/3 Cup COLD Vegetable Shortening
1 Tablespoon Sugar
6-8 Tablespoons Ice Water
Pie Filling (Smitten Kitchen)
3 1/2 Pounds Fresh Peaches (approximately 7 medium)
1 Tablespoon Fresh Lemon Juice
1/3 Cup Granulated Sugar
1/4 Cup Light Brown Sugar
1/8 teaspoon Ground Cinnamon
1/8 teaspoon Kosher Salt
3 Tablespoons Corn Starch
Candied Rosemary:
2 Sprigs Fresh Rosemary
1/3 Cup Granulated Sugar
1 Tablespoon Water
For the crust: We're no strangers to Ina Garten's recipes and her "Perfect Pie Crust" is definitely a winner. Consistent, tasty, and most of all easy. If you're looking for a flaky, no fuss pie crust Ina's will certainly serve you well.
For the filling: It is too often that peach pie fillings are overly sweet and texturally gloppy, but not this one from Smitten Kitchen. It has the perfect balance of sugar and just a hint of cinnamon to highlight the natural peach flavor.
For the candied rosemary: We've never candied anything before…ever. I'm not even 100% sure that this is proper candying technique, but it was delicious and served our purposes just fine. Start by combining the rosemary, water, and sugar in a small saute pan and bring to a boil. Carefully watch and stir the mixture until it reduces slightly and resembles a very thick syrup (about 5 minutes). Remove from heat and pour onto a baking sheet lined with parchment paper. Let it cool and harden while you prepare the pie filling.
For the pie:  Place the bottom crust in a 9-inch pie pan leaving about a half inch over the edges for crimping. Place the peach pie filling inside (no need to bake the bottom crust first) and cover the top with the remaining crust. Fold the edges of the top crust under the edges of the bottom crust and seal together by either crimping with your fingertips or by using the prongs of a fork. Using a sharp paring knife, create a few steam vents in the middle of the top crust making sure they are big enough so that the dough doesn't seal back together when it expands in the oven. Next, break-up a small portion of the candied rosemary in a blender (a coffee grinder also does the job). Brush the top crust with heavy cream and lightly sprinkle the blended candied rosemary mixture on top. Bake in a preheated oven at 425 for about twenty minutes or until the crust begins to brown. Reduce the temperature to 375 and bake for another 35 minutes or until bubbly and golden brown.
Let cool for 3 hours, then serve each slice warm with extra candied rosemary and your favorite ice cream. Brown butter ice cream works best, but we're still working on finding a good homemade version to post on the blog.
True Confessions:
What's with all the books in the pictures? Wayfare Tavern has a masculine library kind of vibe, so we were aiming for that. Grab a pipe and slice of peach pie.
I made brown butter ice cream, too.  But I screwed it up, so it didn't make the cut. It tasted great, but it was gritty. Whoops. I have since learned the ways of Jeni Britton Bauer and believe my next batch of ice cream will be better than Wayfare Tavern. Yeah, I said it.
We ate the pie before we got a chance to snap a sexy pic of a single slice with peaches oozing out. So, as a bonus how about an action shot?