This post is made possible through a partnership with the awesome folks at DriveShop and Mitsubishi Motors, who provided us with a vehicle to test drive for a week. You can follow the conversation on social media with the hashtag #DriveMitsubishi.
This is a companion post to our trip to Red Truck Bakery in Marshall,VA. For delicious baked goods in a small town, check out that post. If you're interested in the wheels that got us there, you're in the right place.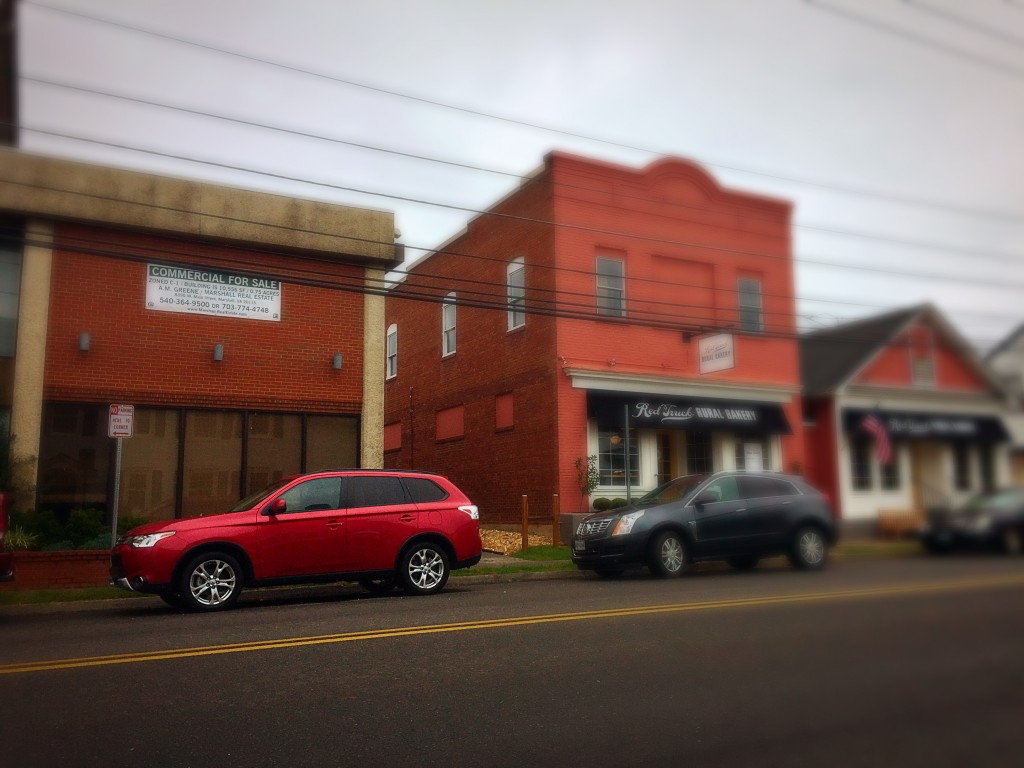 Thanks in part to The Fast and the Furious franchise, my teenage memories of Mitsubishi cars are comprised mainly of street racing Eclipses and Lancer Evolutions. Not being a street racer and also not being in the market for a new car over the last decade, I haven't really paid much attention to what Mitsubishi has been up to, so I was interested in the opportunity to try out the 2015 Mitsubishi Outlander SE S-AWC.
Specs
MSRP (as tested):  $29,645
MPG Estimate: 24 city – 29 highway
Engine:  2.4L MIVEC SOHC 16-valve, 4 cylnders
Power:  166 hp @ 6000 rpm  | 162 ft-lbs. @ 4200 rpm
Transmission:   CVT
Color:  Rally Red
Options:  SE Premium Package (sunroof, leather seats, roof rails, 710w Rockford Fosgate sound system, power remote tailgate, power driver's seat, woodgrain interior trim panels)
Comfort
The comfort and driving position of the front seats were good, which made commuting a little easier than my 2006 manual transmission compact car. Although we didn't travel too far, I wouldn't anticipate any issues with taking the Outlander on a long road trip. Since I did all the driving, I didn't have to sit in the back, but my co-workers commented that the rear seats were a little stiff for their liking.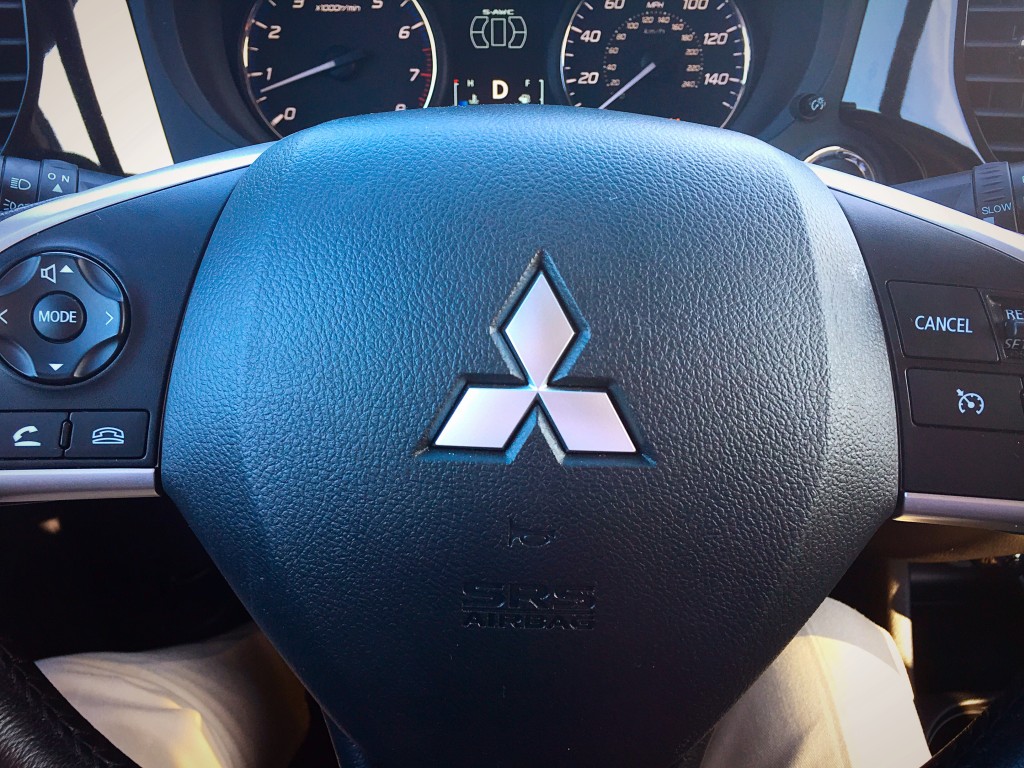 Overall, the interior is quite spacious, which gives the feeling you're in a much larger SUV. In fact, with all of the second and third row seats folded down, I could easily lie down and take a nap on my lunch break. Not that I did that.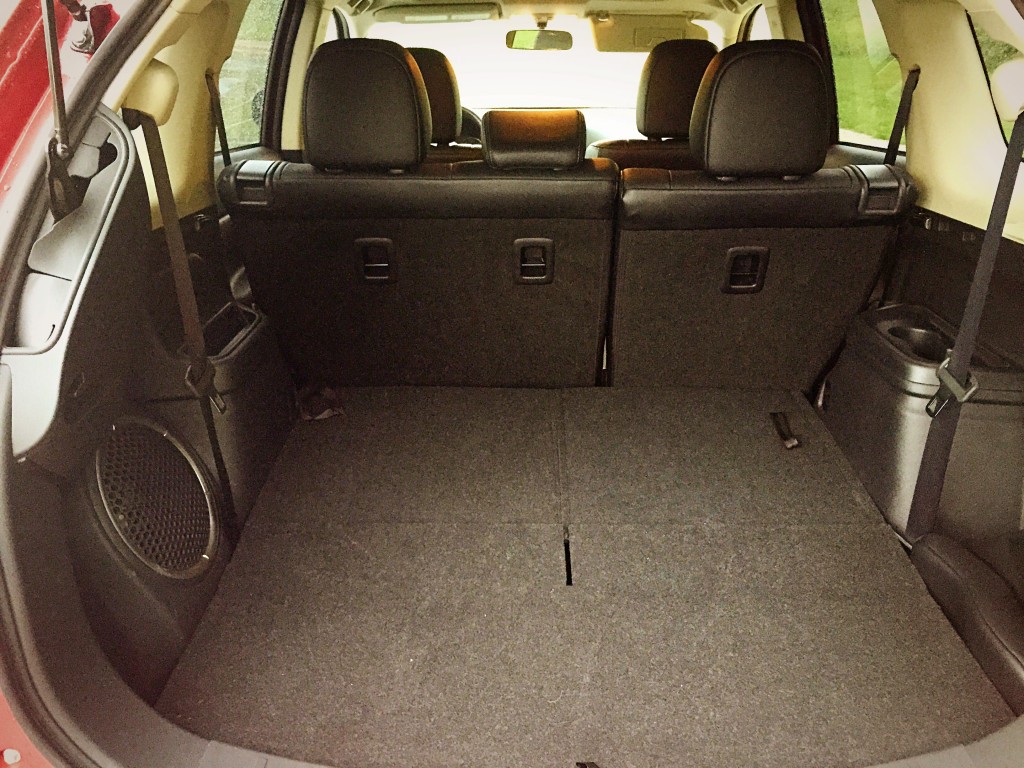 Amenities
The entertainment system is probably due for an upgrade, but it was easy to use (which is sometimes lacking in the newer, more complex systems in other brands). The Rockford Fosgate speaker system sounds incredible thanks to the nine speaker system, including 10 inch subwoofer in the back.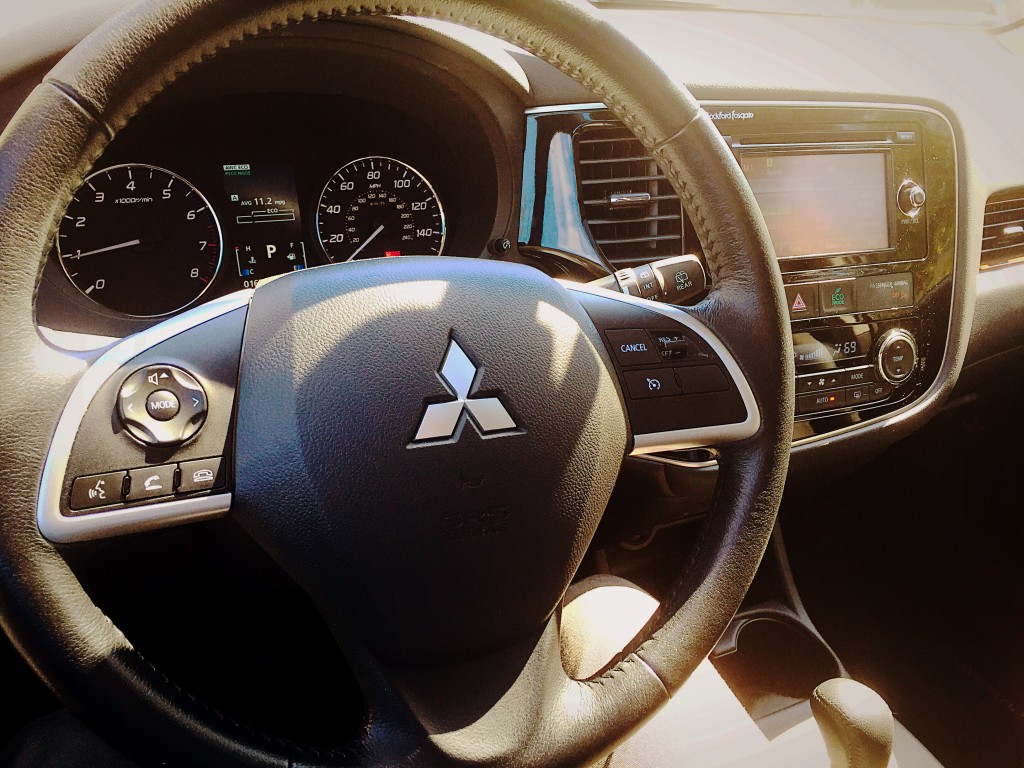 It was also easy to fall in love with the optional remote power lift gate. Emphasis on the remote part. Sometimes I opened the lift gate for fun, just because I could. It made trips to the grocery store and Costco slightly more exciting.
Look at all this cargo room. I should fill it with food. LOTS of food. @MitsuCars #DriveMitsubishi @DriveShopUSA pic.twitter.com/CUF4JH4YHr

— Evan Shaw (@getinmymouf) September 14, 2015
Although we did not take advantage of the third row of seats, it was actually beneficial on those aforementioned trips, as the seat backs helped keep our groceries from flying all over the place, while I tested out the vehicle's cornering ability (well-within all applicable traffic laws, of course).
And as is becoming the norm with most mid and upper trim levels, a backup camera and heated seats are standard on this trim level. A week later left me wondering how on earth I was ever able to own a car without a backup camera and heated seats.
Performance
First of all, you won't see this car in Fast & Furious 8 (or 9 or whatever they're up to now). But that's okay, because you'll buy this car for the gas mileage. My daily commute, which is a 33-mile round trip mixture of highway, stop-and-go traffic, and dance parties (thanks, Rockford Fosgate!), consistently returned gas mileage around 25 MPG. Our mostly-highway trip to Red Truck Bakery resulted in a respectable 28.8 MPG, which easily rivals my my 2006 compact car. Although acceleration from a stop leaves something to be desired, throwing the shifter into sport mode provides ample juice for a lane change at highway speeds.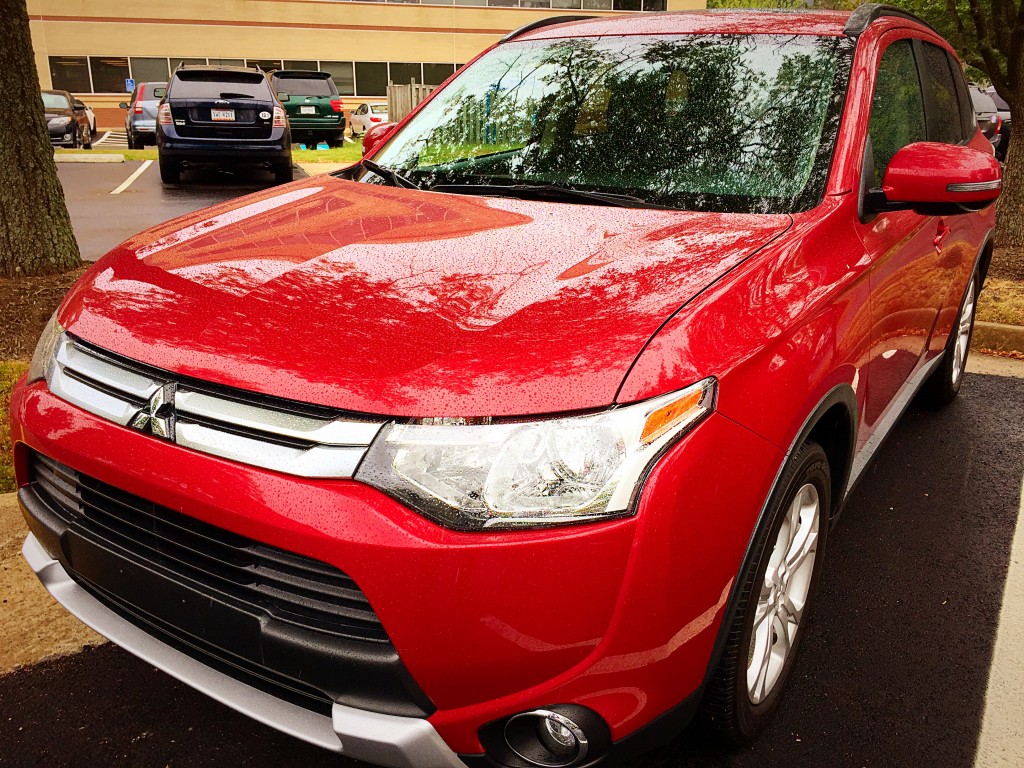 I was also impressed with the steering feel and handling, as this vehicle drives more like a car than a compact SUV. I'm not a fan of loose steering (reminds me of driving a boat), so I was pleasantly surprised to still feel the road in a vehicle of this size.
Dog Friendliness
Given that this is an SUV, this is likely a great vehicle for anyone with a decent-sized dog. Unfortunately, I made the mistake of opening the power lift gate in front of Cooper. And since any inanimate object that moves on its own completely BLOWS HIS MIND, he was convinced that the car was possessed and wanted nothing to do with it. Again, it was through no fault of the Outlander and completely Coop's own neuroscis (he also growls at bags floating in the wind). Sad, because he would've fit perfectly in the back, but a good reminder for dog owners to always have new vehicle purchases approved by their pups.
Who Should Buy This Car?
This vehicle would be perfect for a price-conscious consumer with kids and a need for a third row of seats. The MSRP is $29,645, but online prices at some local dealerships are closer to $25,000 for Outlanders with similar MSRPs–which seems almost insane when you think about how much vehicle you're getting. Plus, the 10-year / 100,000-mile power train warranty and solid gas mileage will help keep future costs down. I should also mention that the 2016 Outlander has hit dealers this month, so any remaining 2015 vehicles are likely to garner some significant savings. Haven't had a chance to try 2016's model yet, but from what I keep hearing, there are quite a few improvements over the 2015 model.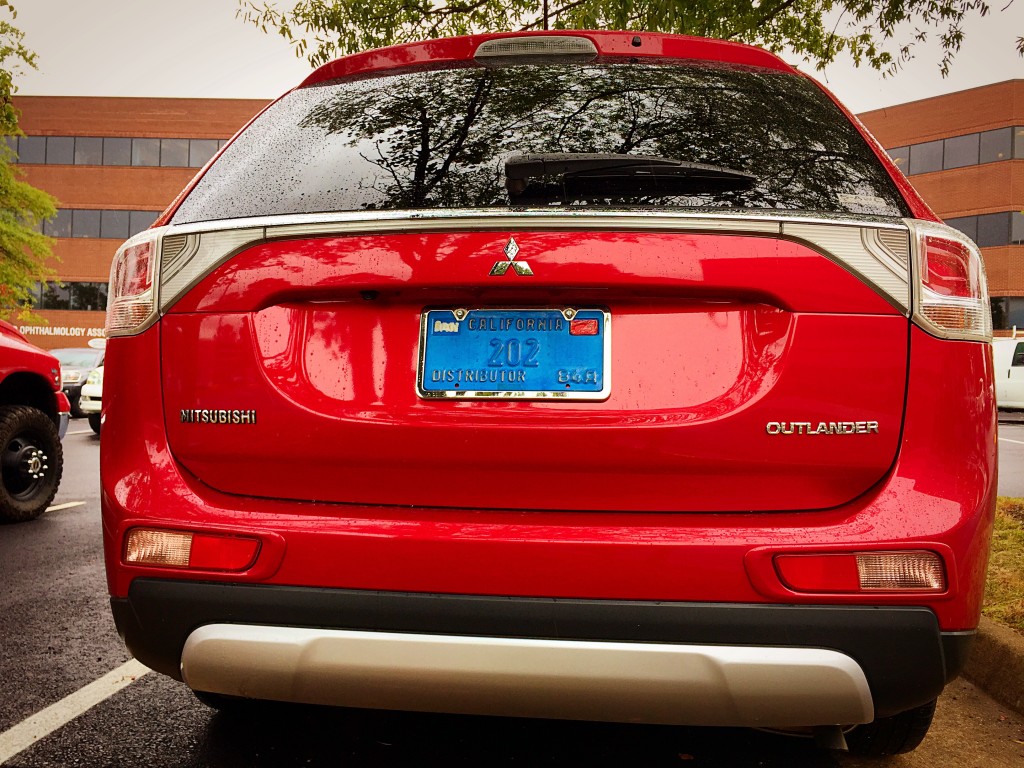 Disclaimer:  As noted above (you did read the whole post, right?!) we were provided this vehicle courtesy of DriveShop and Mitsubishi. Other than being allowed to test drive this vehicle, we were not provided any monetary compensation for this post. As always, all opinions remain our own.