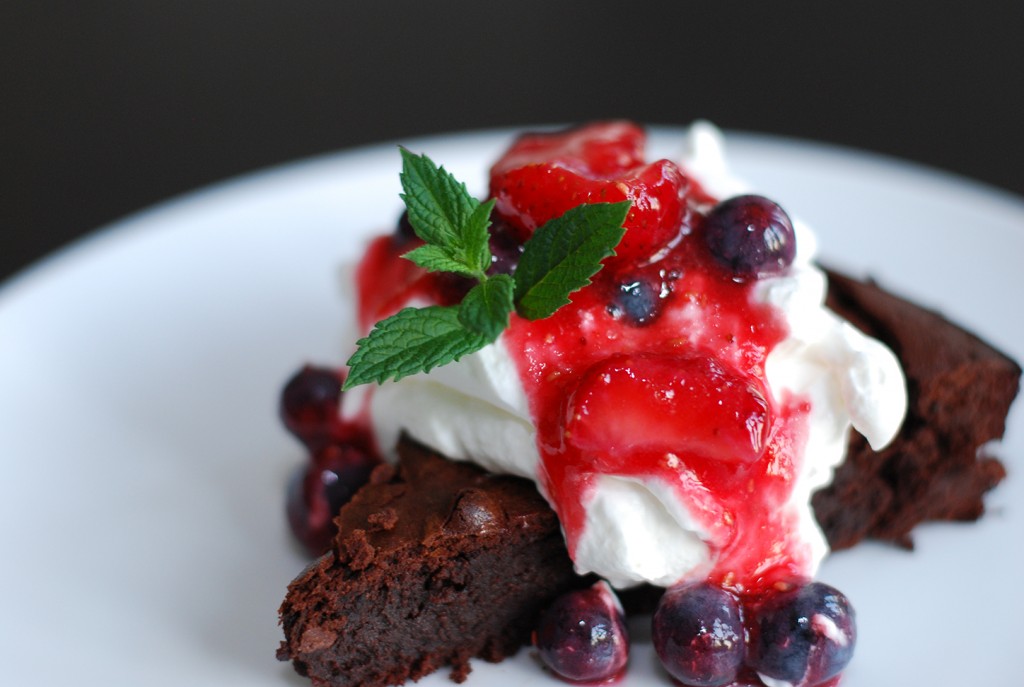 In my opinion, a chocolate dessert should include three key components:
A rich (nearly sinful) chocolate centerpiece
Something fruity with both sweet and tart elements
FRESH whipped cream
Notice the use of ALL CAPS. Manufactured "whipped" cream in a can has no place in our refrigerator. And don't get me started on non-dairy whipped toppings…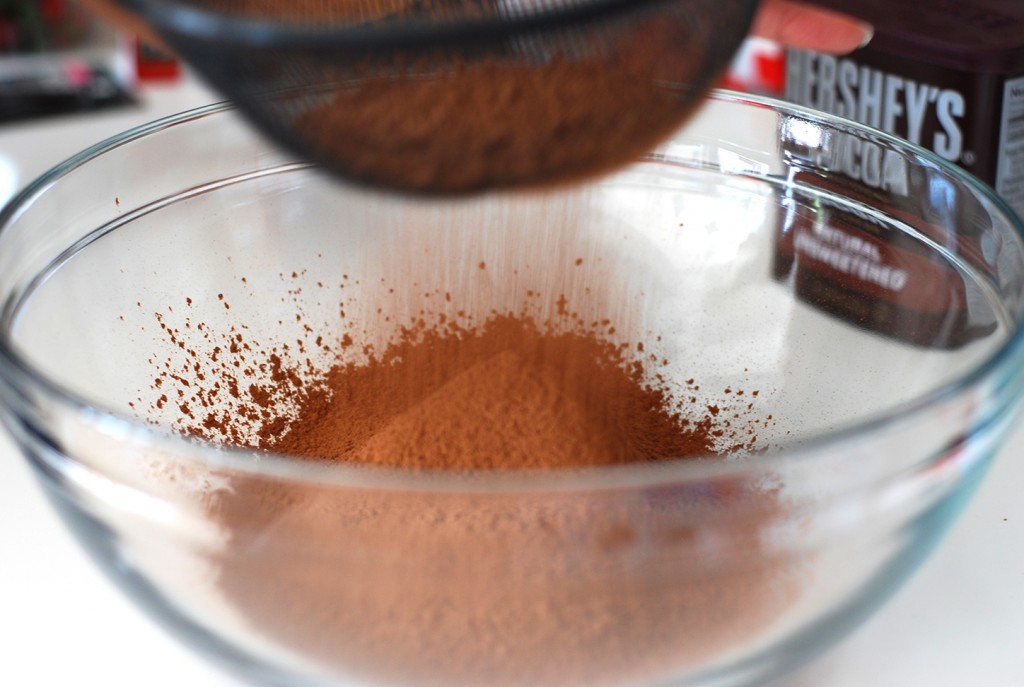 Aside from my militant attitude toward whipped cream, it's a pretty straightforward template that can be utilized for a quick dessert. If you're feelin' fancy, it can be as complicated as a an espresso chocolate waffle topped with orange raspberry compote and a mint whipped cream. But, if you're in a lazy mood (like me on a Sunday afternoon), you could buy all the required ingredients at a 7-11 and serve dark chocolate candy bars topped with strawberry jelly and whipped cream (Slurpee pairing anyone?).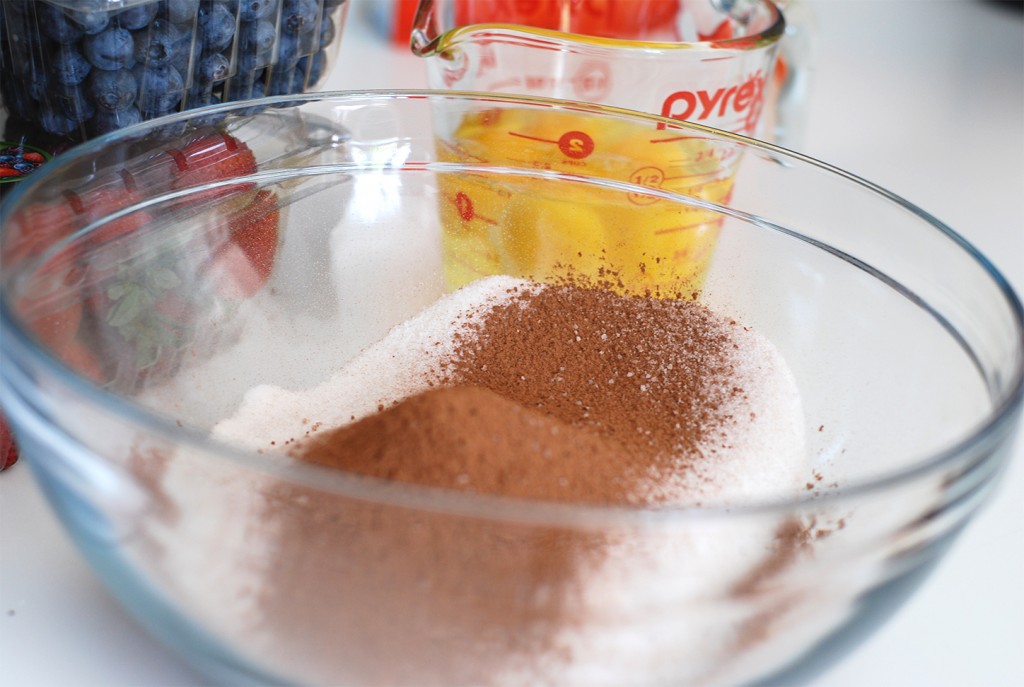 Luckily this Franken-recipe (sewn together from Bon Appétit and Ina Garten) is somewhere between that espresso waffle and a trip to 7-11 and is as easy to make as any cake. Actually, it's easier because there is one less ingredient in this cake: Flour. Addition by subtraction. Which also means that it is…
Gluten-free!
What?! How dare I sneak a gluten-free post into what is normally a blog filled with chicken wings, doughnuts, and Krispy Kreme doughnuts turned into French toast? Well, Sherlock, the title says "hold the flour," so it wasn't that sneaky…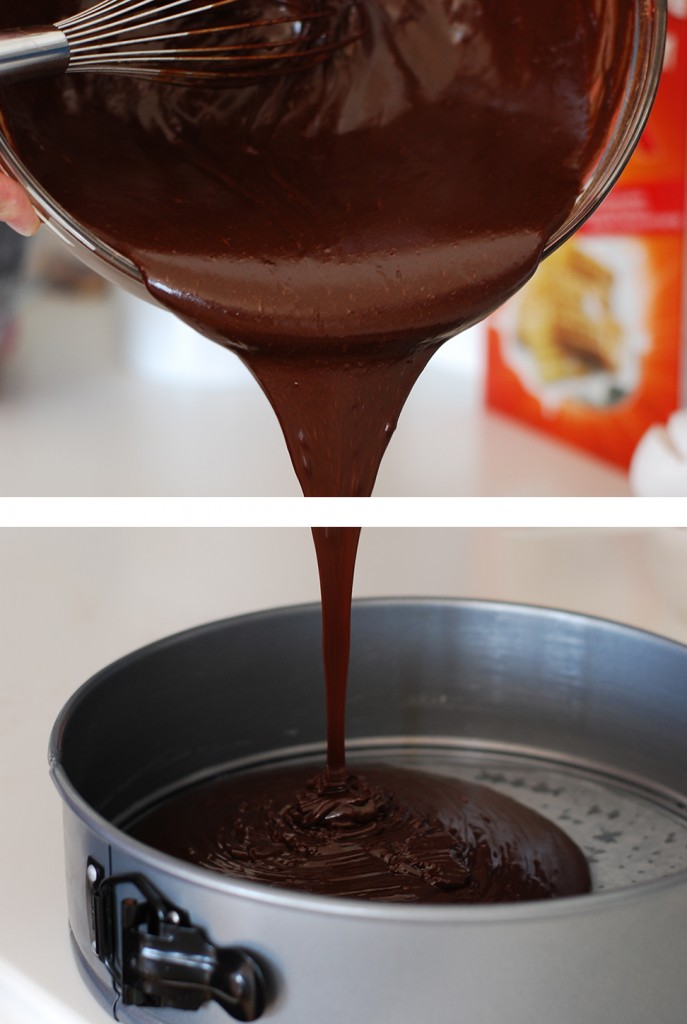 Since Tina has removed gluten from her diet to see if it helps reduce what appears to be un-diagnosable abdominal pain (possibly our very own Monsters Inside Me premise!), we've been a lot more aware of gluten-free products and recipes lately. It's definitely tough and forces us to be a bit more creative when eating out or dining at home, but this recipe doesn't feel like anything is missing. I'd actually prefer eating this flourless chocolate cake over any other flour-filled chocolate cake out there.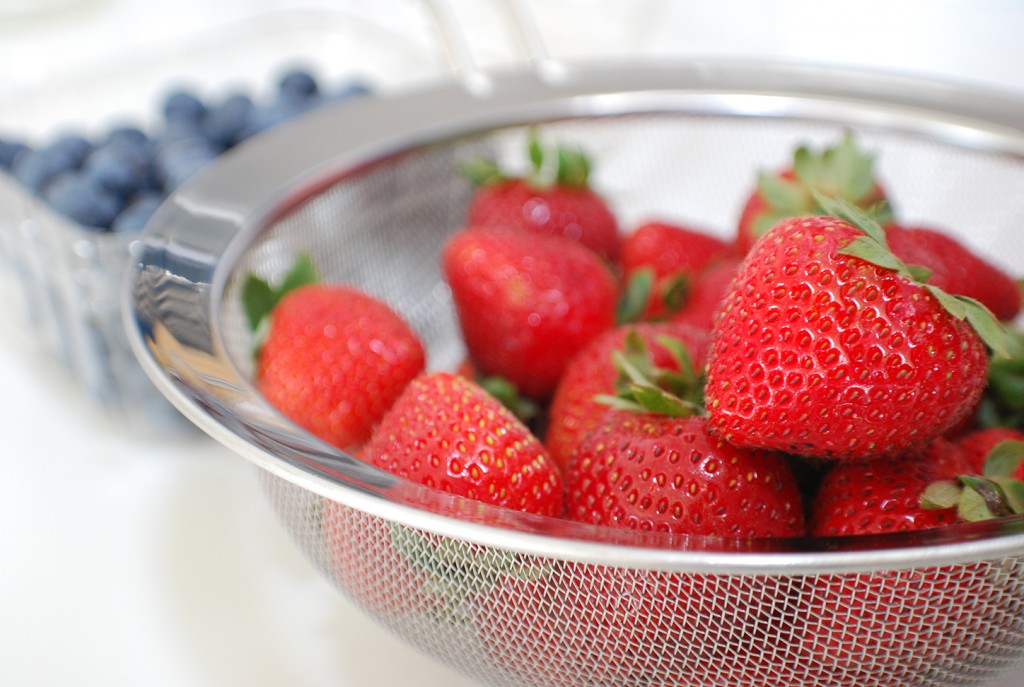 So, in a gluten-filled world, a flourless chocolate cake can be a decadent beacon of hope. Don't be afraid to go towards the light…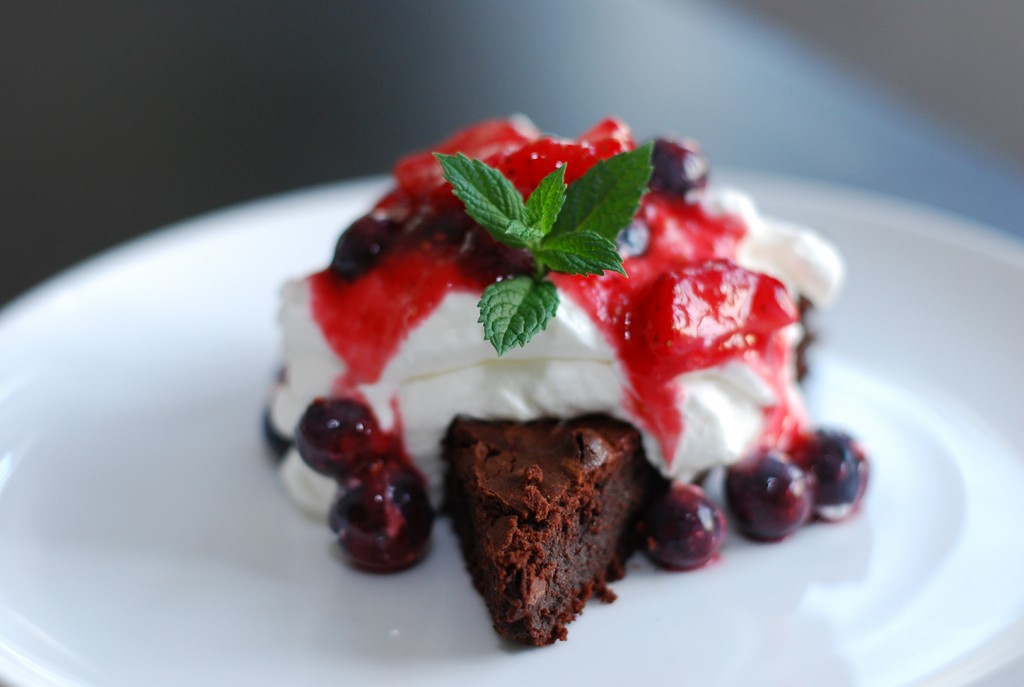 Notice that you can barely see the chocolate cake because of the mammollop ("mammoth dollop") of whipped cream. It ain't quite as pretty, but that's how we eat it. And its likely that I'll run out of whipped cream before I'm finished with my slice. Yes, I have a problem.
FLOURLESS CHOCOLATE CAKE
This recipe is not modified at all from its original version. Bon Apétit doesn't mess around, so no need to mess with their recipes!
1 Cup (2 sticks) Butter, cut into pieces
8 Ounces Semisweet Chocolate Chips (about 1 1/2 cups)
1 1/4 Cup Sugar
1 Cup Sifted Unsweetened Cocoa Powder
6 Large Eggs
Preheat oven to 350°F.
Lather up a 10-inch-diameter springform pan with butter and line the bottom with waxed paper.
Stir butter and chocolate in heavy large saucepan over low heat until melted.
Mix sugar and cocoa in large bowl. Add eggs; whisk until well blended.
Whisk in chocolate-butter mixture slowly (unless you want a scrambled egg cake).
Pour batter into prepared pan.
Bake until a toothpick placed in the center comes out clean, about 45 minutes.
Cool cake completely in pan on rack.
Run knife around pan sides to loosen cake. Release pan sides.
TRIPLE BERRY SAUCE
This is a slightly modified version of Ina Garten's Triple Raspberry Sauce featured as part of her Mixed Berry Pavlova on Foodnetwork.com.
1 lb Fresh Strawberries (sliced)
1 Pint Blueberries
1 Half-Pint Fresh or Frozen Raspberries
1/4 Cup Sugar
1 Cup Raspberry Jam (12-ounce jar)
Place the raspberries, sugar and 1/4 cup water in a small saucepan. Bring to a boil, lower the heat, and simmer for 4 minutes.
Pour the cooked raspberries and jam into the bowl of a food processor fitted with a steel blade and process until smooth.
Gently mix in blueberries and sliced strawberries.
Chillax in the refrigerator.
FRESH WHIPPED CREAM
1 Quart Heavy Whipping Cream
½ Cup Confectioners Sugar
1 teaspoon Vanilla Extract
You can use a hand or stand mixer, we use the latter. The sugar is also adjustable to your sweetness preference.
Chill the bowl and whisk in the freezer for about five minutes.
Throw in all of the ingredients and mix on medium-high speed for about five minutes or until the cream has thickened to your preferred state.