This post is made possible through a partnership with the awesome folks at DriveShop and Kia, who provided us with a vehicle to test drive for a week. You can follow the conversation on social media with the hashtag #DriveKia.
I didn't really know much about Kia before driving this Optima. I did notice that a ton of people in our neighborhood have Kia Optimas. Like, a ton. And after getting to know this car for a week, I completely understand why.
Specs
MSRP (as tested):  $31,310
MPG Estimate: 23 city – 34 highway
Engine:  2.4L Gas Direct Injection, 4 cylnders
Power:  192 hp @ 6300 rpm | 181 ft-lbs @ 4250 rpm
Transmission:  6-speed Sportmatic Transmission
Color:  Remington Red
Options:  SX Premium Technology Package (power folding mirrors, Infinity audio system, UVO Service w/ Telematics, HD radio technology, Navigation with SiriusXM, rear camera, blind spot detection system, driver's seat memory, heated and cooled front seats, power front passenger's seat, heated outboard rear seats, and back-up warning system)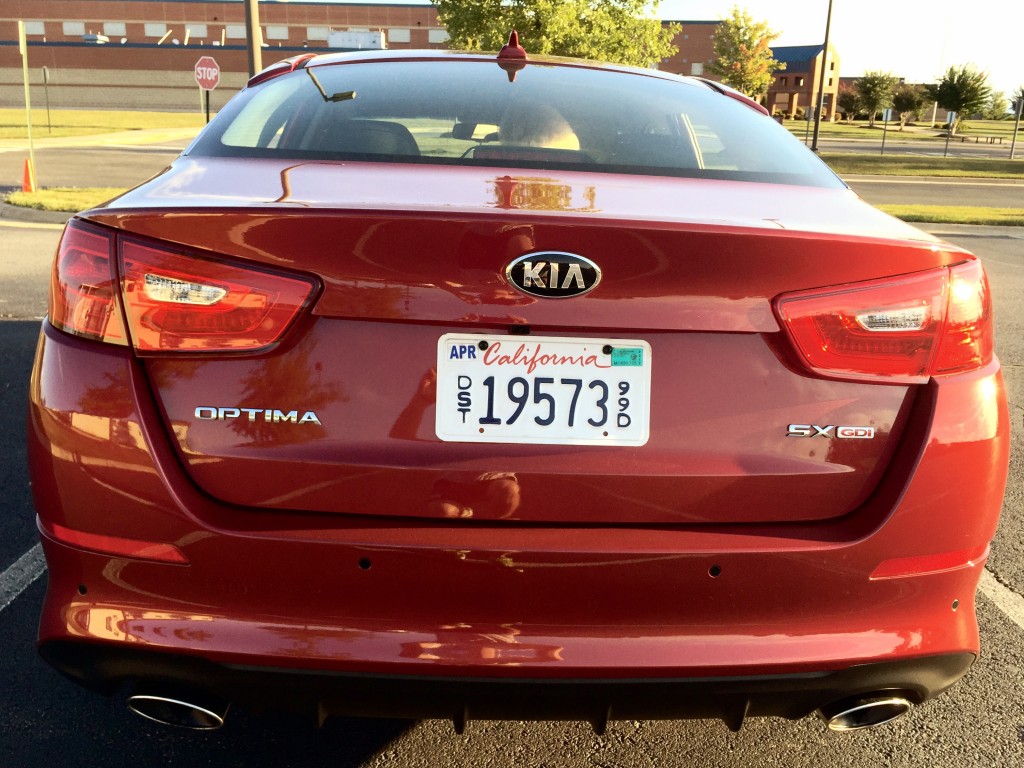 Comfort
The seats are really comfortable. REALLY comfortable. Surprisingly comfortable, even. Here's a challenge: Put on a blind fold and go sit in this car along with three other luxury brands. I bet it'll be tough to tell which one's the Kia.
And on top of seats that are luxury-quality comfortable, they're also cooled. Yes, cooled seats. On a hot day, they're basically like an ice cold lemonade for your back and butt. Weird metaphor, but accurate.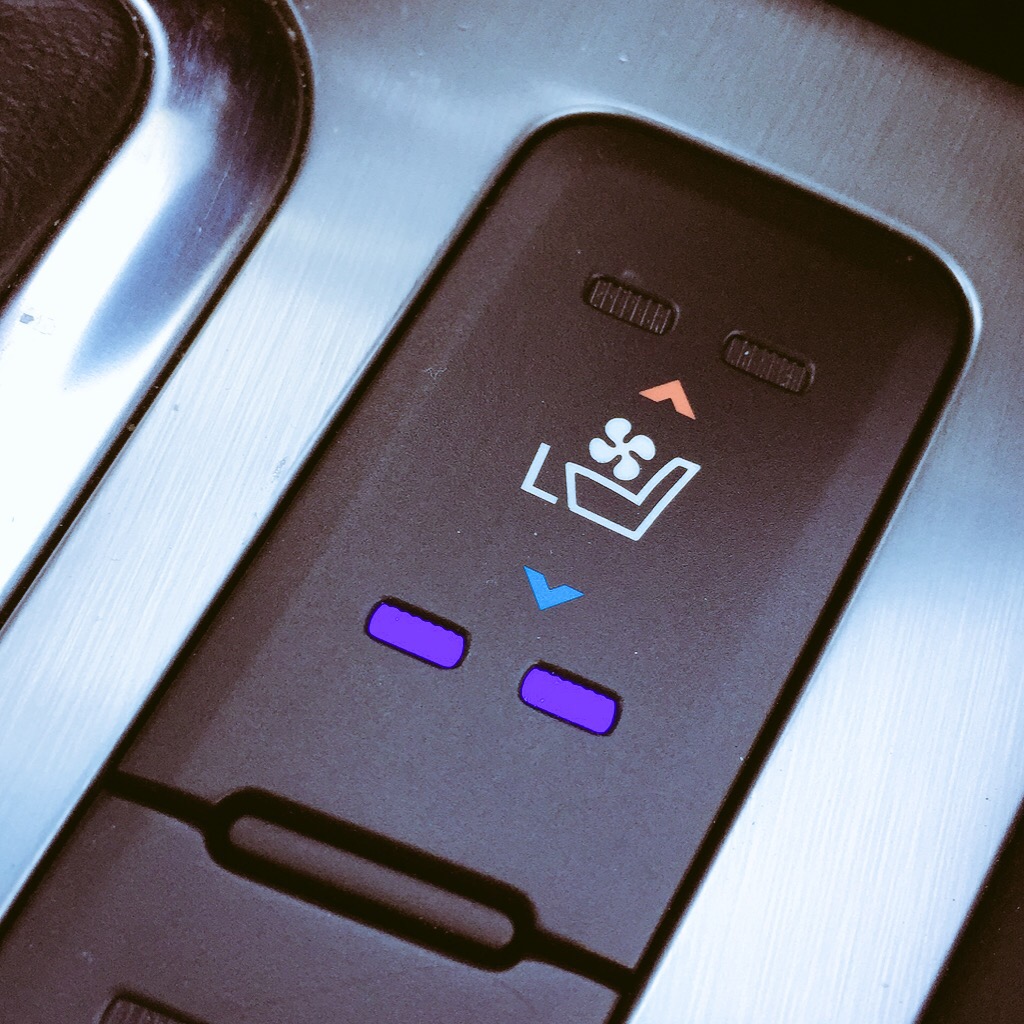 Amenities
The UVO entertainment system is a really well-designed and user-friendly system that looks good, is intuitive, and WORKS. I've come to expect most voice-comand functions in cars have a 50% success rate. I was able to easily add a new destination to the navigation on the first try. You've been warned, Siri.
And the mirrors fold in and out automatically. Which I suppose is functional for tight parking spots, but it just also looks cool and made me feel like I was driving a spaceship.
Starting the morning w/ a new toy thx to @DriveShopUSA & @Kia #driveKia pic.twitter.com/fbRVQP0rNc

— Evan Shaw (@getinmymouf) September 18, 2015
Performance
190 horsepower and 181 ft-lbs of torque provide plenty of get-up-and-go to get you around, but aren't so much that you'll be living at the gas station. Our average gas mileage over the course of the week was 25.5 MPG, which isn't that bad (if you want better mileage, then check out the hybrid version). Personally, I'd take the extra juice if it meant spending a bit more at the tank.
Steering feel and handling are a tad looser and not quite as responsive as I prefer, but others may take that sacrifice for the softer ride. I missed some of the nimbleness that my 2006 compact car has, but the Optima is quite a bit larger.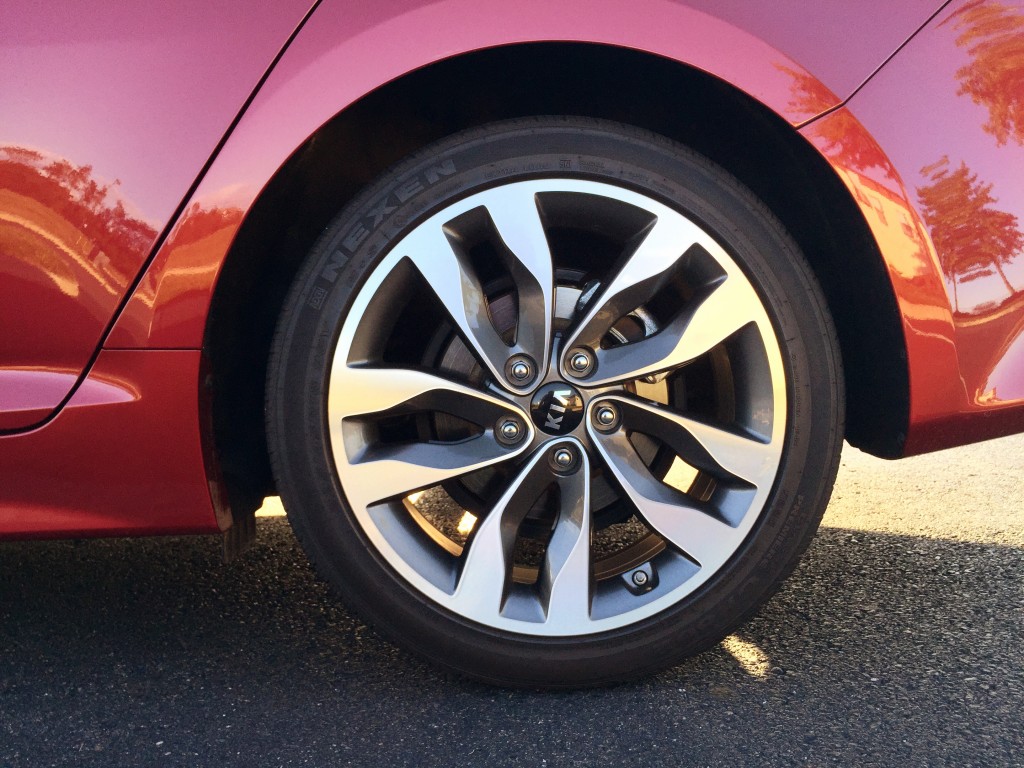 Food Friendliness
Often an overlooked aspect of vehicles, a lot can be said for a car that is really comfortable to eat in. Sometimes you need a quick, quiet, and comfortable place to escape from the insanity of work/school/your own children. Enter the Kia Optima.
With the seat reclined and moved back, the center console made for a nice counter to hold a sandwich. In fact, I recommend using one of the memory seat positions for "lunch mode". Did I mention the seats were comfortable?
(BTW – You can see more interior car/eating pics in our review of McDonald's Buttermilk Crispy Chicken Sandwich.)
The cabin is also spacious, so I'm sure that somehow prevents you from accidentally bumping your elbow on something and spilling ketchup on your white button-up shirt.
Who Should Buy This Car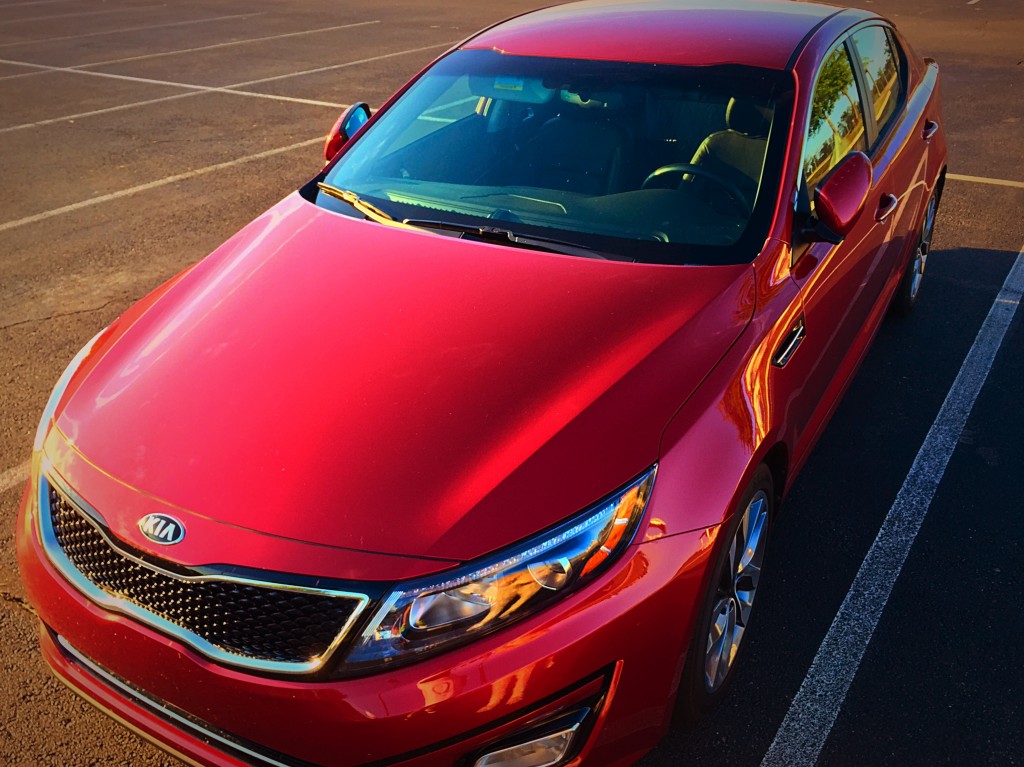 This is definitely going to sound like standard commercial copywriting, but if you want luxury amenities at an affordable price, then you should give a hard look at this car. Although the MSRP tops out at about $31k, nobody actually pays MSRP. In fact, internet prices for the same version of this car, WITH THE TURBO ENGINE (274 hp and 269 ft-lbs of torque) is about $27,000. That's almost ridiculous, especially when comparable luxury vehicles would easily double the price tag. Overall, this was a fine car. A fine car, indeed.
And for what it's worth, Kia ranked #2 in the J.D. Power 2015 U.S. Initial Quality Study. Yup, Kia was right behind Porsche and just ahead of Jaguar.
Gratuitous Dog Pictures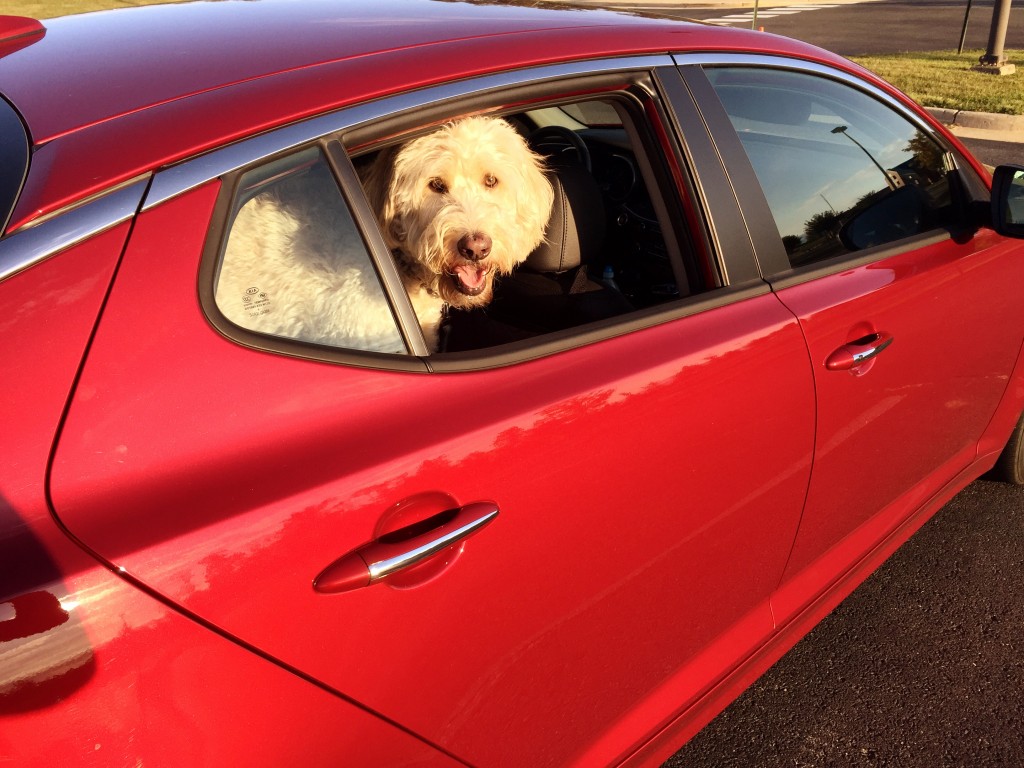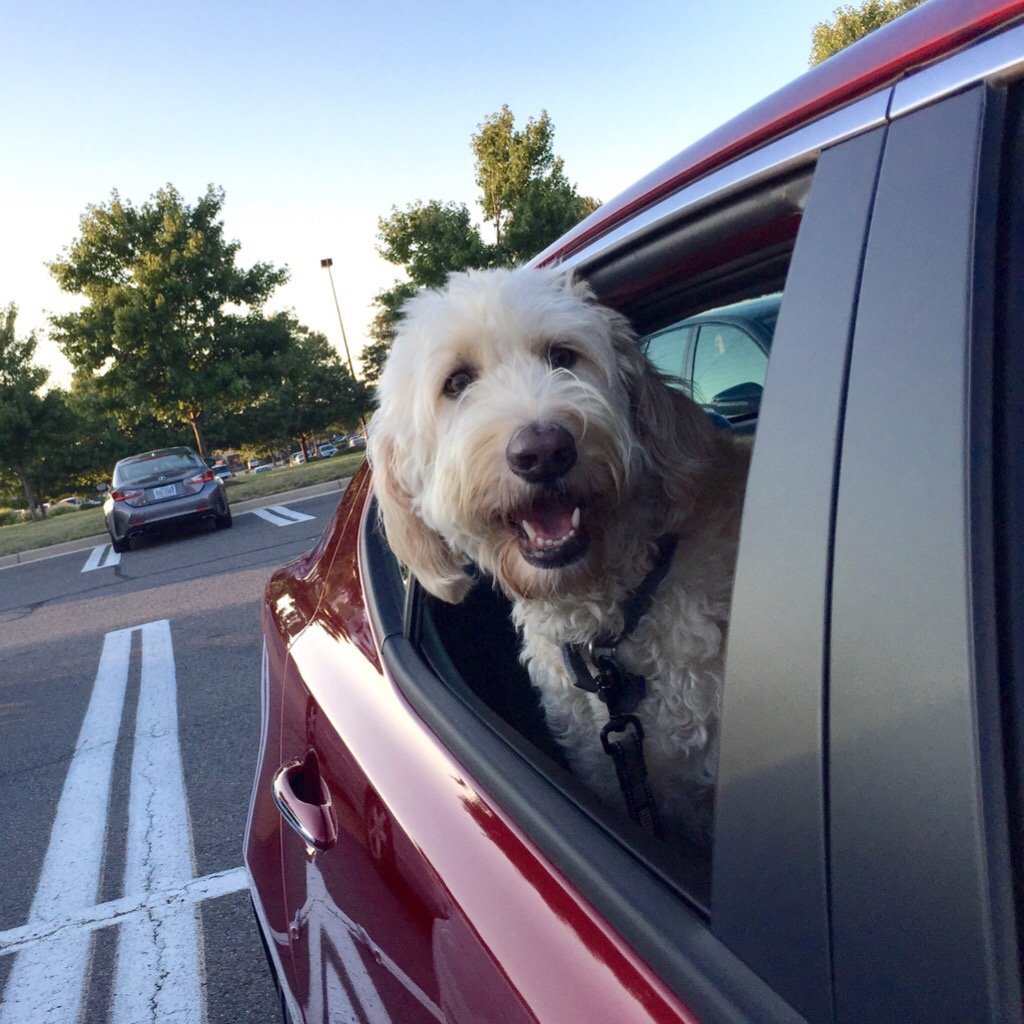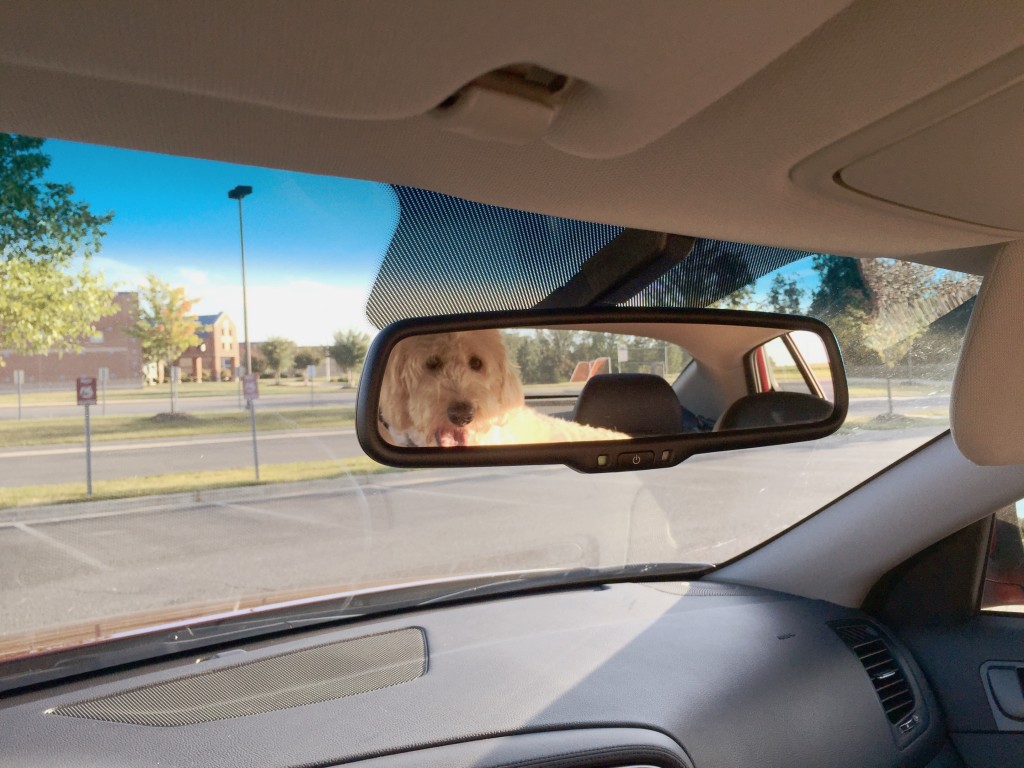 Disclaimer:  As noted above, we were provided this vehicle courtesy of DriveShop and Kia. Other than being allowed to test drive this vehicle, we were not provided any monetary compensation for this post. As always, all opinions remain our own.