This post is made possible through a partnership with the awesome folks at DriveShop and Mazda, who provided us with a vehicle to test drive for a week. You can follow the conversation on social media with the hashtag #DriveMazda.
You know all those car commercials, where the car speeds up and down winding roads on the edges of cliffs? I got to do that in Northern California with this car and it was awesome…
Specs
MSRP (as tested):  $32,340
MPG Estimate: 27 city – 32 highway
Engine:  2.0L Skyactiv-G, 4 cylinder
Power:  146 hp | 146 lb-ft torque
Transmission:   6-Speed Automatic
Color:  Soul Red Metallic
Options:  Navigation, Sirius Satellite Radio, Grand Touring I-Activesense Package (Radar Cruise Control, Smart City Brake Support, Smart Brake Support, Lane Departure Warning, Auto-On/Off Headlights, High Beam Control, Variable Rain-Sensing Wipers)
For more info, click here to view the 2016 CX-3 Brochure.
Amenities
Like my last post on the CX-5, the amenities in this mini "SUV" are essentially the same. We exclusively used the navigation system to get us around Northern California, from  SFO down as far as Big Sur, and we didn't get lost. The voice command function works fine, although I wish I could navigate to an address all in one sentence, rather than having to say "Navigate to Address" and then wait for the prompt to ask me for the address. A small complaint that maybe only saves 30 seconds, but worth noting 'cause that's 30 less seconds I have to wait to start driving (which is REALLY fun).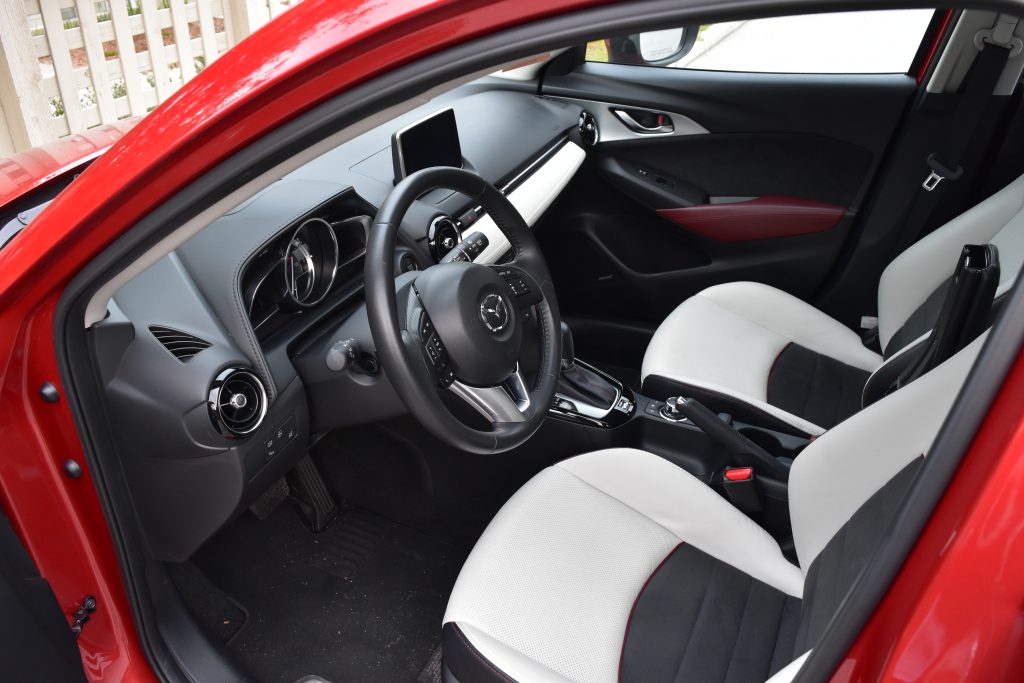 Your ears are taken care of by a Bose sound system. You can never go wrong with Bose, so in my opinion, jumping up to the Grand Touring trim is absolutely worth it.
Comfort
Given the size of the CX-3 and our experience with its older brother, we expected the ride to be a little rough. Fortunately, cruising down the Pacific Coast Highway was smoother than fresh churned butter from a grass fed cow. I could have easily taken a nap if I didn't have so much adrenaline pumping through my veins from tearing up the twists and turns of Highway 1 (but, we'll get to performance in a second). We also found the seats comfortable, hugging us better than my old Mazda 3, with the suede sections helpful for keeping us from sliding around–an issue that is all too common with leather seating.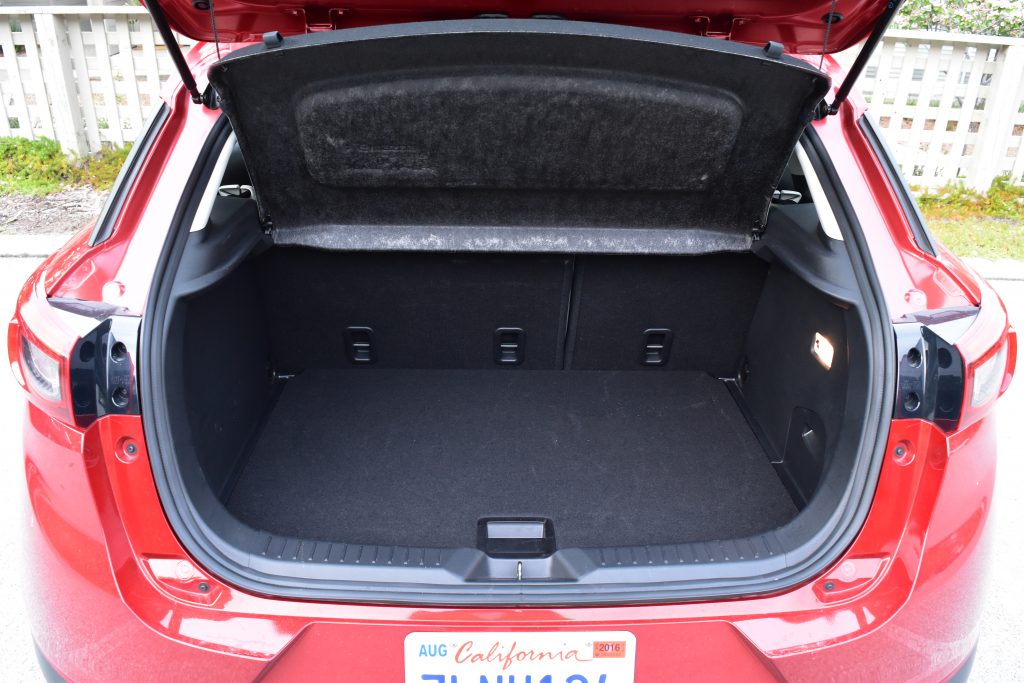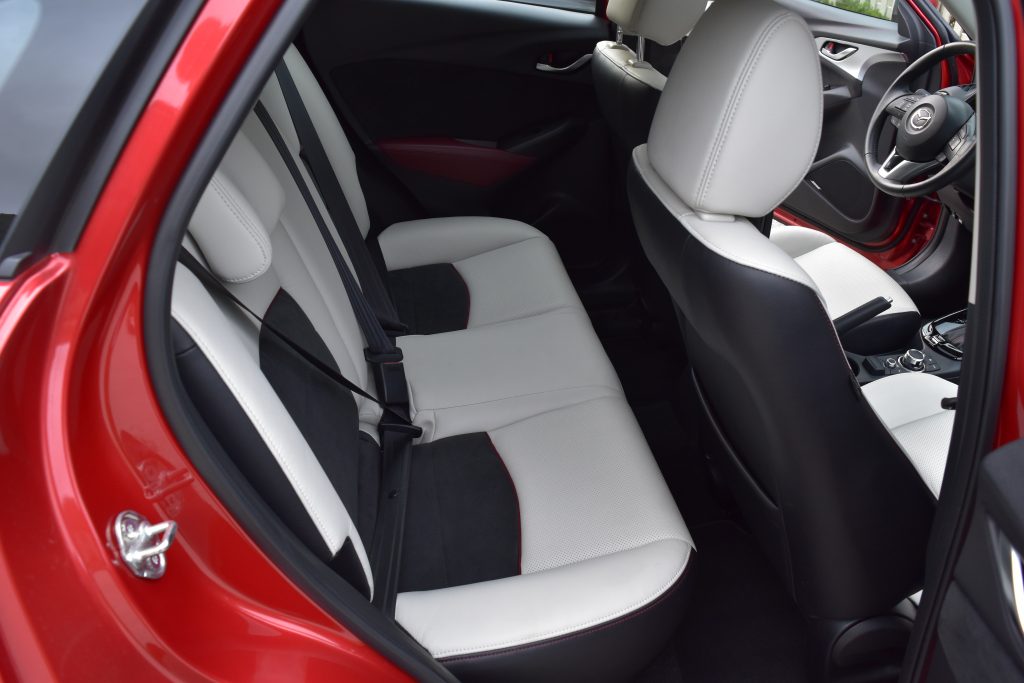 Since we were on vacation, we got to test the hauling capacity and it was a perfect fit for what we had: 1 large suitcase and 1 carry-on fit snugly in the hatchback. The back seat was definitely tight and not something a full-size adult or large dog would enjoy for extended periods of time. But, seriously, if you're getting one of these, it ain't for the size.
Performance
Honestly, all that other stuff (amenities, comfort, sound) matters about zero percent once you get behind the wheel. Three words: Handling. Handling. Handling. If I could get a job driving up and down the Pacific Coast Highway along Big Sur, I would gladly take it if it included this Mazda CX-3. If you don't know or quite understand the term "road feel" then go test drive one of these immediately.
For Mazda, driving really does matter. What's remarkable about the CX-3 (er, most Mazdas, really) is that they achieve a fun driving experience without cheating with a turbocharger or a gas-guzzling V6. I mean, sure, I wouldn't complain about a turbocharged Mazda CX-3 with a stick shift…(seriously, just MazdaSpeed the whole line up). When you drive almost every other competing car in the segment, none of them entice you to drive as much as this little guy.
Gas mileage was also great and near the top of its class–we averaged 30.1 MPG during our nearly 500-mile trip up and down the coast. It was mostly highway, but there were some smaller trips around Carmel Valley and Carmel-By-The-Sea.
Who Should Buy This Car
This car might be a good match for you if your top priorities include i) being fun to drive, ii) getting decent gas milage, and iii) being comfortable. You probably don't care too much about space, but covet a hatchback. The addition of AWD and slightly taller stance also benefits those who might need to deal with snow and/or some light dirt road duty.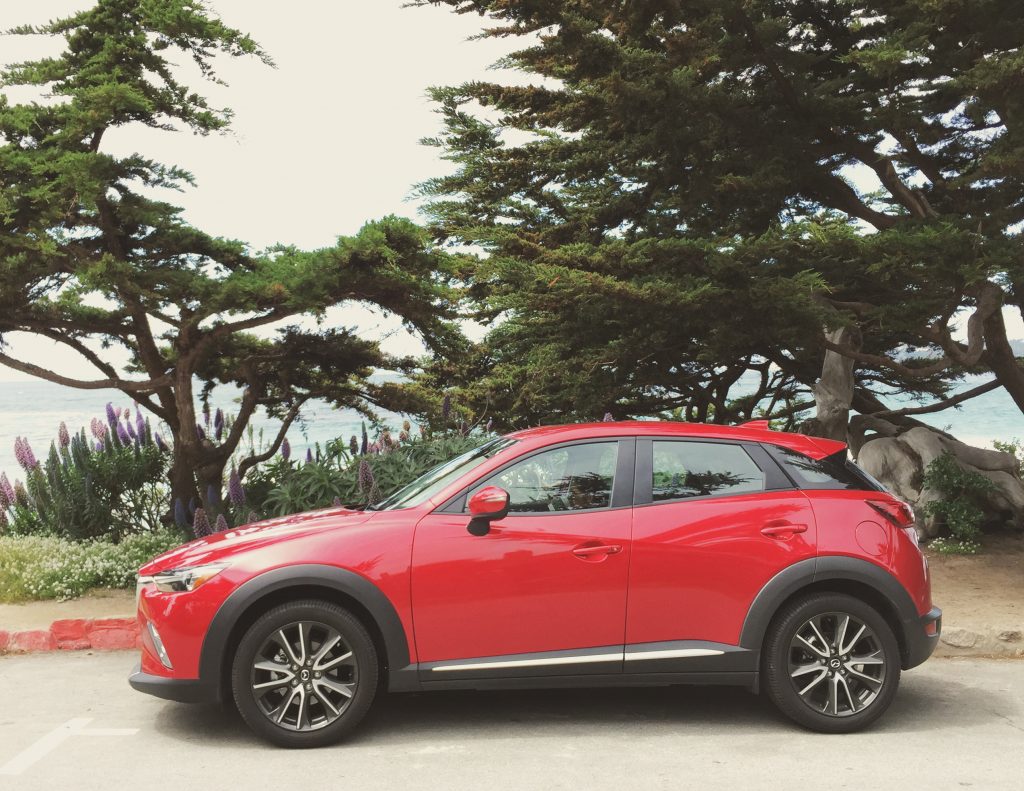 Disclaimer: As noted above we were provided this vehicle courtesy of DriveShop and Mazda. Other than being allowed to test drive this vehicle, we were not provided any monetary compensation for this post. All opinions remain our own.