Thanks to DriveShop and Mazda, we had a 2016 Mazda CX-5 to play with for a week (check out our car review here). Its nimble handling made for a fun drive on some winding roads to Potomac Point Winery.
Question:  When you're driving up and down I-95, stuck in a swell of cars commuting from parts north and south in Virginia, do you ever wish you could take a quick detour and find a happy place filled with nature, wine, and good food?
If so, Potomac Point Winery is that happy place.
We recently attended a wedding at Potomac Point Winery (Congrats Dianna and Gregg!), so our detour to happiness included a night filled with good company, wine, fine food, and plenty of my off-rhythm dancing.
Tucked away in the woods, it all starts with the drive leading up to the entrance where you'll soon forget that you were just on a major highway. This is where the happiness begins. Rather than describe it, just take a look at our first impression of the winery:
Remembering this forest-filled drive to @PotomacPoint #happyplace pic.twitter.com/nPVX190CpU

— Evan Shaw (@getinmymouf) November 4, 2015
Not a bad way to start a wedding, eh?
Sweeping views of vineyard, surrounded by woods. It's truly a serene escape from the traffic-filled highways of Northern Virginia and a romantic getaway for not only a wedding, but even a short day trip or date night.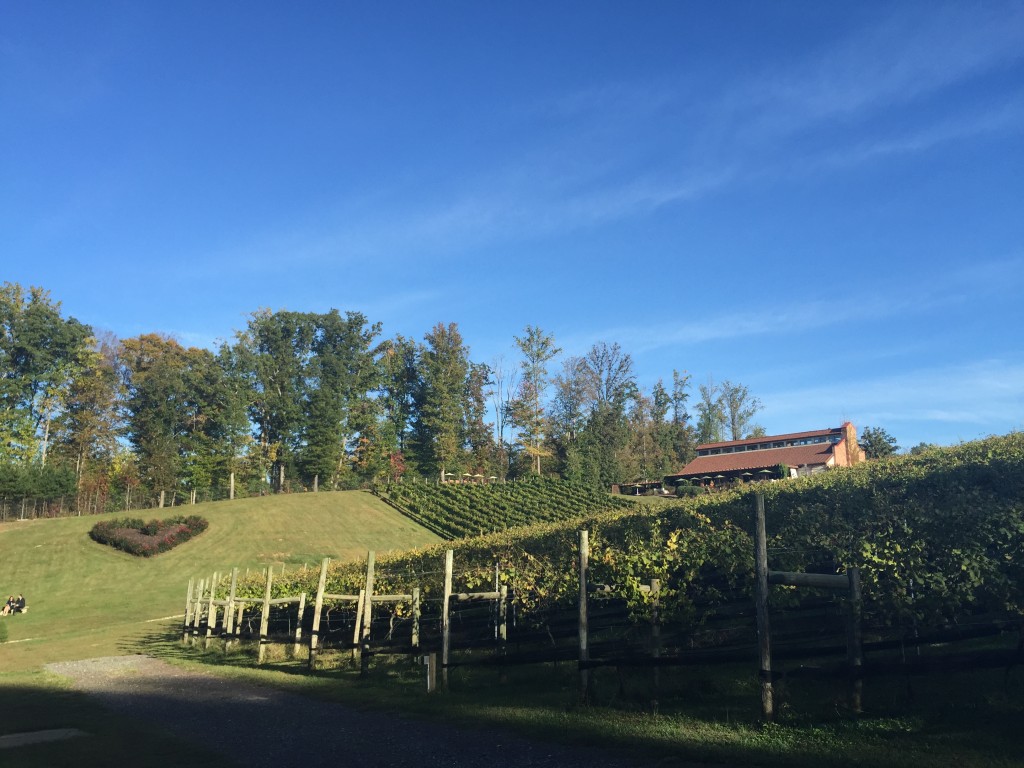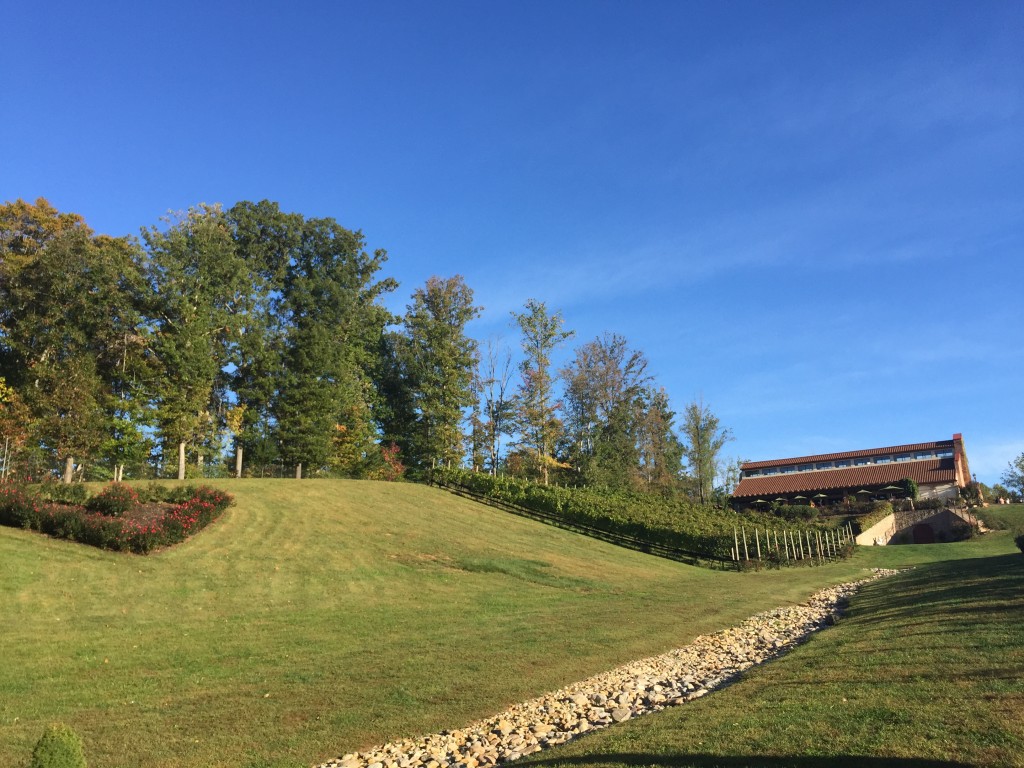 Wine
We'll definitely be going back to try their full array of wines, but the Abbinato was clearly the hit of the wedding selection with our table. It's an easy to drink Chianti-style blend with fruit and vanilla flavors and pairs well with most Italian meals, barbecued chicken, tomato-based entrees, and pizza. Though, to be fair, what doesn't pair well with pizza?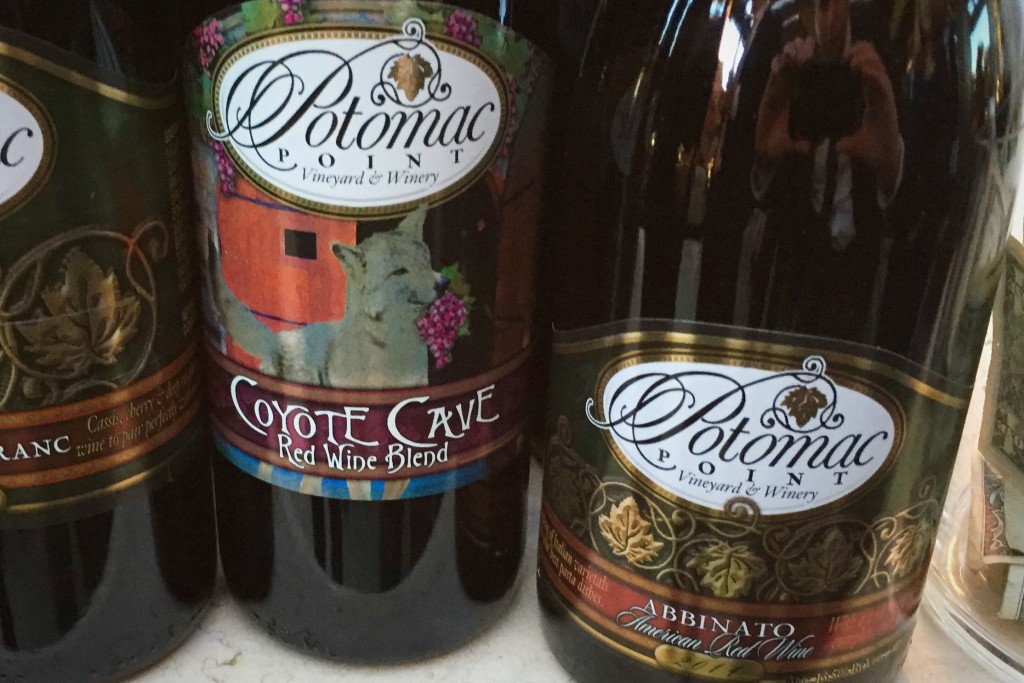 There was very little deviation from the Abbinato, but I also enjoyed the Coyote Cave Red, which was also a light smooth red blend that pays homage to the coyote cave in the winery's cellar–named after a mother coyote and her cub, who took an "unguided tour" of the cellar before the winery opened to the public.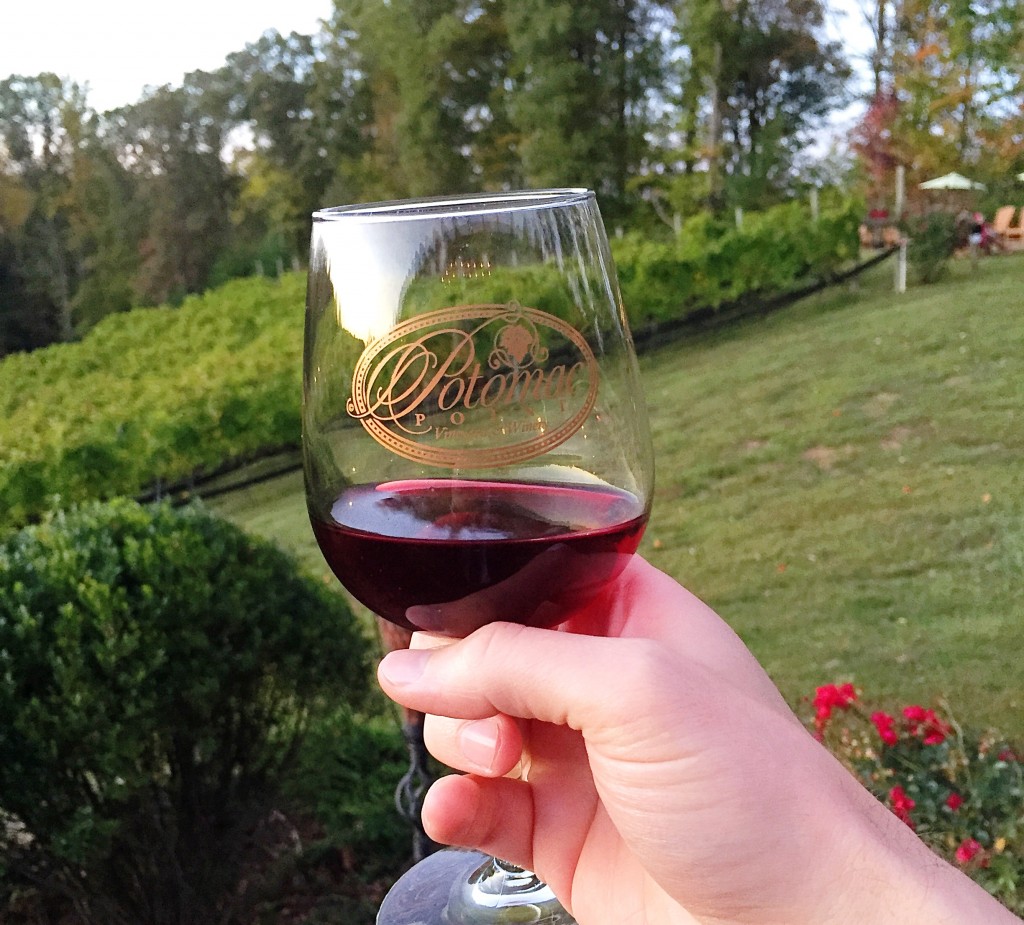 Food
You're welcome to bring your own food and non-alcoholic drinks for a picnic at the winery, or you could dine at the attached Le Grand Cru Bistro. The menu focuses on local and seasonal ingredients, and ranges from cheese plates, to tapas, and even full entrees like a Brined and Smoked Pork Chop with Sweet Potato Mash and Sage Butter.
Fortunately for us, Le Grand Cru Bistro also catered the wedding, so we were well fed during our visit. All around, the food was solid and included mini crab cakes, mountains of cheeses, meats, and pickles, along with main courses of Pan Seared Sea Bass with Sorrel Butter Sauce and a perfectly cooked Beef Tenderloin with Caramel Sauce.
Our personal favorite was an appetizer that brought out our inner childs: Grilled Cheese and Tomato Soup Shooter. It's everything an appetizer should be, lighthearted, comforting, fun, tasty. It was also a cool October night, so throwing back some warm soup hit the spot like a can of emergency Campbell's on a snow day.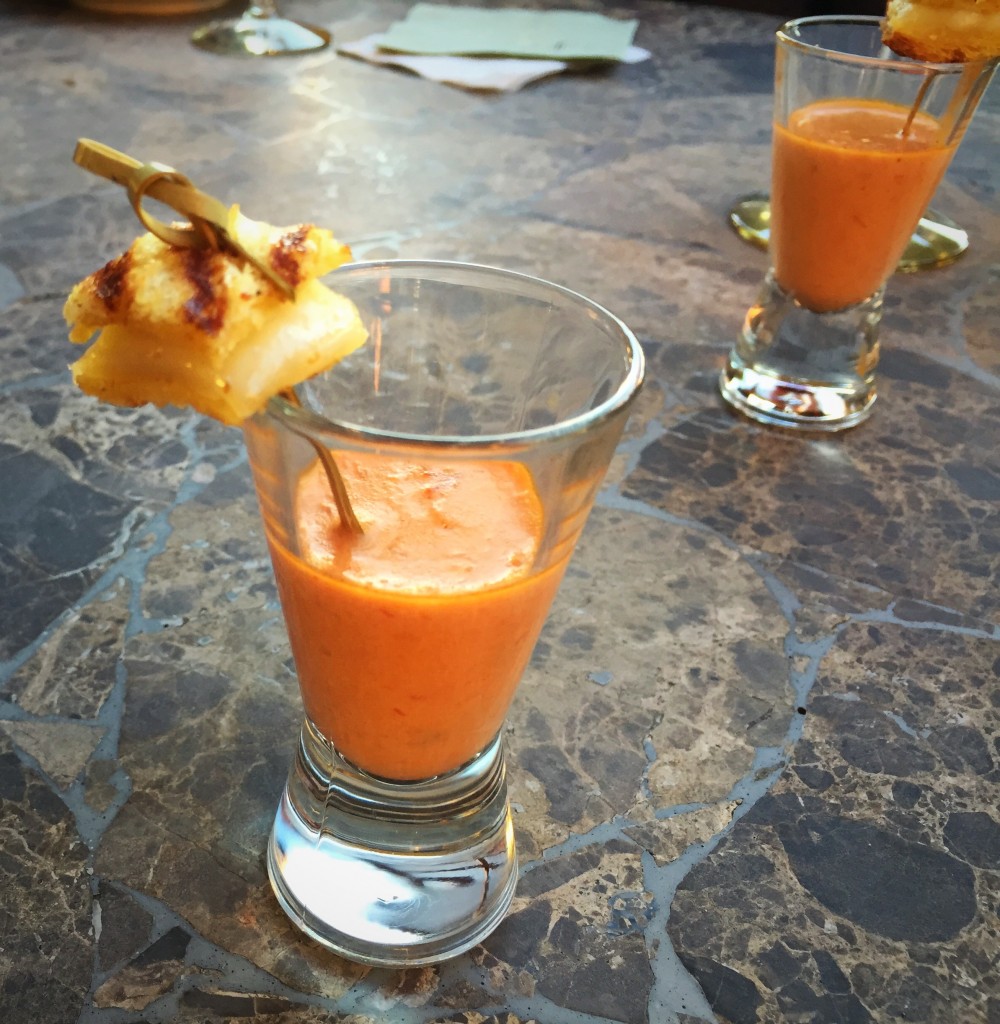 We had a really enjoyable time at Potomac Point Winery and look forward to heading back with our pup (yes, they are dog friendly) to revisit this new happy place.
If you want to know more about the winery, including tasting notes on their wines, then check out "Field Trip:  Potomac Point Winery" from The Armchair Sommelier. Lots of good, in-depth wine knowledge and plenty of pictures!