When we were preparing for our last trip to San Francisco, something quickly became apparent: The Mission District's food offerings would require us to set aside an entire day. Now, obviously San Francisco as a whole is one of, if not the best food city in America, so it goes without saying that you could easily create a food tour in any of its neighborhoods. But as I Googled, Yelp'd, and food blogged the heck out of San Francisco, I kept finding Mission District gems that required a visit.
Thus, this is the first in series of DIY food tours that we'll be posting here on the blog. And what better way to start than with San Francisco?
Aside from all the tasty food stops, the Mission District is also home to a ton of great thrift stores. With the amount of food you'll want to eat, they'll be a good way to kill time in between stuffing your face.
How to get there:  All of the places are easily walkable via one of the two BART stations in the Mission district. I will note that there is a bit of back-tracking involved based on the order that I set up; feel free to mix and match your own order to fit what you have time and/or want to check out.
Stop #1:  Breakfast at Craftsman and Wolves
Closest BART Station:  16th Street Mission
Address:  746 Valencia Street, San Francisco 94110
Website:  craftsman-wolves.com

Having gained attention for their soft-boiled egg-filled sausage and cheese muffin, The Rebel Within, Craftsman and Wolves is the perfect place to start your tour de eating. I fueled up with said muffin and some cold brew; a near perfect breakfast that helps set the foundation for a long day of eating. Although The Rebel Within has garnered the most attention, their pastry counter is worthy of its own mini-food tour, filled with items such as a Thai scone (green curry, candied ginger, coconut) and matcha snickerdoodles. While the food at CAW is exciting, the atmosphere is calm and makes for a spot that's easy to get some work done.
Stop #2:  Lunch at La Taqueria
Closest BART Station: 24th Street Mission
Address:  2889 Mission Street, San Francisco, CA 94110
Website:  Ha. Nope.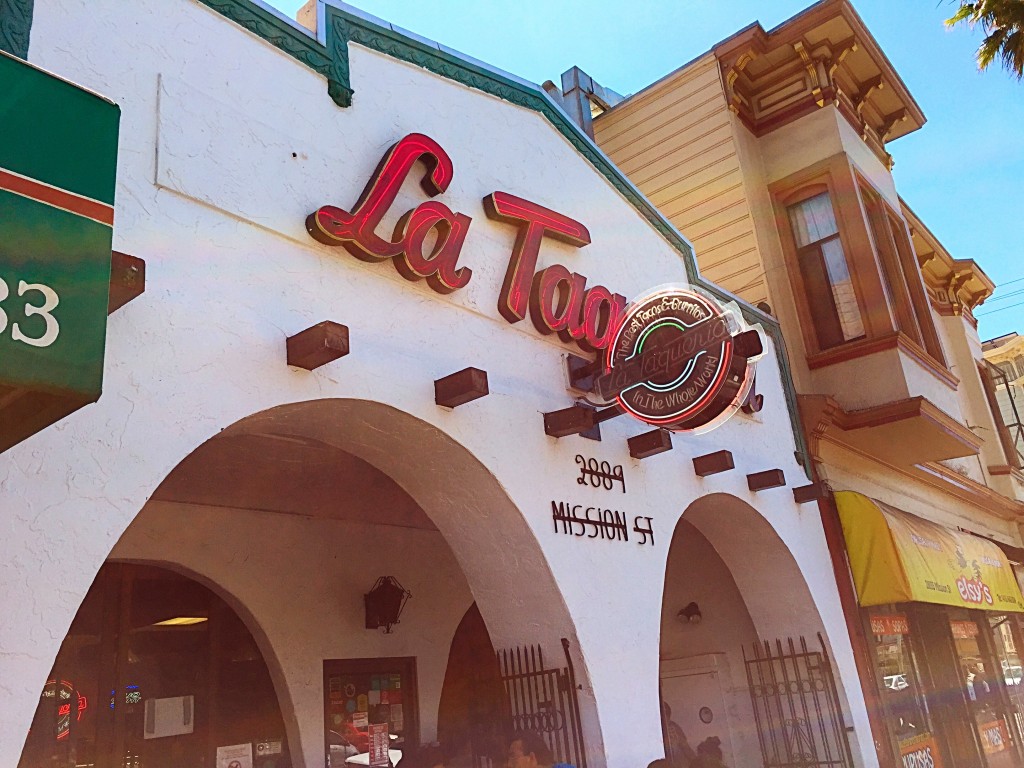 Does La Taqueria have the best burrito in America? I'm not skilled enough in the ancient art of burrito eating to provide an insightful answer. The burritos are good, but that's not why you're here (and from experience, eating an entire burrito in the early legs of a food tour is not a smart choice). Why are you here? Four words: Carne Asada Tacos Dorados. A mountain of moist carne asada, covered with salsa, guac, and sour cream, all wrapped up in two tortillas–one of which has been fried crispy with Monterey Jack cheese. This taco satisfies every taste and texture you'd want from a taco. Show up early to avoid lines, because aside from the national attention that this place has received, the locals clearly love it just as much. More than a few native San Franciscans I talked to mentioned La Taqueria as their go-to Mexican joint.
Stop #3:  Dessert at Tartine Bakery
Closest BART Station:  16th Street Mission
Address:  600 Guerrero Street, San Francisco, CA 94110
Website:  tartinebakery.com

A James Beard Award winning bakery, Tartine will surely be the reason your sweet tooths will need to spend hours in confession on Sunday. A sucker for anything combining cream and bananas, my instincts took over and I tried their Banana Cream Tart. FYI, objects in picture are larger than they appear. Did I mention food tours are best done with a companion? Yeah, a partner would be really helpful here. However, despite its intimidating size, the tart is surprisingly light. And for you cocoa nib groupies out there, grab a Cocoa Nib Rocher for the road.
Stop #4:  Cocktails at %ABV  
Closest BART Station: 16th Street Mission
Address:  3174 16th Street, San Francisco, CA 94103
Website:  abvsf.com


Special Note:  This bar opens at 2 PM, so plan accordingly.
If you've done your job, you should be fairly full and your feet should have marshmallowed from all the walking. This is where %ABV comes into play: Time to take a seat, order some cocktails, and enjoy the company of one of their talented and friendly bartenders. Speaking of talented and friendly bartenders, I want to give a shout out to Eric (90% sure that's his name) who mixed up some great drinks and was full of delicious restaurant recommendations. I enjoyed a refreshing Mumbai Mule and a strong, yet smooth Fogerty. Although I was too full for any solid food, I'd love to go back to try their kimchee fritters, pimento cheese burger, and some PB&J "ice cream".
Stop #5:  Ice Cream at Bi-Rite Creamery
Closest BART Station: 16th Street Mission
Address:  3692 18th Street, San Francisco, CA 94110
Website:  biritecreamery.com

An ice cream institution, no trip to the Mission District is complete without a treat from Bi-Rite Creamery. Have time to kill and are still a little full? Stand in the long line headed inside where you'll find a large selection of their hand-made, small-batch ice cream like vegan strawberry coconut; Blue Bottle coffee with Alfieri almonds and chocolate chips; and brown sugar with ginger caramel swirl. In a hurry? Then jump into the "express" soft serve lane to see what flavors are swirling up.
Stop #6:  Coffee at Four Barrel Coffee
Closest BART Station: 16th Street Mission
Address:  375 Valencia Street, San Francisco, CA 94103
Website:  fourbarrelcoffee.com

After some serious eating, drinking, eating, walking, and eating, it will be tempting to crash and sleep through dinner. Remedy that by ending your Mission [District] Impossible with a caffeine boost from Four Barrel Coffee. I did not have a chance to visit the shop, but I did enjoy an iced latte from their stand at the Ferry Building farmer's market. They roast their beans in-house, so I'm sure their store smells so good you'll take a bag home as an air freshener. You'll probably be force-fed coffee from a blue bottle the rest of your trip, so you might as well experience another great west coast coffee house.
***
Disclaimer: Visiting these restaurants can result in San Francisco Deficiency Syndrome. Talk to you doctor before participating in any food tour. Also, we were not provided any free goods or services to write this post.