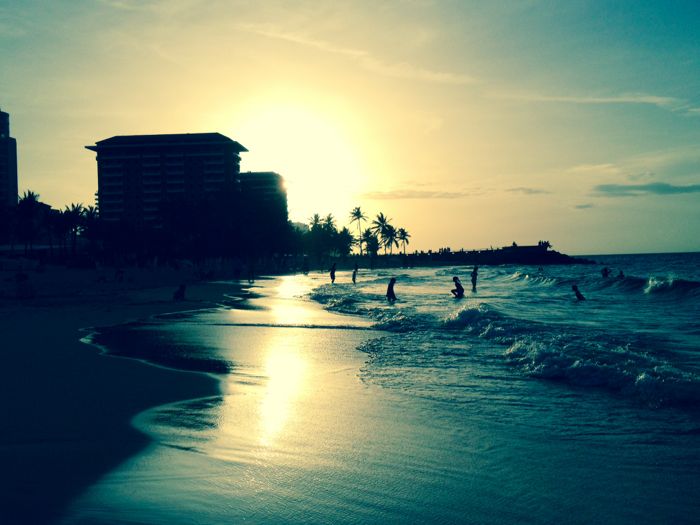 I'm not sure what we were expecting of Puerto Rico, but I feel like we went into the vacation with relatively low expectations. Part of it was our love of California, so taking a trip to Puerto Rico meant we'd have to wait even longer to go back to San Francisco and/or San Diego.
Part of it was the fact that everyone we told about our trip had the same emotionless response of "Oh. [long pause] That's cool."
And part of it was reading a few too many articles about the drug trade in Puerto Rico (despite the fact that very little crime is directed at non-drug dealing/buying tourists).
Needless to say, we didn't expect to leave Puerto Rico with any feelings of loss or sadness. We figured by the end of our trip we would be more than happy to head home and look forward to our next vacation (hopefully on the west coast). But by the time the trip was almost over, we realized that we really enjoyed this sort-of-foreign place. We found some new food, a little bit of adventure, and even made a few friends along the way. Going home meant that we'd have to say good bye to some of our new favorite things:
Banana Pancakes at Ben & Jerry's Café
"But isn't Puerto Rico known for its plantains?" Sure, we ate plantains at every meal, but one of the culinary highlights was breakfast at a Ben & Jerry's. Confused? Don't be (and yes, I'm talking about the ice cream place). It's a weird co-branded ice cream café, but what's not weird is the fact that these pancakes were ridiculously good. So good that at one point I started to plan our days around eating multiple plates. Thankfully Tina was there to reign me in. They had a crisp crust on the outside and despite being a pancake, had a banana-y crepe taste that would make you sell part of your soul to the highest bidder. And the guava jam…oh that guava jam… Alright, I've just booked a flight back.
Mahi Mahi Chicharonnes at La Concha Resort
We're not travel experts, so I'm not going to review La Concha Resort. I'll say that we had a great time and would absolutely go back.  Room service was good, despite the usual high resort prices (go for the omelet and skip their pancakes), but the real bright spot was the Mahi Mahi Chicharonnes served from their poolside restaurant Solera. These little fried bites of fishy deliciousness are something you don't see much of in Northern Virginia. And sure they're not technically "real" chicharonnes, but "fish nuggets" just doesn't have the same ring to it.
Robert of Sunset Tours
I can count on one finger the number of times I've gotten into an unmarked white van with a stranger. This was the one time. And no, Robert did not lure us in with candy and promises that "he's a friend of our parents," rather we were drawn to him by a near perfect TripAdvisor rating. Aside from being knowledgeable and friendly, he was just a great dude to hang out with for a day. We were in a small group of just four people (shout out to our partners in crime, Saville and Ashley!), so it felt like a very special private tour of El Yunque rainforest and Luquillo Beach. During lunch he even went out of his way to find some vegetarian options for Tina (which was not easy*) and took care of ordering food for everyone from the local food kiosks. OH, and he even slowed down to avoid hitting a stray dog on the way back to the hotel. Big bonus points for that. We would go on a thousand more tours with Robert of Sunset Tours and so should you.

.

El Jibarito in Old San Juan
This restaurant came recommended from our buddy Robert (see above) as one of his favorites in Old San Juan. We ended up hanging out with our new pals, Saville and Ashley in Old San Juan, so not only did Robert give us an awesome tour, but because of him we met two really cool Texans who kept us laughing the whole time. Nobody was disappointed in El Jibarito and even Tina with her meat-less plate left the restaurant craving more rice and beans. I ate the pork-filled "Christmas Special" which was accurate because when my plate arrived, I felt like little Timmy on Christmas day. Plantain pork tamales, roasted pork, rice and pigeon peas and (of course) fried plantains. Feliz navidad!
Asopao de Pollo at Cafe Del Angel
Asopao = Gumbo. That's all you need to know. In fact, I wish I had known that Puerto Rico had its own gumbo equivalent. Everyone always talks about the mofongo. Mofongo this. Mofongo that. Yeah, mofongo was fine and about as good as mashed plantains can be (not better than mashed potatoes in my opinion), but this rich, gumbo-like stew was comforting. Luckily I found some that tasted like my grandma would've made (if she were Puerto Rican) at Cafe Del Angel (right across the street from La Concha). The bowl was enough for two meals, which came in handy because I ate the leftovers for dinner the next night. I NEVER eat leftovers on vacation (and waste another chance to explore more foods?!).
These aren't the only things we'll miss, but at a certain point it would absolutely bore you to death if I started writing about every single grain of rice we ate (most of them delicious), the thread count of the sheets, and the way the warm sand felt betwixt our toes. And honestly, Saville and Ashley deserve their own category of awesomeness, but I won't embarrass them here (I'll save that for a future "Things we miss from Texas post"). The bottom line is that Puerto Rico is a great place to visit and we can't wait to go back to explore more attractions (with Robert!), more islands, and of course MORE FOOD. Just make sure you bring plenty of sunblock, because the Puerto Rican sun is NOT the same sun we have in Virginia. Now I know what a crème brûlée feels like. ALSO, if you live in the U.S., you do not need a passport to visit Puerto Rico. So, that's a plus for folks who are lazy and have not yet applied for a passport (stop looking at ME!). Seriously, I'm going to get that passport this month…
*Yes, you can find vegetarian options. And you can even find vegetarian restaurants like Verde Mesa. However, if you're just having a chill vacation in the Condado area of San Juan and for convenience you want to hang out near hotel La Concha, your options will be less plentiful. If you go to less-touristy places in smaller towns, you may want to just eat pork. Those damn vegetarian-friendly California vacations have spoiled us rotten…