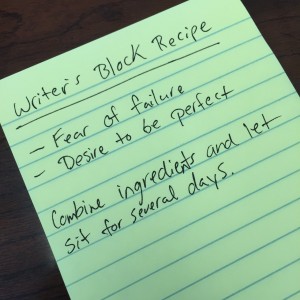 [This is post #008 towards #100DaysOfFoodBlogging, our goal to do 100 posts in 100 days as part of The 100 Day Project.]
As Tina and I have just rounded out the first eight posts towards our goal of #100DaysofFoodBlogging, blogger friend, Emma @ Fork and Good recently posted "Curse of the blogger's block," an honest look at why she hasn't been posting as much recently due to her war with writer's block. Let's hope blogger's block isn't contagious…after all, we do have 92 more posts to go!
Emma's post inspired me to think about my own run-ins with that evil block of the writer. Historically, I haven't dealt with the same "staring at the blank page" form of writer's block that most people describe. Rather at my worst, I haven't even gotten to the point of staring at the blank page, because I'm too busy "working on the idea in my head." Likely story.
Over the years, I've been able to mostly quiet the demon, simply by understanding it. And the best way to understand it, is to know where it comes from; i.e. what's the recipe for writer's block?
Get it? Food blog? Recipe? Okay, it is a stretch…
In my experience, writer's block is simply a way our subconscious works to avoid failure. For example, if I don't write this post, then I don't risk someone hating it, and therefore I cannot fail. AND I can use that free time for working on more ideas in my head. See, win-win!
This fear of failure is a result of not believing what we're writing is good enough, and is a created by a desire for perfection. The late and great author / screenwriter / TV producer Stephen J. Cannell talks about this in the video below:
Cannell says it perfectly when he states that writer's block is caused by "the desire to be perfect."
With this desire to be perfect comes self-censorship. We start judging everything we write and before long we're simply not writing, because by not writing we can't write something imperfect. And if we don't write something imperfect we can't fail.
Once you realize what's causing writer's block, it's much easier to fight. The solution is to create an environment that welcomes–and even encourages–failure.
Hence, our #100DaysofFoodBlogging challenge to ourselves. Because we're cranking out posts everyday, there's an unspoken idea that by putting out a post day after day for 100 straight days, it would be impossible to expect that every single one will be perfect. The goal isn't to have 100 perfect posts. It also flips around the definition of failure, because by the nature of this thing we only fail if we don't do 100 posts. Thus, 100 awful posts is still a success. It's a pretty sweet deal that ends up stopping writer's block before it starts.
It also helps to remember that…
You are NOT out of good ideas.
You will NOT never write again.
You have written before and you will write again.
You will fail.
And you will fail again.
And then 30 more times before you succeed.
 That's okay, because failing is fun…
…and perfection is boring.
(And if you need proof that failing is fun, check out Emma's Food Photography Blunders series. Failure never looked so good.)