[This is post #039 towards #100DaysOfFoodBlogging, our goal to do 100 posts in 100 days as part of The 100 Day Project. Yeah, we're behind, but we'll catch up…]
As announced this week by Hector A. Muñoz, Chief Marketing Officer of Popeyes, the Smoky Garlic Chile Chicken "features the flavors of slow-smoked morita chile peppers and garlic in our marinade, bringing a slow-smoked heat to our premium tenderloins." If you're more of a visual learner, you can watch the television commercial here.
I'm not one to shy away from limited time promotions at Popeyes (especially those deliciously crispy/spicy/sweet Waffle Tenders!), so I stopped by my favorite fast food fried chicken place to check out the goods.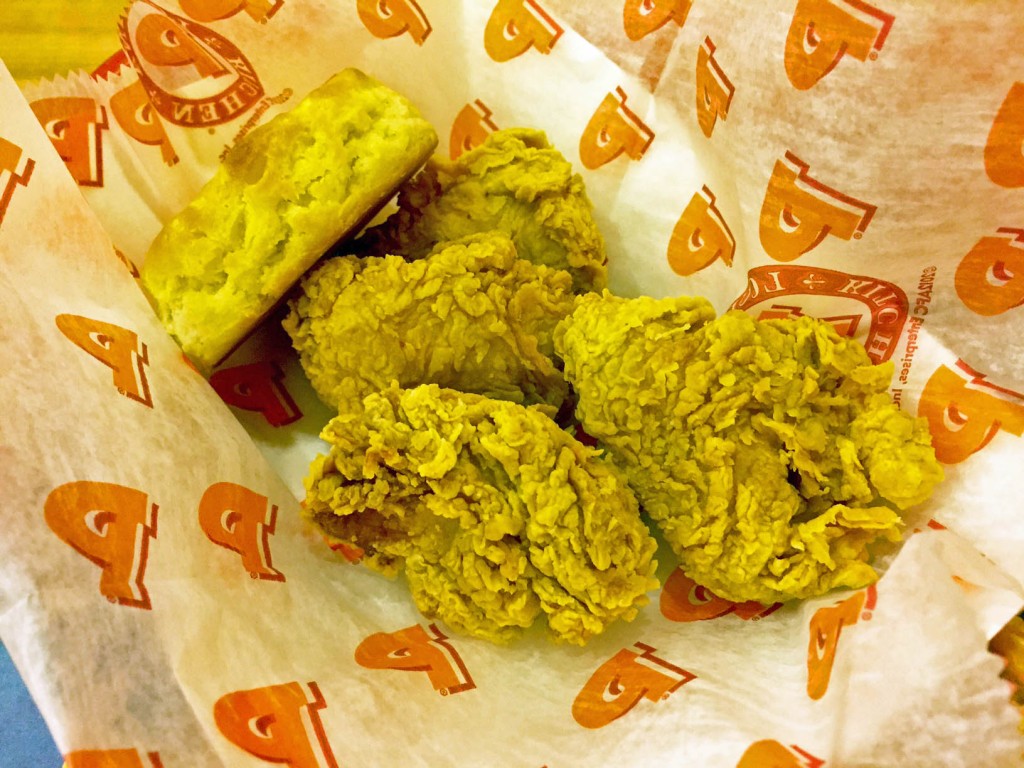 Smoky Garlic Chile Chicken
Looks:  Very similar to their standard chicken tenders, although (and I'm not sure if it was just a random coincidence), the Smokey Garlic Chile tenders were in larger "cubes" than the long skinny traditional tenders. Not sure if it makes a difference, but that shape may help decrease the chances of your tenders getting a bit dried out and overcooked, as has occasionally happened with their skinnier counterparts.
Texture:  Juicy interior, with their famous crispy crunch on the outside. The promotional signs talk of a "southern style crispy coating," which I'm not really sure if that's any different than their normal breading. I didn't notice a huge difference, save for maybe a touch more crunchiness (but that could be the sign psychologically manipulating me).
Taste:  You definitely get the smoky flavor. Spice level is subtle and I would rank it below their traditional spicy tenders. What I enjoyed most was that the smoky garlic flavor permeated the meat. So, even if you ripped off all the breading (as I have done before), the chicken will still have a really nice smoky taste.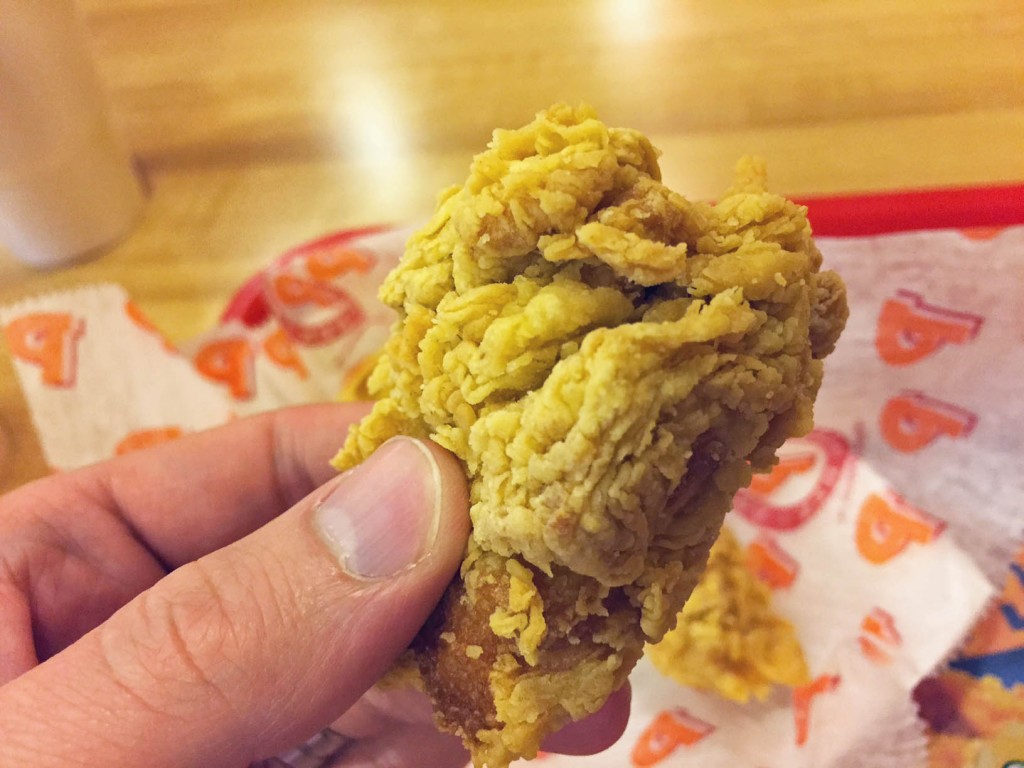 Garlic Herb Sauce
This sauce is a winner winner Smokey Garlic Chile Chicken dinner. To me it was a fast food version of a garlic aioli, and I rank this above a normal Buttermilk Ranch, but below their Blackened Ranch. The tenders aren't spicy enough to require a dipping sauce, but it never hurts to take a dip.
Verdict
I would absolutely buy these again. In fact, as I'm writing this my mouth is starting to water as I think about them… I enjoyed these better than the recent tangy/spicy Red Stick Chicken, but not quite as much as the legendary Waffle Tenders. If you want to try them, I recommend you hurry, because these smoky tenders will be gone after June 28th.
Continuing the delicious and endless cycle of limited time offerings, they even had the promotional posters out for July's product:  Hushpuppy Butterfly Shrimp. Interesting…very interesting…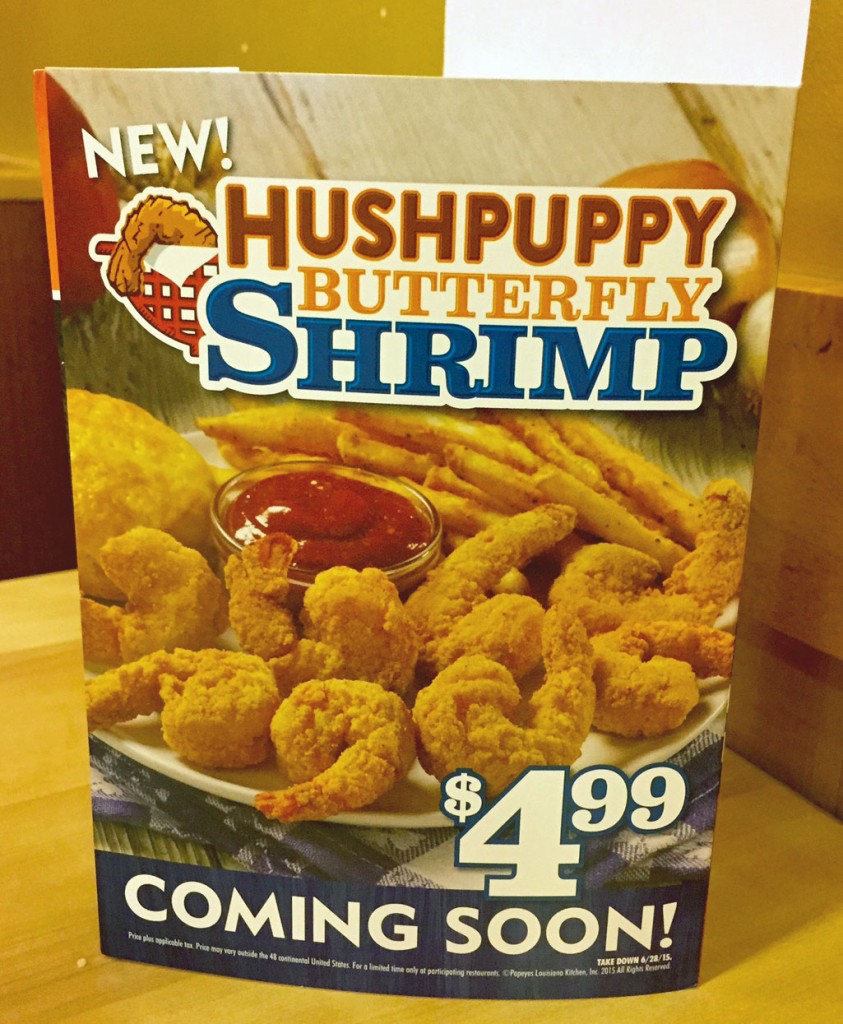 If you liked this post, you might like THE BACON BOX:  AN OPEN LETTER TO PIZZA HUT.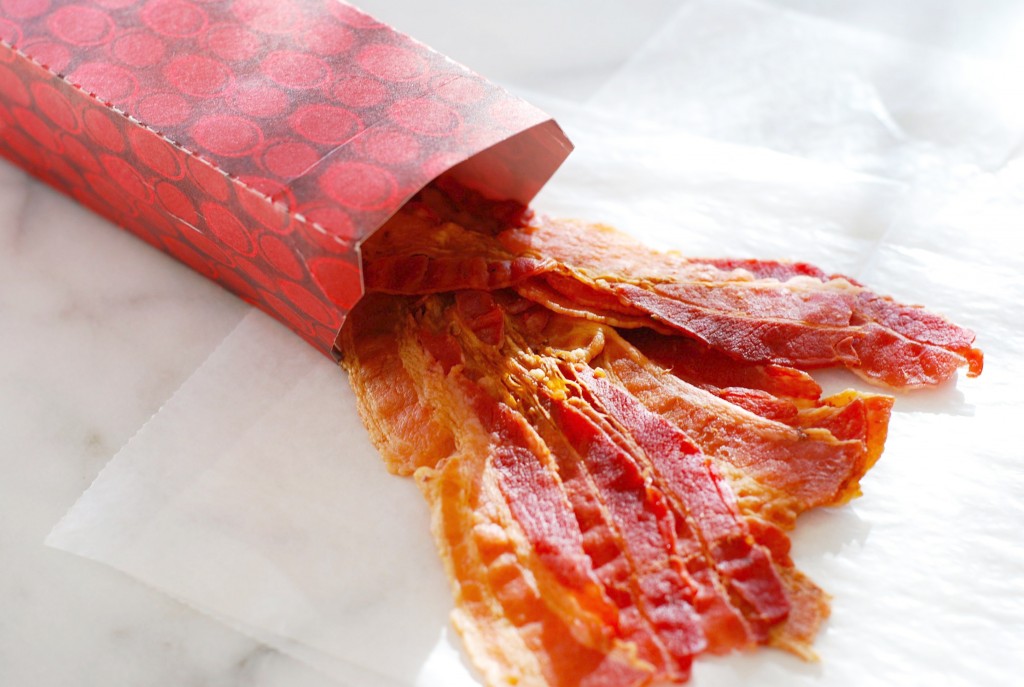 Disclaimer:  No money or free chicken was provided to us for this post. I can even show you the receipt if you want. All opinions and chicken adjectives are our own.