Recipe: Melted Ice Cream Banana Pancakes
[This is post #018 towards #100DaysOfFoodBlogging, our goal to do 100 posts in 100 days as part of The 100 Day Project.]
Did you know that milk and melted ice cream are interchangeable?
See video proof above.
Way too easy, right?
And aside from being easy, this might be dangerous. It opens up the possibility that you can now easily flavor pancakes with whatever you have in your freezer. Mint chocolate chip? Yup. Coffee. Sure. Butter pecan? Abso-freaking-lutely. Brown butter? Yes, please and thank-you.
We kept it simple with this recipe and stuck with an old favorite: Banana pancakes, but sweetened the batter with some Häagen-Dazs Vanilla ice cream. We also re-used some leftovers from previous recipes to garnish with candied almonds and grapefruit cinnamon syrup. It was a fantastic dinner. Yes, dinner. And soon to be a late afternoon snack…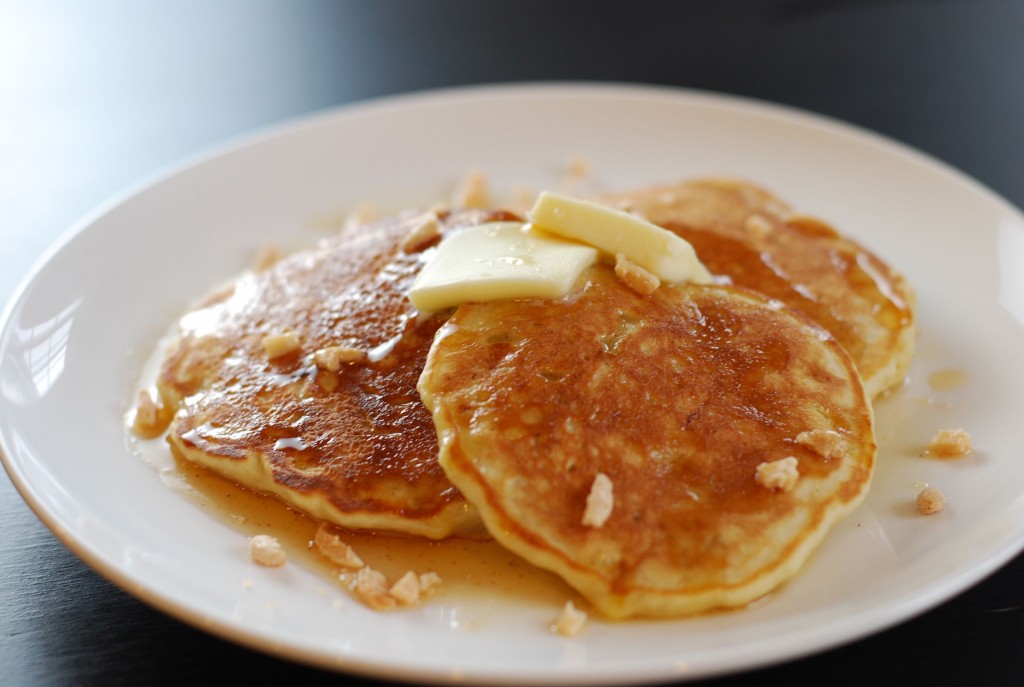 MELTED ICE CREAM BANANA PANCAKES
1 Cup Melted Vanilla Ice Cream
1 Cup All-Purpose Flour
1 XL Egg, beaten
2 Tablespoons Vegetable Oil or Melted Butter
2 Ripe Bananas, mashed
1/4 Teaspoon Salt
2 Teaspoons Baking Powder
Candied Almonds (See recipe included with our Flourless Chocolate Waffle)
Grapefruit Cinnamon Syrup (See recipe here)
1.  Combine the flour, baking powder, and salt.
2.  In separate bowl, combined the egg, oil, bananas, and melted ice cream.
3.  Whisk in the wet ingredients into the dry, until just combined.
4.  Grease your pan or griddle with oil, butter, or non-stick spray. Over medium heat (about 300 degrees), use an ice cream scoop to pour the batter into a pan or griddle. Flip when the browned on the griddle-side (about 1-2 minutes). Cook for another 1-2 minutes and serve with candied almonds, butter (optional), and grapefruit cinnamon syrup.
Disclaimer:  This is not a sponsored post. No money or good were provided; we just like Häagen-Dazs, so it's what we used.