When you think of sage, what's the first thing that comes to mind? Turkey day stuffing? Raviolis with brown butter sauce?
EVIL SPIRITS?
Yup, probably longer than we've been stuffing bread into turkeys, sage has long been thought to have the power to ward off evil. Which honestly makes evil look pretty weak. I could understand being afraid of something like habanero peppers or Hákarl (Icelandic fermented shark). But 'lil 'ol sage? Seriously, evil, grow a pair.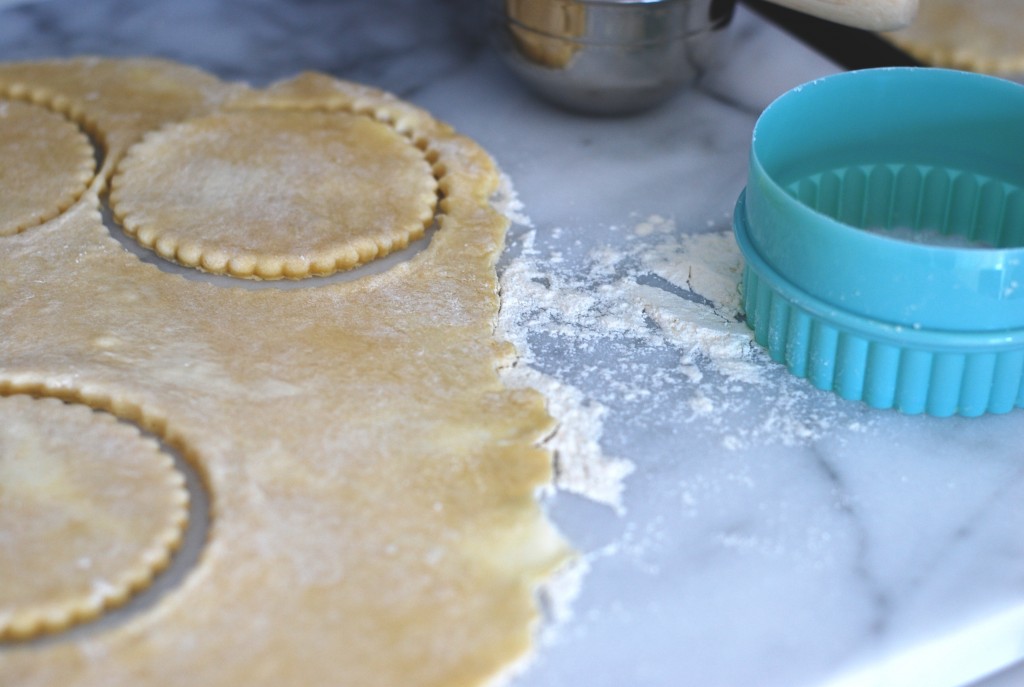 Whether or not you believe in the cleansing power of sage, it still has to make you wonder how broad of a spectrum it works within. "Warding off evil" is a pretty general description. If I saw that on a résumé, I would want some elaboration and at least two legitimate evil references. For example, does it work on bullies? What about evil siblings? Or the condescending waiter at that pretentious restaurant downtown? Where is the line drawn?!
Maybe it's as ambiguous as simply "bad stuff." Like if you were to make a pair of socks out of sage, it would ward off the evil of stubbed toes. (Anyone with an ottoman at the end of their bed knows what I'm talking about. Its legs are the spawn of Satan.)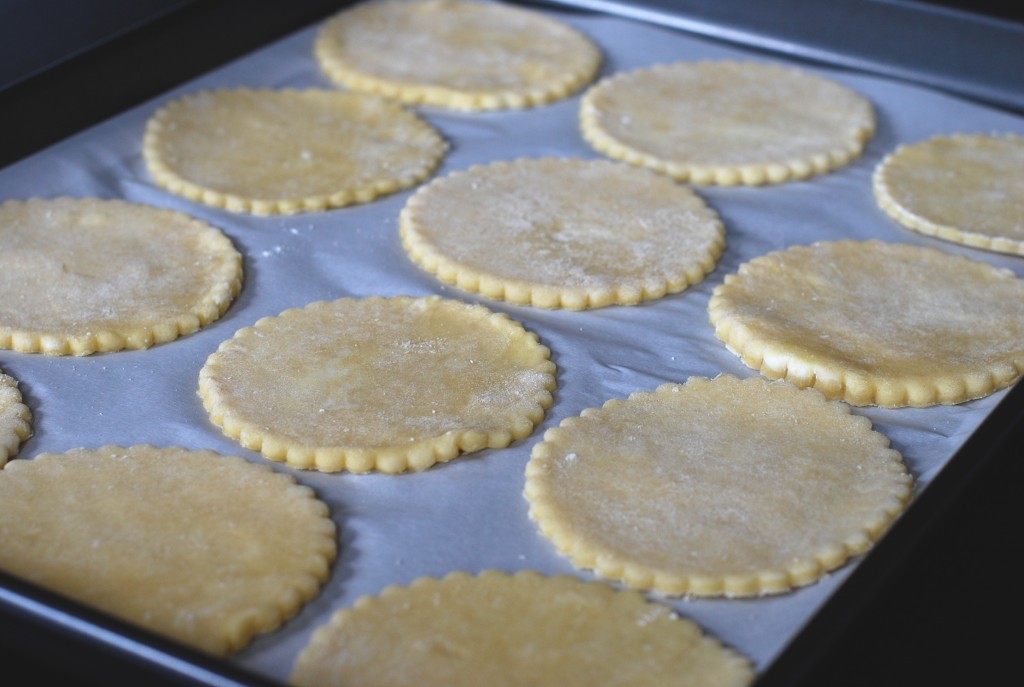 And with that nondescript definition of "bad stuff," couldn't we extrapolate the powers of sage and apply them elsewhere? Because doesn't ALL food ward off evil? Comfort food is so named for a reason. And a rough day at my office typically results in multiple trips to our Peanut M&M dispenser. Who cares if you have 73 borderline redundant emails in your inbox if you can escape for just a few precious seconds to feel that soothing crunch of candy shell, chocolate, and peanut. It feels SO GOOD to ward off those evil emails with every bite.
Not surprisingly, whenever Tina and I want to cheer someone up we tend to try to accomplish the cheering with delicious foods. Sometimes cookies. Occasionally beer. Many times deviled eggs.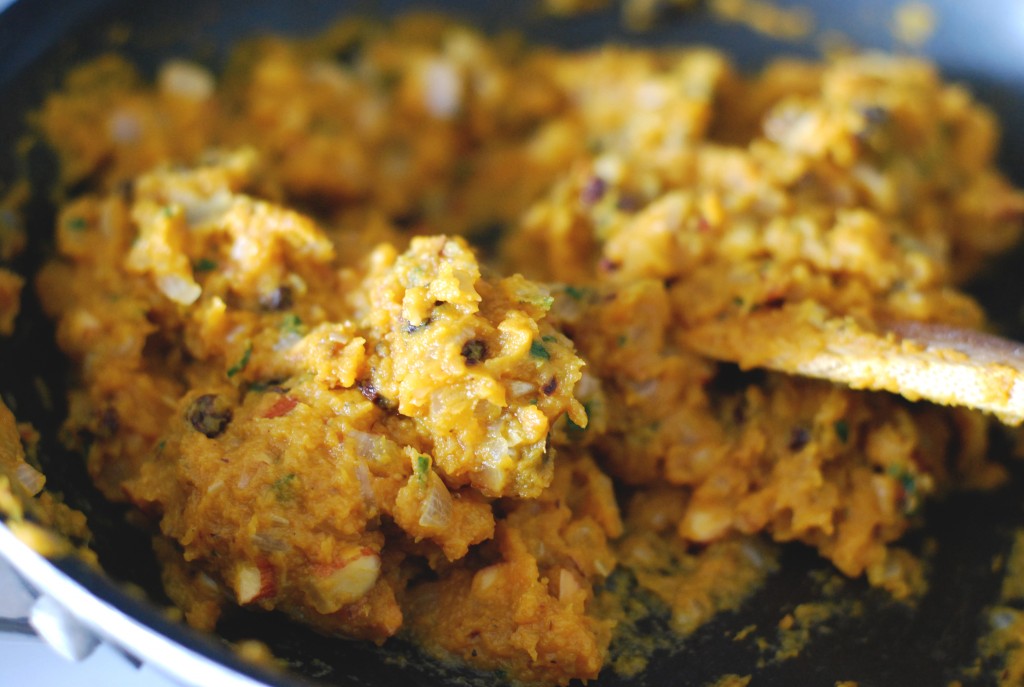 Recently my west coast cousin, Stephanie, was in town helping out with some family matters. Those who can read between the lines can figure out that "family matters" is a euphemism for some really freaking hard weeks that her, her sister, and their parents have had to go through. Needless to say, she was in need of a culinary escape to help balance all the "bad stuff."
We're always trading Facebook likes at each other's food, but we've never actually had an opportunity to cook and eat each other's food together. So after enjoying a nice afternoon at a winery, we went back to our place to make Pumpkin Sage Empanadas to continue the culinary exorcism.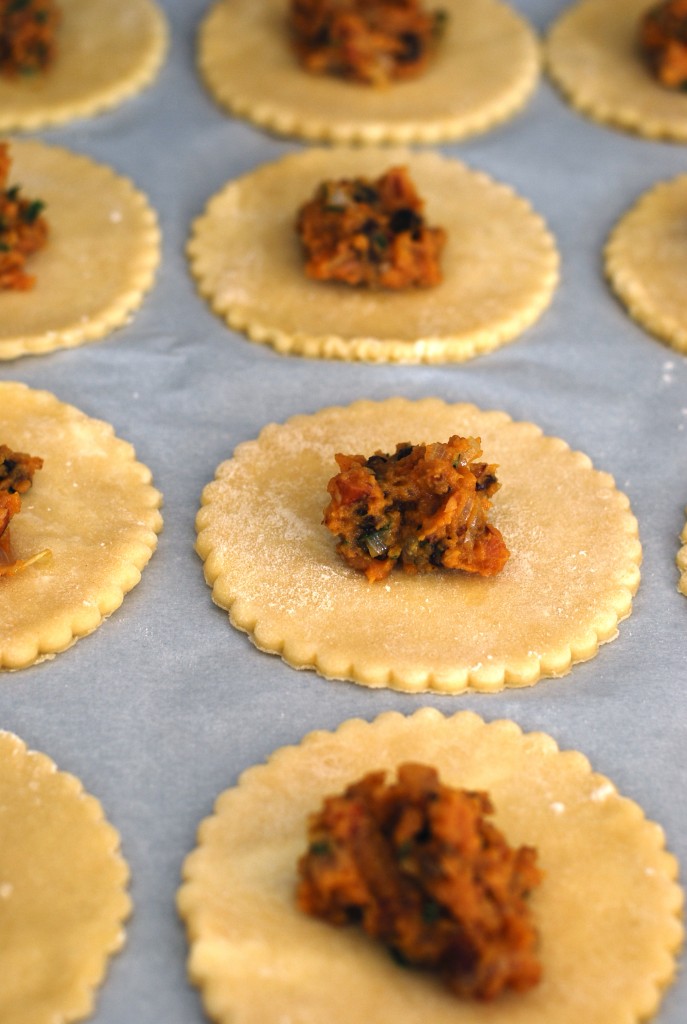 For many people, cooking can be as therapeutic as eating, so Tina was quick to put Stephanie to work as her sous chef. Which meant I got to take the day off (and by that I mean I had to go to the grocery store to pick up forgotten ingredients). Toasting almonds, opening cans, measuring, stirring. All seemingly insignificant tasks, yet all great therapy techniques to help ease the mind.
This recipe is also fitting since we discovered it after falling into an empanada kick spawned from a visit to San Diego's Papa Luna's (a post solely dedicated to this Pacific Beach spot coming soon). So, inspiration from the west coast fueled some comfort food for our west coast visitor. It was a perfect match.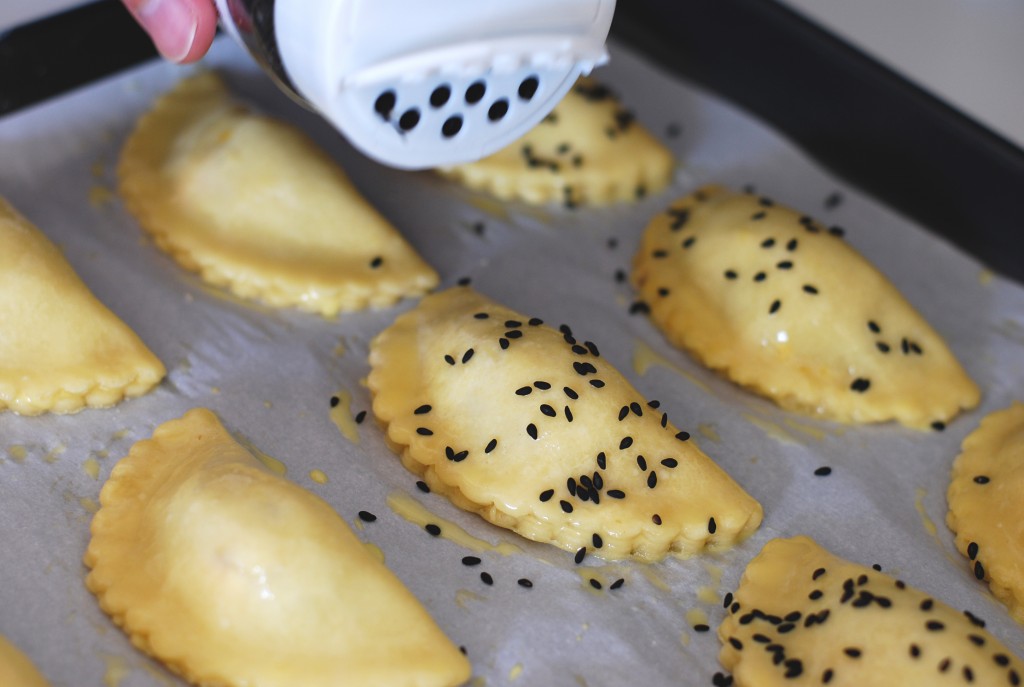 The empanada crust recipe is one you'll want to keep in your toolkit FOREVER. Yes, I know everyone says that about their crusts, but the buttery, flakiness is so good you'll want to experiment by filling it with everything in your kitchen. We've had great success making apple hand pies and even spicy corn cotija empanadas. And you could even cram thanksgiving dinner into one, but fortunately Papa Luna's has already done that.
Although this recipe's filling might taste a little bit like autumn (aren't you proud that I haven't used the phrase "kick off fall with…"), these can be eaten year round. And are especially delicious right after a vacation to San Diego in which you have fallen in love with empanadas (We'll see you again soon, Papa Luna).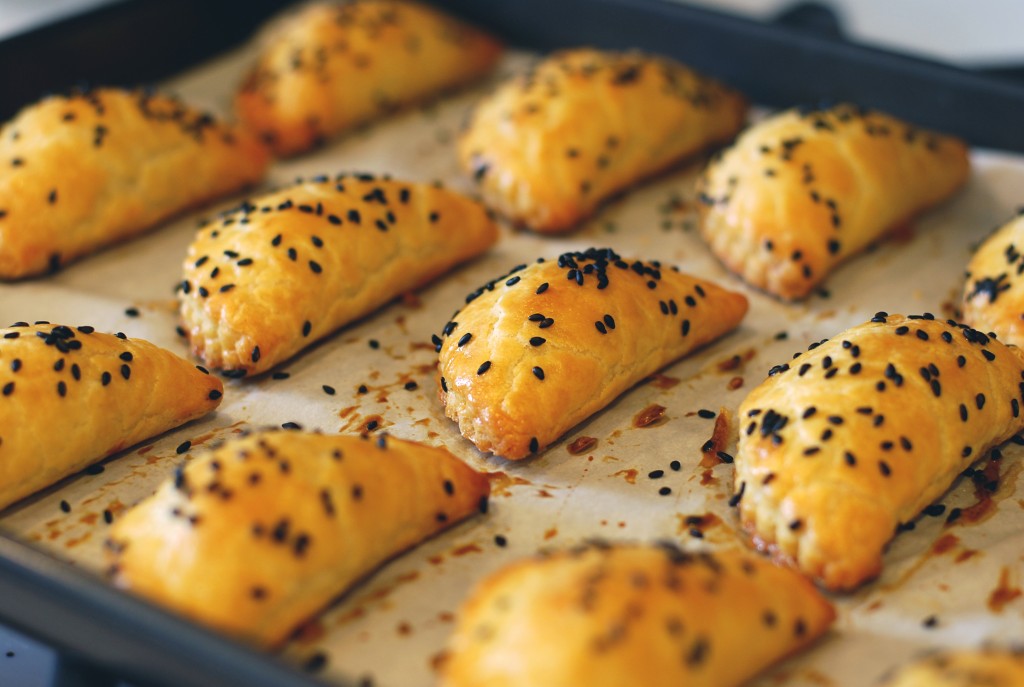 So, if you ever find yourself surrounded by evil spirits, whip up a batch of these empandas. I can't guarantee they'll actually scare the evil away (in fact it may be drawn to the scent), but at least you won't be hungry.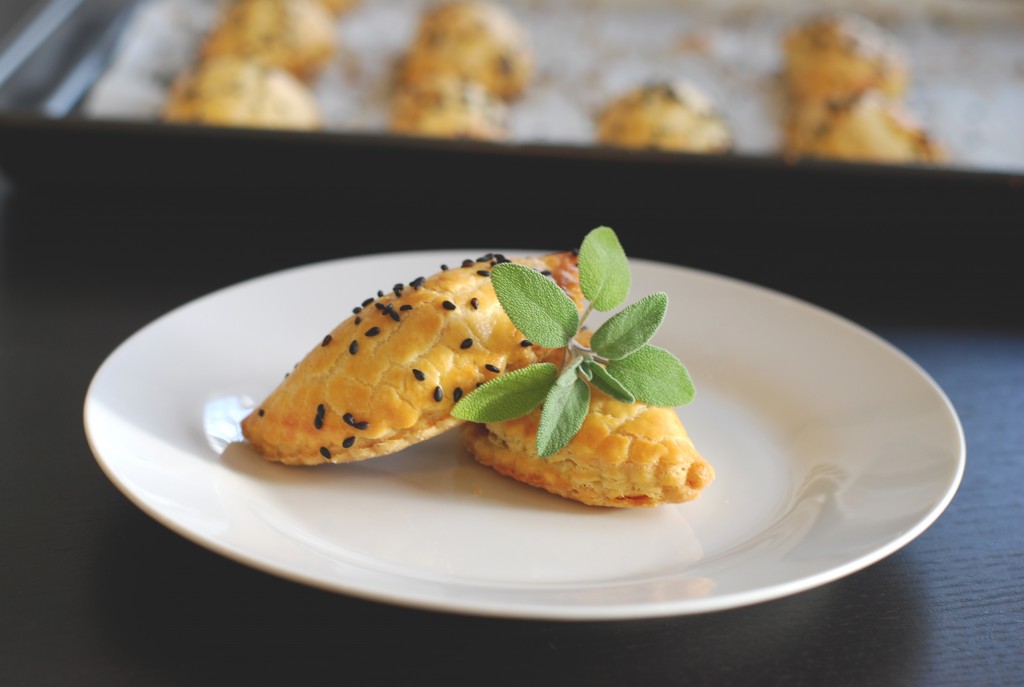 PUMPKIN SAGE EMPANADAS WITH GOAT CHEESE
Makes 24 empanadas (Note:  The filling makes enough for about 48 empanadas, but we're only making 24 with this recipe. Freeze the left-over mixture to use later, or make some ethnically confused enchiladas with it.)
This recipe is adapted from Give Me Flour's Pumpkin Goat Cheese Pies. The dough is a real keeper. (seriously, WRITE IT DOWN) and you can experiment with the filling to try different variations.
Dough
2 cups flour
1 1/3 sticks cold unsalted butter
1 teaspoon salt
1 egg beaten
5 tablespoons heavy cream (more if needed)
1.  Mix flour, salt, and butter in your favorite large mixing bowl. Get your hands dirty and combine the ingredients into a coarse meal, while ensuring that you can still see pieces of butter to facilitate maximum flakiness.
2.  Beat together the egg and heavy cream, then pour the liquid mixture into the bowl with the dry ingredients.
3.  Using your fingertips again, make smooth circular movements to mix the dough, but DO NOT KNEAD. Continue mixing until the dough comes together, adding another splash of cream if necessary. It shouldn't take long. If all worked out correctly, you'll still see some pieces of butter and ribbons of cream in the dough.
5.  Form the dough into a ball, cover with plastic wrap, and refrigerate for at least 15 minutes. (The dough can also be frozen for up to a month, simply let it thaw for 8 – 12 hours in your refrigerator before use.)
Filling 
15 oz can pumpkin puree
1 small onion chopped
2 tablespoons olive oil
1 tablespoon fresh chopped sage
1/4 cup currants
1/4 cup roasted chopped almonds
4 oz feta or goat cheese
1/8 teaspoon cayenne pepper
salt and pepper to taste
1.  In large sauté pan, brown the chopped onions in the olive oil. Toss in the sage and cook for a minute or so, then add the pumpkin, cayenne pepper, currants, and almonds. After mixing well, taste it and add salt and pepper to your liking. Remove from heat and let cool completely.
2.  Preheat oven to 350F˚.
3.  Place dough on a floured surface (we love our marble pastry board) and roll it out until it is 1/8 inch thick. Using a 4-inch scalloped biscuit cutter, cut the dough into circles. Place the dough circles onto a parchment-lined baking sheet.
4.  Place the pumpkin mixture in the center of each dough circle, followed by a dollop of the cheese. Next, fold the dough over and lightly seal the edges with your finger tips. We like to line one edge with egg wash or a bit of water before folding over to help with sealing. You want the empanadas to have an almost rounded edge after they're done baking, so make sure not to press the edges together so hard that they're flat.
5.  While you brush each with egg wash, have a friend help you make it rain sesame seeds on top.
6.  Bake for approximately 30 minutes; the empanadas will have a nice golden color.
7.  Let cool for a few minutes, then insert into your mouf.