This post is made possible through a partnership with the awesome folks at DriveShop and Kia, who provided us with a vehicle to test drive for a week. You can follow the conversation on social media with the hashtag #DriveKia.
This marks the second Kia Optima that we've been able to try out. The last one was a model year older and was not a turbo. So, there will be a lot of comparisons to our experience with the older, non-turbo, Optima. Was this Kia worth waiting an extra year and spending more money for the turbo and additional features? Sure! And I'm really wondering why they make cars without turbos…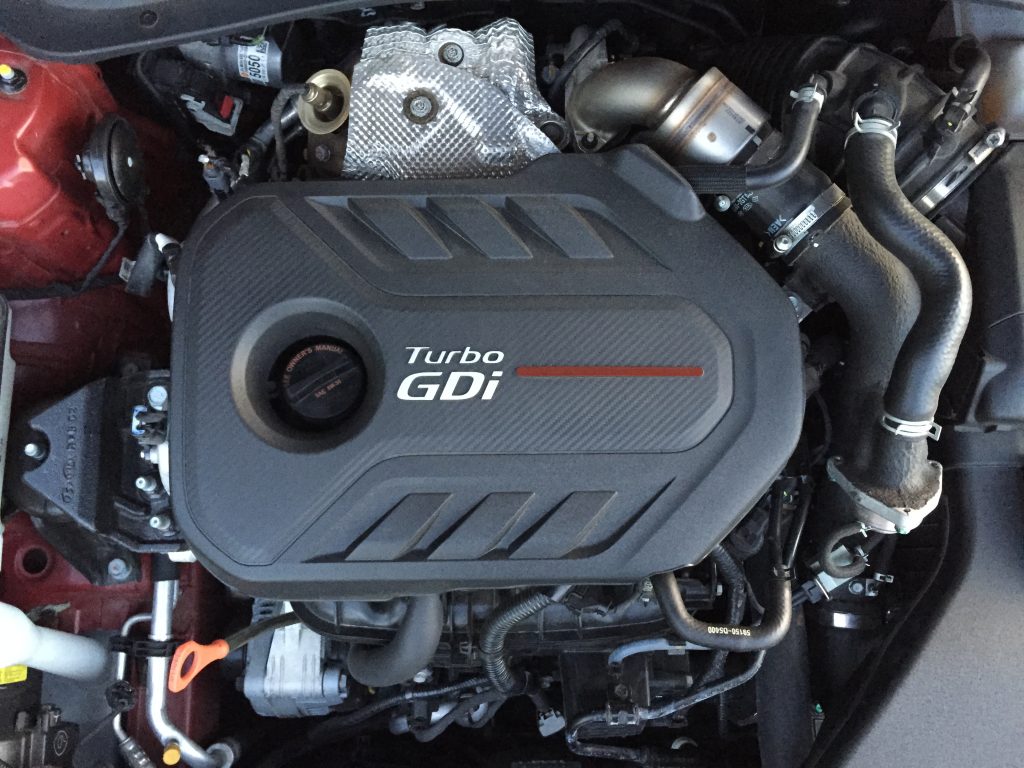 Oh and don't forget to check out our companion video post, in which we take full advantage of the Optima's turbo on one of our favorite local roads.
Specs
MSRP (as tested):  $35,315
MPG Estimate: 22 city – 32 highway
Engine:  2.0L Turbo Gas Direct Injection, 4 cylnders
Power:  245 hp @ 6000 rpm | 260 ft-lbs @ 1350 rpm
Transmission:  6-Speed Automatic Transmission w/ Active Eco System
Color:  Remington Red
Options:  SXT Premium Technology Package (HID headlights w/ high-beam assist, panoramic sunroof, Harmon Kardon QLS premium surround sound, power front passenger's seat w/ lumbar, heated and ventilated front seats, heated outboard rear seat cushions,  front collision warning, blind spot detection system, rear cross traffic alert, rear parking assist system, lane departure warning system, autonomous emergency braking system, advanced smart cruise control, surround view monitor, and LED overhead interior lighting)
Click here for the 2016 Kia Optima brochure.
Comfort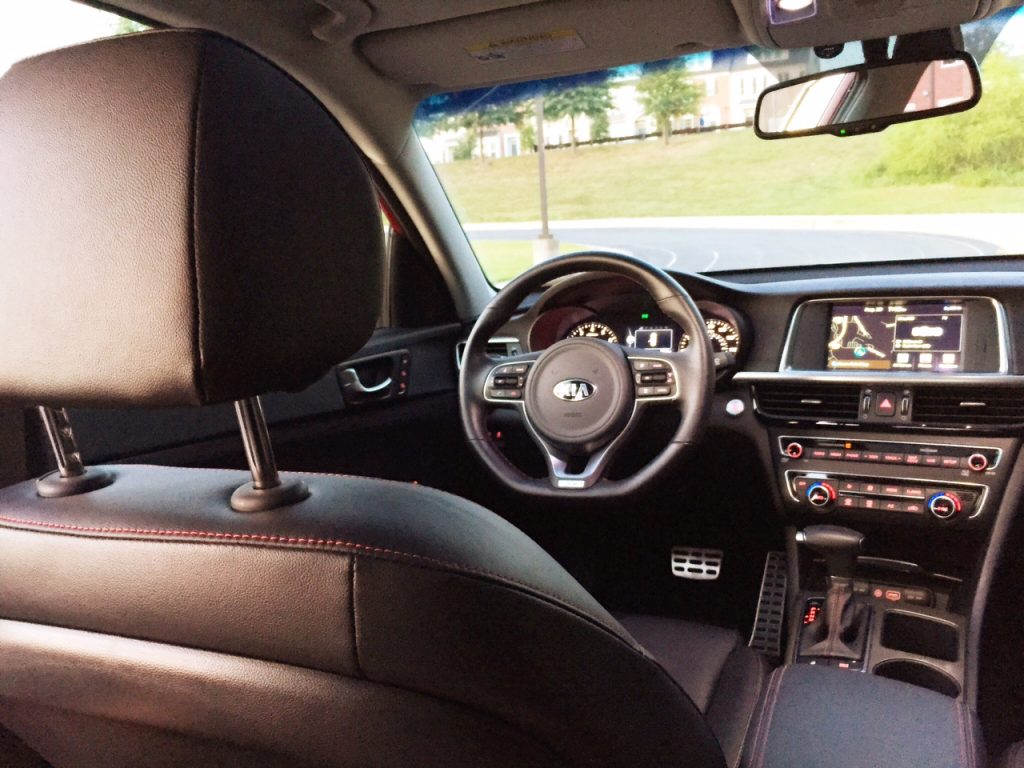 I remember the 2015 Optima's driver's seat being a tad bit comfier, with a softer couch-like feeling. These seats aren't uncomfortable, but they felt stiffer. The SXT Premium Technology Package does include a front power passenger's seat, which was a vast improvement over the stationary passenger seat in the 2015 model we tried. As a passenger it was waaaaaaaay too low and felt like you were sitting on the floor. So, if you have shorter passengers, they'll be happy you splurged for the package with the better seat.
Amenities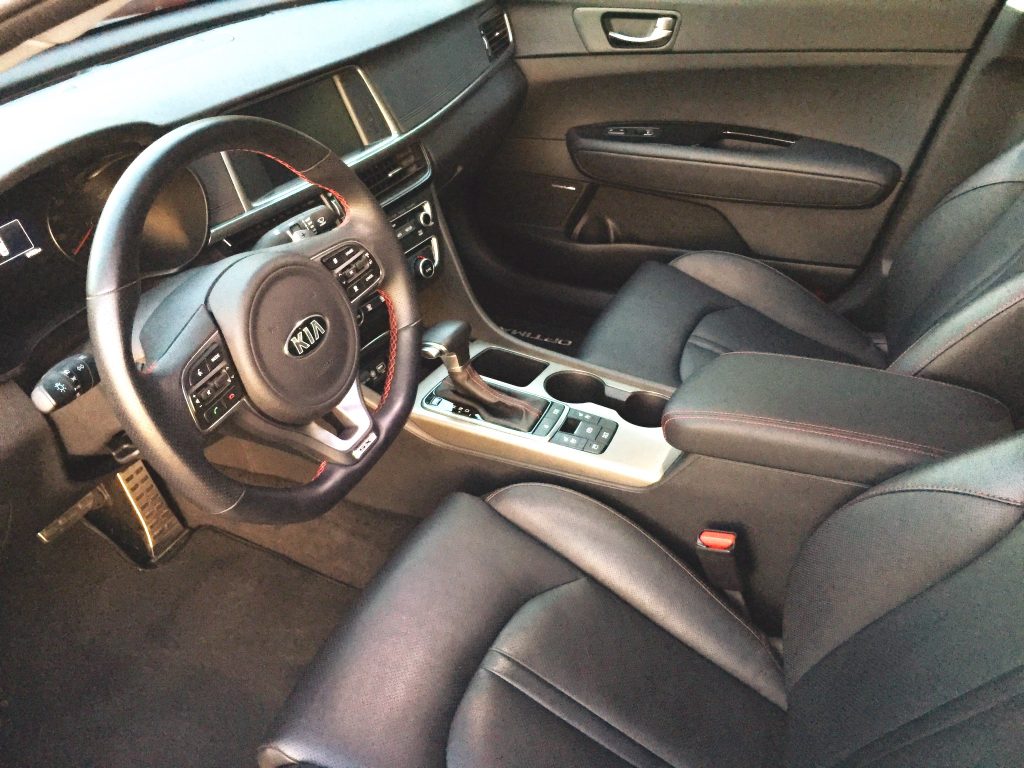 The entertainment system remains above average and is easy to use, but the show-sealers (much like in the 2016 Kia Sorento) included the 360-view camera and panoramic sunroof. The car isn't huge, but it's still nice to have that 360 view…just in case. And that sunroof is ice cold (cooler than being cool). You don't even need to really use the sunroof, just the fact that it creates a two-toned look, adds some real street cred. And by using the term "street cred" I probably just lost all of mine.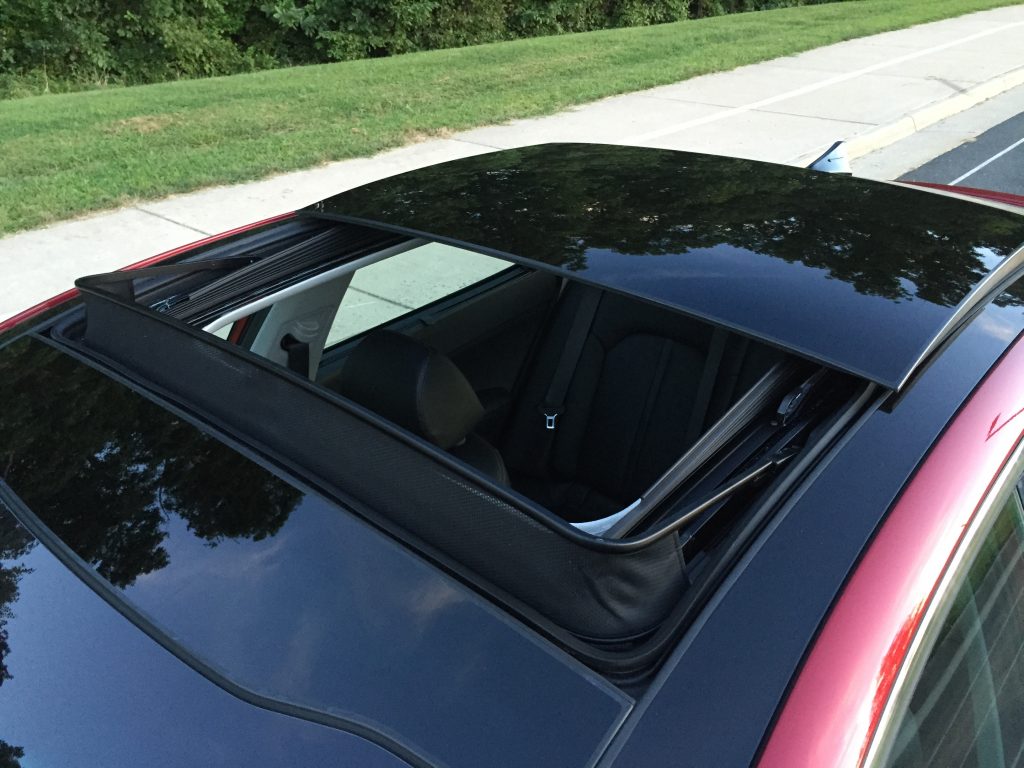 Performance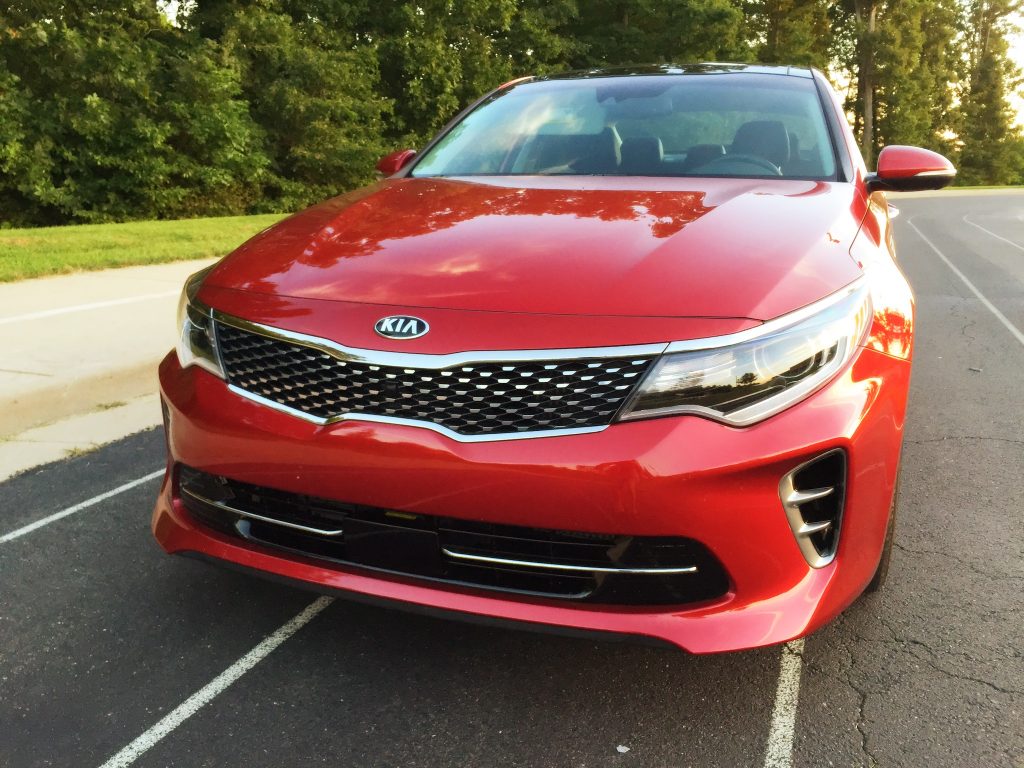 Is it worth it to spend a bit more and lose some MPG's for the turbo? Yes. Of course. Always, yes. When someone offers you turbo, you accept it. Sure the non-turbo is fine. But do you really want to live life with just "fine"? Seriously, is this even a conversation? Just get the turbo.
As far as handling goes, the road feel is improved–Still not to a place where I'm excited to drive solely based on handling, but it's getting closer than last year's car.
Who Should Buy This Car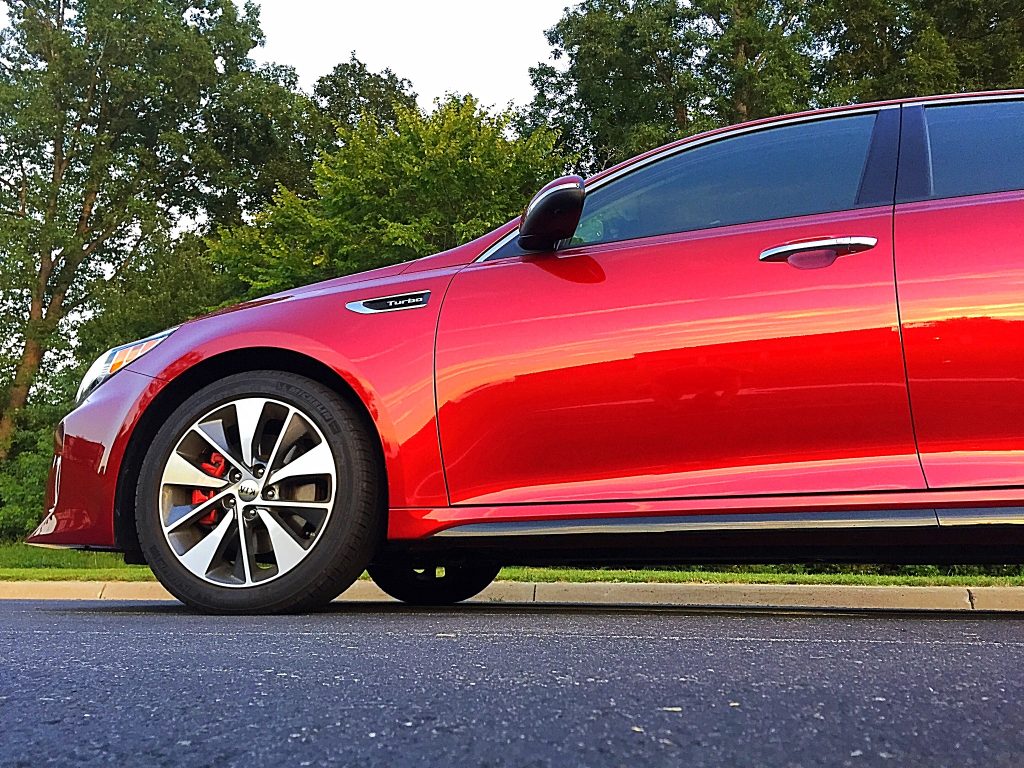 If you're looking for an affordable TURBO-CHARGED sedan with all the bells and whistles, give a hard look to the 2016 Kia Optima SX Turbo. Look, I realize that for some people, buying a Kia isn't even on their radar. Before we were given the opportunity to test drive a few, I honestly didn't think they could compete with some of the other brands. So, if you are in the market for a sedan, just take it for a test drive. You might be surprised!
Gratuitous Dog Picture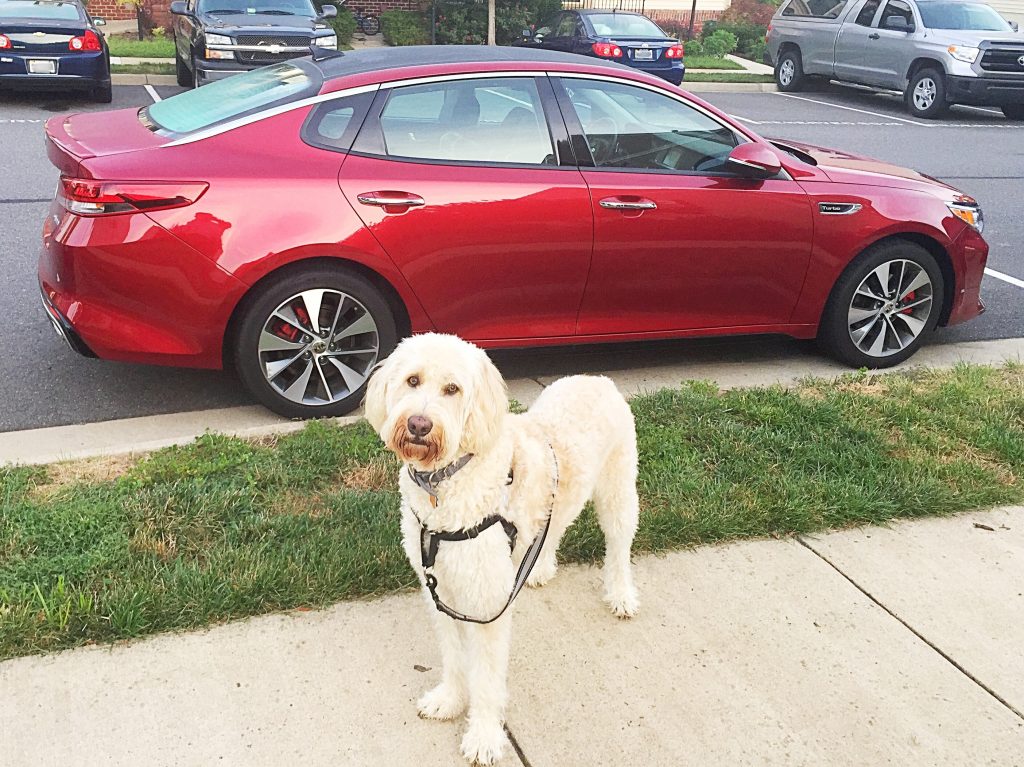 Since this wasn't an SUV, Cooper had no problem getting into and out of the Optima. I'm not sure he even noticed that it wasn't my daily driver. The only thing he's not quite sure about is that sunroof–Anything that moves by itself is clearly powered by evil wizards sent to destroy all dogs from earth.
***
Disclaimer:  As noted above, we were provided this vehicle courtesy of DriveShop and Kia. Other than being allowed to test drive this vehicle, we were not provided any monetary compensation for this post. As always, all opinions remain our own.