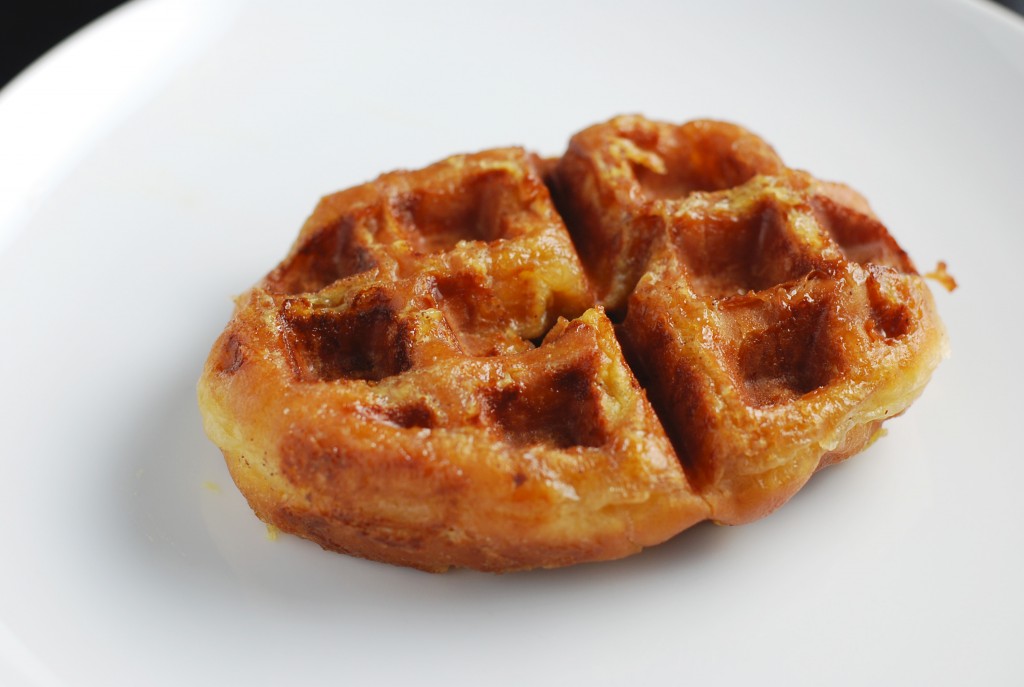 [This is post #024 towards #100DaysOfFoodBlogging, our goal to do 100 posts in 100 days as part of The 100 Day Project.]
As complicated as the title sounds, this recipe is actually quite easy. Too easy, in fact.
So easy that the waffle iron begged for this. It crawled over to my laptop (which, I keep on our kitchen counter 'cause that's where it gets the most use). Then it found one of our recipes from last year, the Coffee-Infused Doughnut French Toast.
It was so intrigued by this leftover doughnut french toast, that it looked up at me and said, "I want doughnut french toast inside me."
…
Who am I to deny a waffle iron of its destiny?
And destiny it is.
If you need one reason to buy a waffle maker, it's not for waffles. It's for leftover doughnut french toast. As much as I loved making the original recipe, this one basically kicks it up ten notches, as the doughnut glaze caramelizes into the nooks and crannies of the waffle iron. You're left with a pleasantly crunchy exterior and a warm, delicate center.
This doughnut is a gentleman on the street and a freak in your mouf.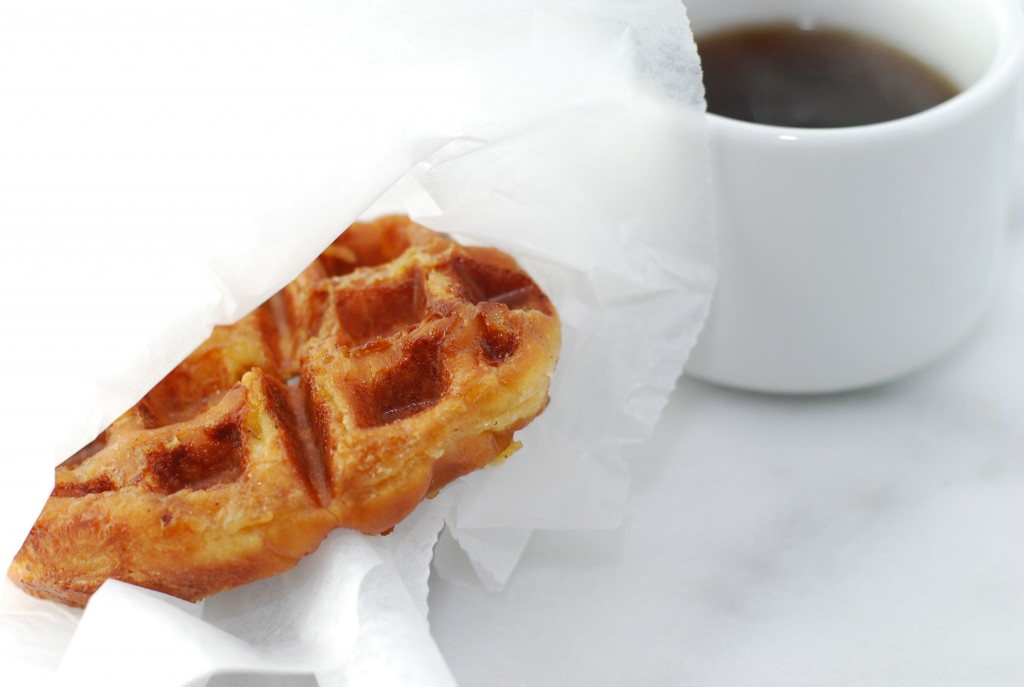 Doughnut French Toast Waffles
6 Glazed Doughnuts (stale or fresh)
1/2 Cup Milk
2 Extra Large Eggs
1 teaspoon Cinnamon
Pinch of Salt
Cooking spray or oil to grease the waffle iron
1.  In a shallow glass pan, whisk together the milk, eggs, salt, and cinnamon.
2.  Use a toothpick to poke holes in the doughnuts on both sides (to allow the egg mixture to soak through).
3.  Pre-heat your waffle iron per the manufacturer's instructions. While things are heating up, take one doughnut and let it sit in the batter for about a minute, then flip and let soak on the other side for another minute.
4.  Cook the doughnut in the waffle maker for about two minutes or until the outside is lightly caramelized.
5.  Repeat with the remaining doughnuts.
6.  You don't need to serve this with anything at all; just wrap in a paper towel ('cuz it's freaking hot) and eat.
See. Way too easy.
If you like this Doughnut French Toast Waffle, you might also enjoy some Melted Ice Cream Banana Pancakes. Think about it.